So sorry dear, I'm not available just this minute. No one likes to hear these words, although they are much more polite than "Error fatal unhandled exception system.objectdisposedexception cannot access a disposed object". Whichever way you may translate them, they come at a high price for your company. If you're looking to convince your company to become better at foreseeing downtime or service degradations, and avoiding them by far – rather than by sheer luck, come by our booth at the Frankfurt Gartner IT Infrastructure & Operations Management Summit on June 5 and 6, 2018.
Are you aware of the cost per hour of server downtime in your company? It's a figure you may want to discuss with your executive team.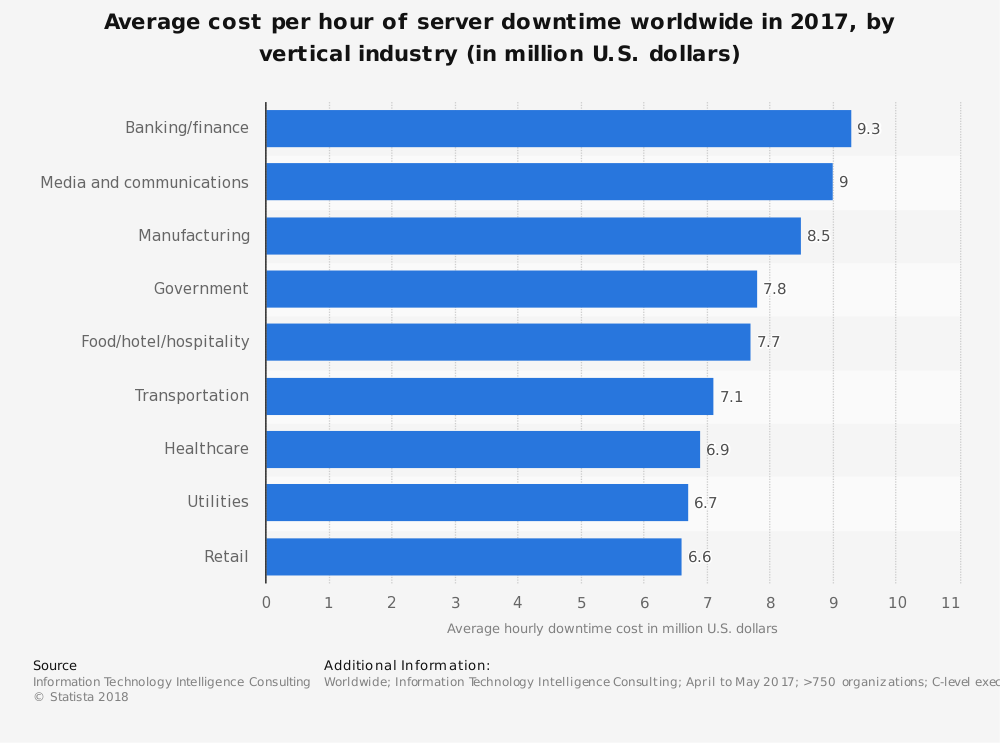 Avoiding Downtime or Service Degradations is Harder Than Ever
Although the technology has never been better, downtime and degradations of service are getting harder to prevent because the systems we manage have never been more complex. However, your team is not getting bigger, at least not as fast as your IT infrastructure expands. That's when we like stepping into the conversation. Centreon has a solution for both reducing the complexity of your infrastructure and streamlining the monitoring process. We're making it more efficient and more reliable. Best of all, we let you learn through the collection of nutritious and sharable data, making the whole company smarter. With Centreon backing you, Murphy's Law will find it very difficult to stick some downtime on you.
Have You Had the Chance to Try Centreon EMS Yet?
Centreon EMS is a modular, all-in-one IT infrastructure monitoring solution for distributed, business-critical infrastructures that lets you see every detail of IT performance, share key insights to drive informed decisions, and streamline IT operations. That's what a growing number of businesses are looking at to take IT monitoring and performance to a whole new level.

Just Zoom on Potential Problems
With Centreon EMS you can zero in from the highest-level view to the most granular details in just a few clicks, stopping potential performance degradation before it gets noticed by users. We know you've been craving the whole picture and that's what Centreon EMS delivers. Model every one of your IT services and their dependencies to get a full picture of your infrastructure, enterprise-wide. All you have left to do is organize level 1 support around dedicated monitoring consoles for efficient 24×7 response and proactive management.
Get More Info at the Frankfurt Gartner Summit
As Centreon is sponsoring the Gartner IT Infrastructure & Operations Management Summit, we'll be pleased to see you on June 5 & 6, 2018 at the Kap Europa, Frankfurt in Germany. If you are attending too. Here are a few possibilities to meet:
Visit our booth at the Summit for a quick demo of Centreon EMS – see how it can improve IT and business decision-making in your company, through the sharing of hot metrics
Having a face-to-face discussion can help us in understanding the unique challenges of your business. Request a meeting with us
Join us at the Networking Reception on June 5th on our booth S05
Want a last-minute meeting or can't find your way to our booth? Contact our onsite team: communications@centreon.com
Can't be in Frankfurt? We can still get in touch at a time and place that is convenient to you.
Many Are Asking Us About AIOps
We believe artificial intelligence for IT operations (AIOps) can play a large part in preventing downtime and other infrastructure mishaps. That's why Centreon EMS includes unique data streaming capabilities that can feed AIOps platforms with diverse datasets in an agnostic manner. ITOM teams with data from Graphite, InfluxDB, Elasticsearch, Splunk or ServiceNow can benefit from this AIOps-ready functionality.
Have Some Reading Time Ahead of You?
Here are a few previous posts you may find interesting:
Monitoring deployment doesn't stop at collecting metrics. Once the solution is getting all the data it requires from all types of infrastructure and application components, it is time to integrate it inside a much wider IT Operations Management ecosystem: it is key to seamlessly integrate with AIOps, ITSM and Automation tools… Read the full article
In the first post, we showed how to create incident tickets directly from the Centreon monitoring console. Here we'll see how to integrate Centreon alerts with ServiceNow Event Management, one of their most advanced products. Read the full article.
"Not only have we increased our productivity – 30 minutes per day and per operator – but we also now have a single view, better visibility and tools to highlight the value of the IT department's work. We can no longer do without Centreon. It's become a reflex: before any project, we think monitoring!" Read the customer story
About the Gartner Summit
Gartner is one of the most important IT infrastructure and operations summit. The 2018 agenda will feature tracks covering your biggest IT infrastructure and operations challenges and priorities. Click here to see the agenda! Join us and you'll hear from inspirational guest keynote speakers, Gartner-invited end-user case study speakers – real practitioners with real-world knowledge and Gartner analysts – the foremost experts in their areas of focus. Click here to see all the speakers!
Stay in touch!
News, best practices, tutorials, events, press releases, opinion pieces, customer stories… you can all find it in our corporate blog. Or have it delivered to you fresh to your inbox: subscribe to our newsletter today.