Although it is the true stuff of heroes which most IT practitioners would sprinkle on their food if they could, agility has nothing to do with magic, even less so with serendipity. Let's gently push away this unicorn and agree that your organization is fighting for every inch of agility it gains. We may be overly dramatic here but that's because this post intends to stress the importance of altruistic collaboration to achieving true innovation no matter the scope of your action: from one line of code to your entire IT system, from the team of one in IT monitoring to the unruly DevOps tribe and the rest of your organization. More simply said, we want to tell you how great it is to belong to the Centreon Community. We want you to challenge us. We want to challenge you. We all want to get better at developing the systems and software that will future proof our infrastructure, our applications, and as an ultimate goal, our organizations.
Agility: Some Sharing Required
The free-flowing exchange of ideas (OK, code more often than not, but lots of good practices too!) is in Centreon's DNA. Let's put all modesty aside and be honest: we want to transform how people think and perform IT monitoring. We want to make it an organization-centric adventure, with ample room for ongoing co-creation and collaboration. Because agility is really a never-ending quest. The never-ending part being fundamental here: because our infrastructure changes, our teams change, and the needs of our end-users keep changing too. In our universe, DONE often just means incremental improvement, and that's not a bad thing. What really counts is the rate at which the improving happens, and that's where Centreon Community comes into play. Together we can improve things much faster.
Here are a few ideas to make collaboration and sharing the heart of your approach to IT Monitoring.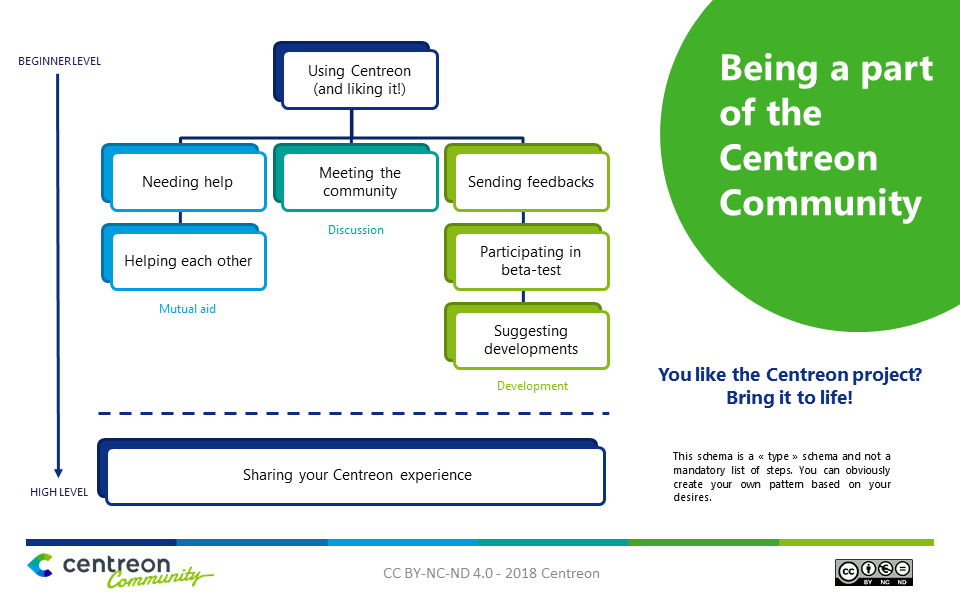 Centreon Community welcomes all open source monitoring diehards and Centreon fans to gather and learn, help each other, co-create and exchange. Our end goal is to code the features, APIs and plugins you've been dreaming of, and much more.
Our Priority Areas for Improvement
More generally speaking, we'd like to foster more discussions on these topics, as we believe collaboration and hard work on these issues may be the most potent cure for many of our organizations' pain points.
Improving user onboarding: the product grew so much in the last ten years that new users sometimes feel intimidated when starting their monitoring journey.
Stream Connector innovative usages: we've designed this scripting tool to easily export monitoring events and metrics and we would love to hear about how you use it to extend Centreon capabilities.
Monitoring ephemeral assets like containers: it's all about combining Centreon with the best of breed IT Automation tools, and ultimately helping you find the combination that works best for your organization.
Making it easier to predict problems: we feel there is still an unmet need in terms of predictive analysis: we're not just speaking about tools, but also having broader discussions on the concept and developing a set of best practices.
Obviously, keeping a strong focus on potential security breaches: hackers are agile too, but we're always quick to fix any reported issue.
Agility Also Is About Learning: Centreon Monitoring Academy Might Be for Just for You
Learning is an important part of the agile virtuous circle. As Gartner was recently putting it: "CIOs and their IT leaders must invest in the development of their people just as they invest in upgrading their technology. Expenses relating to professional development include training and formal course work. Unfortunately, these areas are often the target for budget cuts because they are perceived as variable, optional costs."
Training is very much part of an incremental approach to agility. You may have a fantastic solution, but your team may not be trained to leverage its full capabilities. Or maybe some die-hard skeptics in your organization do not yet realize how they can draw value from their IT monitoring and availability processes. Investing in Centreon training will add to the skills range of key people in your organization as they are looking to contribute to its agility.
Looking Forward to Enlightening Exchanges at Monitorama EU in Amsterdam on Sept. 4 & 5
Explore our tutorials, plugins and documentation.
Hope to hear from you soon!