User Experience Monitoring
Driving Business Performance
End user experience monitoring is one the ingredients to monitor the digital performance of your business, and is best combined with IT infrastructure monitoring.
USER CONTEXT & CHALLENGES
Reconciling IT-centric and Customer-centric performance monitoring
Digital Businesses combine Edge computing and Cloud computing to create innovative Customer Experiences where people, objects and business objectives are intertwined. Their business performance – i.e. their capacity to meet revenue targets – is very much linked to the quality of the customer experience while their productivity – their capacity to control cost – is linked to the quality of the user experience of employees.
Monitoring the IT infrastructure is a must-have since IT fuels all processes and workflows that make these customer and user experience possible. What's even more so required is to map your business-critical IT Services to the applications, middleware or infrastructure components they rely on: you can then monitor the IT Services end-to-end performance.
Implementing IT Service performance monitoring is half the story to assess business performance. The other half requires monitoring quality of experience (QoE) of the internal or external customers.
Digital Experience Monitoring (DEM) platforms are all about monitoring the performance of this user experience. They come in all form and shapes because of the diversity of technologies that make modern IT service delivery. Some may use Synthetic Transaction Monitoring (STM) to simulate usage, others Real User Monitoring (RUM) to observe usage. Some DEM platform may reside in the application domains, others in the network domains, best solutions combine both.
And once you have both IT-centric and customer-centric performance information, what will really make an impact to align IT Operation with business objectives is to reconcile both types of information into your alerting & notification, dashboards, cockpit views and reporting monitoring platform.
WHAT WE DO
Add User Experience Monitoring to your dashboards to take informed decisions

The Centreon IT monitoring platform includes a DEM extension to monitor the digital experience of your customers and employees. Dedicated metrics about application performance, network equipment, hybrid connectivity and hosting are collected by Centreon. IT Operations teams are alerted and get detailed troubleshooting information to fix problems before they can impact the business performance.

Centreon can also tightly integrate with DEM, APM and NPM monitoring platforms to collect user experience performance insights. Centreon connects to monitoring platforms from Kadiska, Dynatrace, Pingdom, Accedian, Maltem, Sahi Pro and others. See all integrations.

Centreon maps IT Services to the applications, middleware and equipment they rely on, identifying their logical relationship and dependencies to identify causality. Modeling Service Maps for all critical IT Services allows to measure their performance, to report on SLAs and to facilitate Root Cause Analysis and decrease Mean Time To Repair. Service Maps give a higher-level view, the one that matters to organize your IT teams and activities according to business priorities.

Combining User Experience Monitoring with Service Maps gives the complete picture about Service Performance. Both User-Centric and IT-Centric indicators can now be shared into the same event console, dashboard, high-level cockpit view or report. Augmenting Service Maps with user experience monitoring indicators gives a better indication about the end-to-end performance of IT Services, leading to more accurate SLA measurements and to better informed decisions.
HOW WE DO IT
Optimize digital experience with the Centreon DEM Extension
The Centreon IT monitoring platform includes a DEM extension dedicated to Digital Experience Monitoring.
This SaaS extension collects and correlates three types of performance metrics: SaaS user experience, for all employees, business applications user experience, including for home workers, and performance of the hybrid SD-Wan connectivity that links users to applications, from your premises or from the public internet.
Aggregated KPIs are seamlessly integrated with the Centreon monitoring console, graphical views, performance graphs, dashboards and analytics reports. Alerts and notifications are automatically triggered when problems happen. This extended visibility can be shared with all stakeholders, from business applications owners to network administrators.
Last but not least, these user experience performance indicators can be included in the Service Map that aggregates and identifies dependencies and causality for any business-critical IT Service. With Centreon, you may combine both User-Centric and IT-Centric metrics into the same Service Map to monitor one single key indicator that accurately represents the overall performance of the IT Service.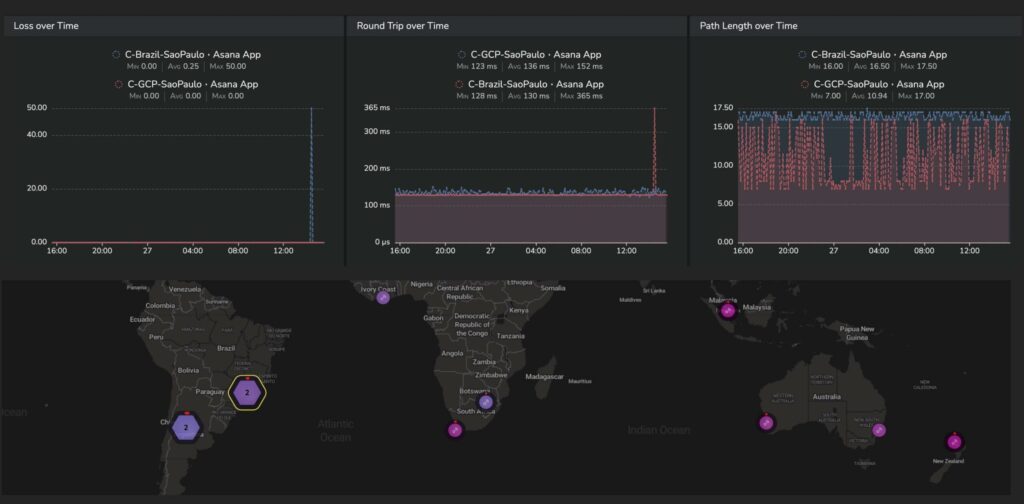 Three use cases where Centreon DEM extension will shine
The Digital Experience Monitoring extension implements unique technologies that makes it the perfect tool to monitor the digital experience of modern applications, with a focus on three use cases:

Monitoring SaaS applications and quickly detect, isolate and resolve performance issues impacting productivity for onsite and work from home employees.

Detecting and troubleshooting all home workers issues with SaaS and web apps, providing a deep, automated visibility into every area of infrastructure that can impact the work from home experience, with insights to solve complex problems quickly.

Evaluate the overall performance and view bottlenecks of complex connectivity matrix that includes Carrier Ethernet / MPLS, ISPs, cloud networks, VPNs and local internet breakouts, as well as SD-Wan and CASB.
Although traditional APM and NPMD solutions were good at monitoring MPLS private networks, at a time where SaaS was the exception, they can't cope with these three use cases.
Leverage specialized tools with Centreon Indirect Monitoring connectors
On top of its DEM extension, the Centreon monitoring platform can also collect relevant KPIs from any specialized tool that you already own and operate. Connecting to these monitoring platforms using their standard APIs, Centreon regularly queries for and monitors their key user experience performance indicators. Most DEM platforms come with an API and some sort of query language that Centreon uses to collect the most relevant information for each business processes you're monitoring.
3 KEY BENEFITS
Why consider Centreon for User Experience Monitoring

Business Performance is what matters.
View how your complex IT workflows perform at delivering innovative customer experiences.

Leverage specialized tools.
Invest in a modern DEM tool to consolidate information and take informed decisions.

One single source of truth.
It takes many talents to operate IT Services, foster collaboration with customer-centric and IT-centric information in one place.
Ready to see how Centreon can transform your business?
Keep informed on our latest news