Centreon Features
Centreon's IT monitoring platform provides holistic visibility to complex IT workflows from Cloud-to-Edge.
CENTREON PLATFORM
Full Visibility on IT
Centreon monitors the complete IT Infrastructure from Cloud-to-Edge for a clear and comprehensive view.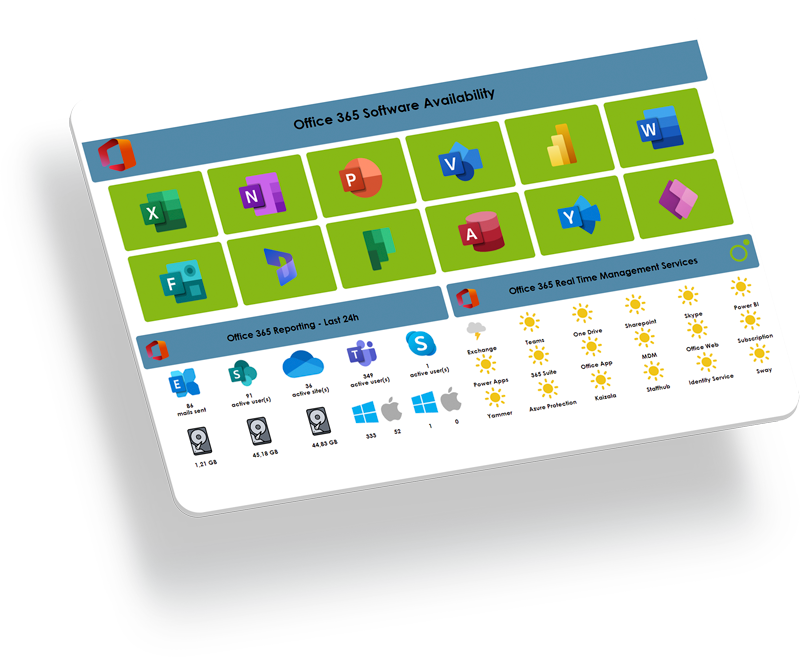 Cloud & "Not-Cloud"
Centreon captures the entire infrastructure of IT workflows, from applications to middleware to equipment, whether cloud or "not cloud." Such comprehensive visibility ensures complete control of digital performance.
Holistic Visibility
From network to applications and from legacy to state-of-the-art, the breadth and width of Centreon monitoring scope has got you covered. Centreon monitors the 700+ type of components that make modern IT and covers all domains: Cloud, Virtualization, Microservices, Databases, Middleware, Systems, Storage, Security, Network, Hardware, IoT, ITOM services.
A diversity of data collection capabilities
Centreon agentless SNMP active monitoring makes implementation a breeze, but we know the world is diverse: you may use agents if required, we connect to cloud services or to any modern equipment through APIs, we catch SNMP Traps, execute scripts remotely and support a variety of other data collection methods when needed.
Ready-to-monitor configuration templates
Don't lose time figuring out which indicators are relevant or which threshold should be set amongst dozens of parameters that can be monitored on a given component.
Centreon comes with over 3,000 configuration templates that automatically select the right protocol or monitoring method for each infrastructure component, from hardware to applications, select which data should be collected, set the right monitoring thresholds, choose the proper graph display settings…
Zero-config connectors: get started in minutes
Monitoring should be that easy: we packaged everything you need for 1-click setup into a set of 700+ monitoring connectors.
Each connector includes a complete set of configuration templates and auto-discovery rules, along with some guidance for a smooth execution. Easy-to-download right from the Centreon user interface, we constantly update them, working closely with our user community to benefit from their expert knowledge of all IT technologies intricacies.
Automatic Discovery Engine
Let the Centreon Auto-Discovery engine keep track of daily changes in your infrastructure while complementing your IT Automation tools.
The API-centric Centreon platform makes it easy for IT Automation tools to simultaneously deploy new IT assets while making sure they're monitored. Automatic Discovery goes one step further, connecting to servers, Wi-Fi Controllers, Cloud Monitoring platforms, Software-Defined Network infrastructure to detect network interface and disk volumes, Wi-Fi Access Points, dynamic cloud and network assets… keeping your monitoring up to date with the most dynamic environment.
AI-powered Anomaly Detection
Machine-Learning algorithms can detect anomalies that would otherwise go unnoticed.
The Anomaly Detection feature leverages Artificial Intelligence to automatically learn patterns from monitored indicators, and to alert when indicators experience abnormal behaviors, outside their typical pattern. The Centreon platform implements a unique Cloud-Augmented architecture that offloads to the Cloud anomaly-detection machine learning algorithms, avoiding computing-intensive operations on the on-premise monitoring servers.
Fully compatible Nagios® alternative
We acknowledge some have invested time and effort in the past to develop Nagios® checks to monitor their bespoke infrastructure and applications. These are fully compatible, providing a seamless upgrade path to the much robust and feature-rich Centreon platform.
Unified Vision
With Centreon, everyone can select the performance indicators and monitoring parameters most relevant to their individual activity – all within the same tool. The intuitive and personalized user experience, unparalleled on the market, makes it possible to detect malfunctions more quickly throughout the entire IT chain.
Efficient Event Management
Centreon comes with a complete event management solution designed to cope with the most demanding production environments, a productivity tool for whoever is involved in first-level support. It is designed to filter alerts and only show those that matter, to only display relevant information, to give quick access to detailed information when required and to act with a single mouse click.
Custom Dashboards
Choose among a library of over 20 widgets to create domain-specific dashboards that mix real-time and consolidated data.
Group relevant availability and performance information for each critical IT workflow, along with contextual information and architecture diagrams, into convenient dashboards that help organizing daily operations.
Notifications
Alerts can also be sent to on-duty personnel via SMS or email notifications, or any other communication means. Dedicated connectors integrate with ITSM solutions to easily open an incident ticket directly from the event console.
Mobile Application
Always on the move? Centreon iOS and Android apps bring event management to your mobile device. Download the free application from your favorite app store. Get a unified user experience from desktop to mobile phone, complete with filters and action buttons.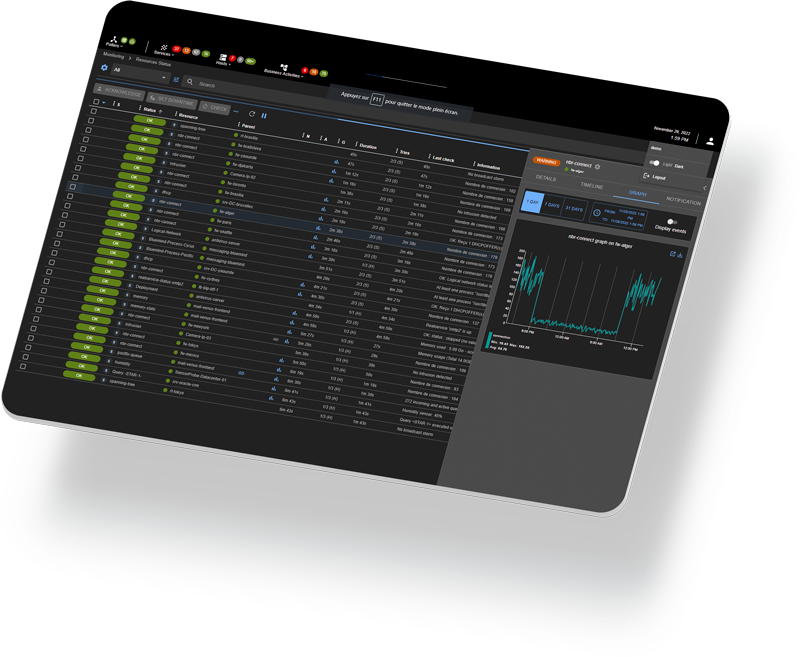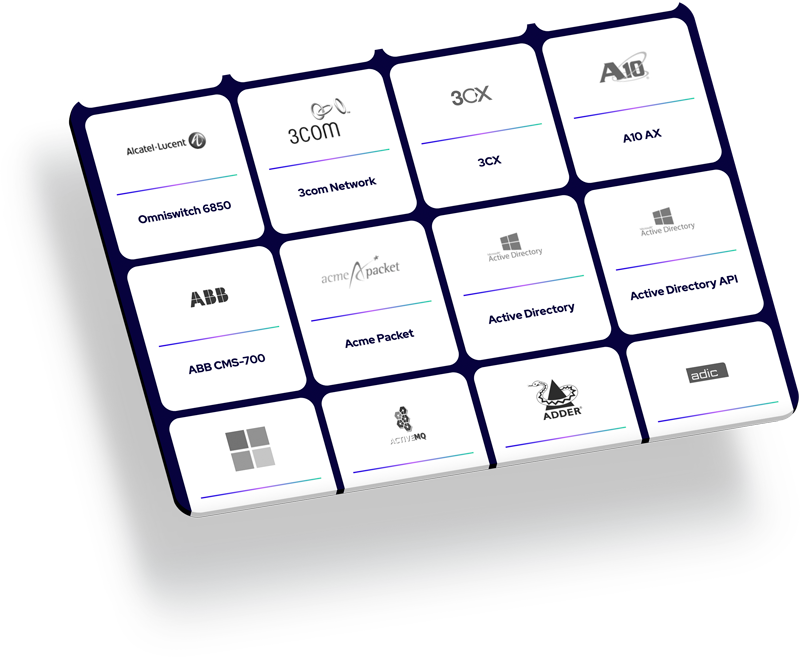 Centreon's "intelligent discovery and automation" covers more than 700 different assets (from APIs to routers) to instantly seek, connect and update integration. This not only collapses initial deployment time and effort, but it also improves ongoing productivity. 
CENTREON PLATFORM
True IT & Business Alignment
Centreon drives business performance excellence, aligning IT operations with business objectives through intuitive monitoring.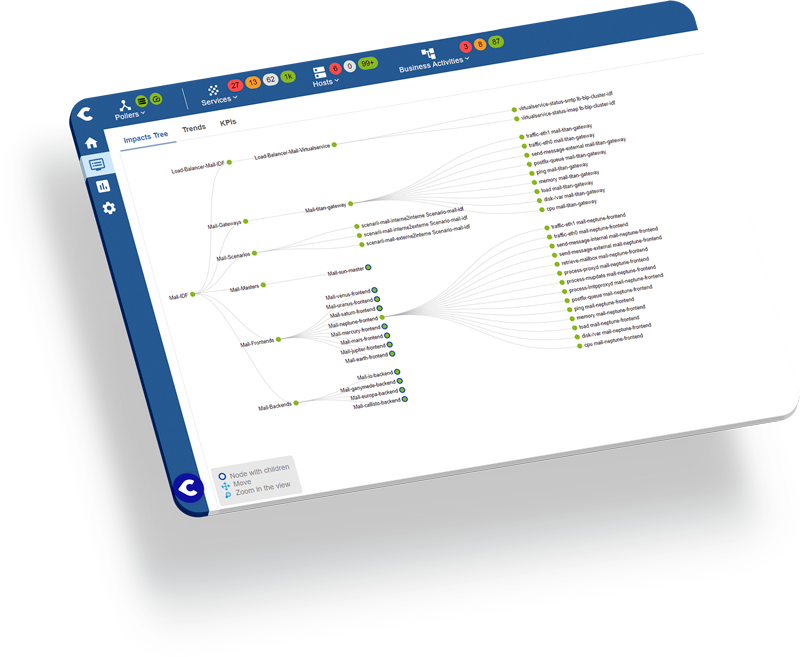 SLA Management
Centreon links business processes to IT infrastructure, giving you a complete picture of digital performance. IT availability is continuously calculated and tracked against SLAs, visible in dashboards so that business and IT KPIs are always in sync.
Service Mapping
Measure the Performance of Services by Modeling IT Service Maps for each business-critical IT workflow.
Monitor IT services as a composite by grouping all the underlying infrastructure components, identifying their logical relationship and mapping dependencies to identify causality. Facilitate root-cause analysis, keep track of Service Level Agreements, report on IT Services MTTR or MTBF.
User Experience Monitoring
Add User Experience monitoring to get the full picture on IT Service performance.
Use Centreon DEM (Digital Experience Monitoring) extension to include the exact employee and customer experience KPIs that are relevant to your business context. Centreon DEM extension supports On-Premises, Work from Home and Mobile workers environments, Self-Hosted, Cloud and SaaS business applications, and the SD-Wan and hybrid connectivity network in-between.
Collect Business Insights
Add contextual information to your IT Service performance data.
Key business performance information resides in the databases or application middleware you're already monitoring: daily revenues, connected users, web site analytics… Collect and display this information into your IT Service performance cockpits to take better informed decisions, in real-time.
Decision Support
Centreon's analytical dashboards and reports are focused on business processes and provide critical and essential information that goes beyond simple IT monitoring metrics.  This information allows the tech teams to better manage their investment strategies, prioritize new projects, organize staff and right size the (environmentally) effective and responsible use of resources.
Analytics & Reports
Plan for a long-term IT Performance with analytics that help take informed budget and project planning decisions.
Program the automatic delivery of weekly and monthly reports about everything that matters when it is time to plan for new IT investments, better organize scarce human resources, prioritize complex IT projects that all will impact IT Performance.
Service Level Agreements Reports
Automatically measuring the availability of IT Services modelled using the Service Mapping feature.
Get both 24/7 and Business Hours views, compare actual availability with agreed upon SLAs, list each incident that impacted the IT Service, report on Mean Time to Repair (MTTR) and Mean Time Between Failures (MTBF) KPIs.
Capacity Planning Reports
Prepare budget meetings with Capacity Planning reports that highlights past consumption patterns and predict future trends.
Get multiple capacity planning reports dedicated to network bandwidth consumption, Storage Area Network disks usage, or VmWare clusters compute capacity load balancing.
Optimize Energy Consumption for IT Infrastructure
Use the dedicated electricity consumption reports to measure and monitor the evolution of energy spending over time. Or use the Capacity Planning reports to list those equipment which are either under-utilized or running out of capacity in order to accurately adapt their sizing to IT usage. Right-sizing not only saves cost but most importantly ensures an environmentally-friendly IT infrastructure.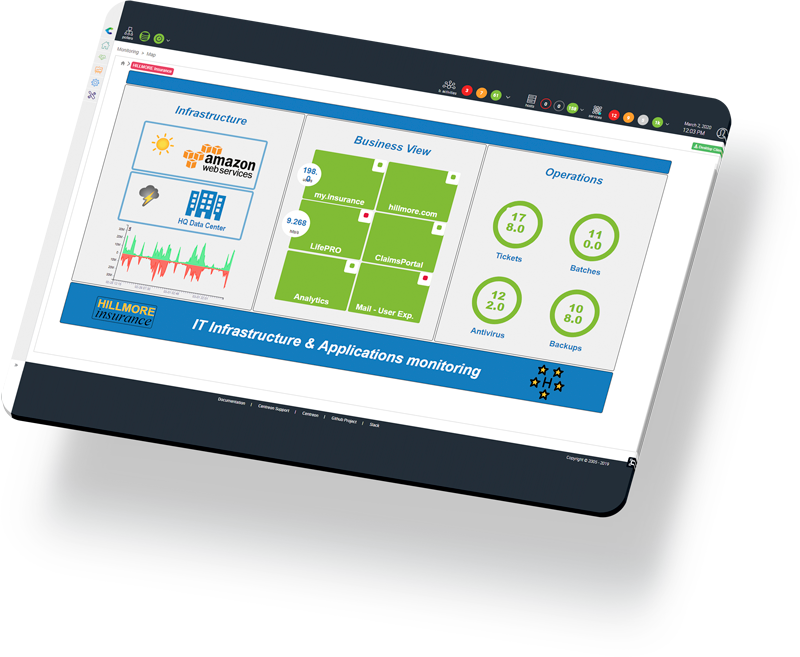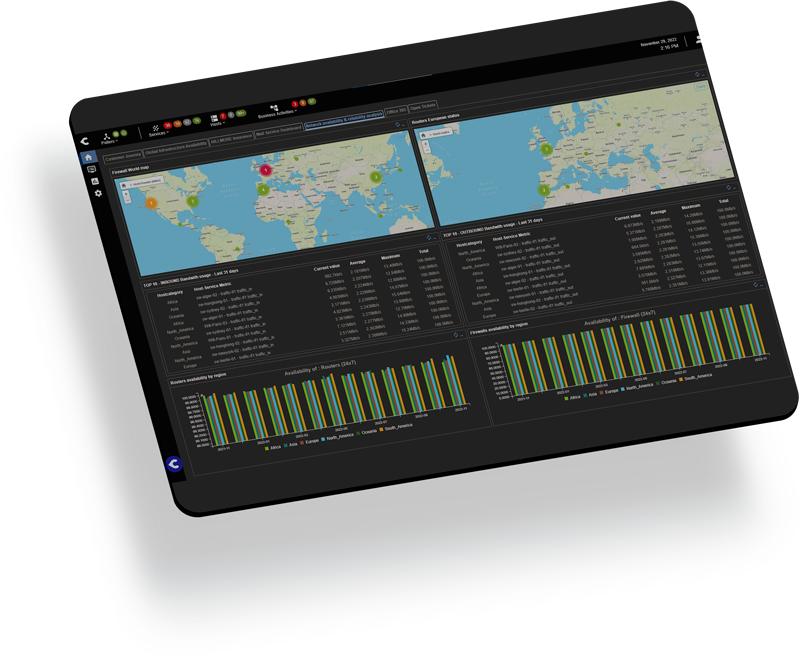 Collaborative Views
Centreon gives everyone personalized supervisory information according to their own needs: IT teams, business departments or management teams. Sharing of digital performance indicators with all stakeholders in the organization puts business context into IT monitoring for collaborative decision-making.
Extensive Top-Down Views
Share the complete view of IT Performance with both IT Operations teams and Business Owners.
Let them easily navigate between multiple types of dedicated customizable views designed to give each one the tools and level of details they need, fostering collaboration around a single source of truth.
Cockpit Views
Start with the high-level picture and inform all stakeholders about how IT is performing in relation to their business concerns.
Design your own clear and concise real-time cockpit views, complete with contextual business insights and customer experience performance data, and share them from C-level management to end-users on wall-mounted flat screens or intranet pages.
Graphical Views
A picture is worth a thousand words: create easy-to-read graphical representations of your network or application architecture.
Drill-down from a high-level architecture view to more detailed infrastructure diagrams, all the way down to the individual equipment that is experiencing a problem.
Geographical Views
See what happens where it happens with interactive geographical maps of your business operations.
Focus on where the value creation actually takes place to ensure smooth customer experiences and high productivity everywhere your business operates.
CENTREON PLATFORM
Open from the Core
Centreon is AIOps and future-ready, promoting agility, scalability and flexibility in the never-ending journey to modern IT.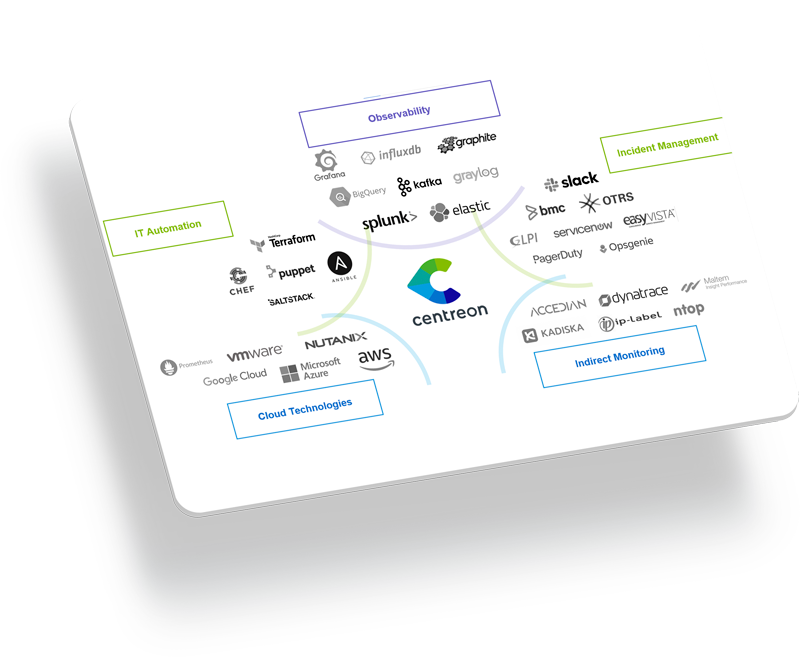 Open and Extensible
Openness and flexibility — two advantages of the platform without equivalent on the market. No two organizations are exactly alike – each has a unique infrastructure and application profile based on history and anticipated future needs. Centreon adapts precisely to each operating universe "out of the box" and extends further with the contributions of "The Watch", its users community.
Open Source flexibility
Get the best of both worlds: the peace of mind of a commercial product and the flexibility of an Open Source framework.
The Centreon platform builds upon our flagship Open Source IT Monitoring project used by 250 000+ IT Professionals all over the world. The flexibility of this framework is the foundation of your Centreon platform. Add the ingenuity of its user community and you get unlimited futureproofness all packaged into a fully supported and maintained commercial product.
Scalable Platform
Adapt to the scale of your Business Operations with no fear of ever outgrowing your monitoring platform.
Start small if needed and add monitoring capacity every time the scope of your monitoring operations grows.
Distributed Monitoring & Operations
Add remote monitoring capacity where it makes sense to adapt to vast and complex network architecture.
Monitoring worldwide operations from a central location has never been easier with Centreon, whatever network delays or firewall barriers you may come across. Add Remote Servers to the mix to share the load with local operations teams, increasing agility and autonomy.
Role-Based Access Control
Precisely fine-tune the access rights to Centreon based on your current Active Directory or equivalent role-based directory.
Give the whole IT Operations team, and beyond, access to Centreon. Keep it under control and create Access Control Groups that exactly define the boundaries of information sharing and the scope of operations enablement.
SaaS or Self-Hosted
Not all organizations have the same means of hosting, the same constraints, the same strategies. That's why Centreon offers two deployment modes: SaaS mode and Self-Hosted mode. Choose Centreon Cloud for the convenience of a SaaS service, or Centreon On- Premises for complete control of your environment.
Get ready in minutes, with Centreon Cloud
With Centreon Cloud, our SaaS offering, stop worrying about platform installation, maintenance, backup or software upgrade: we take care of everything. Focus on your mission and deliver the optimal IT performance your organization need.
Choose Centreon On-Premises for Self-Hosted monitoring
Choose Centreon On-Premises, our easy-to install, all-included software application for Self-Hosted deployment. You may install Centreon into your own Cloud Computing environment, your virtualization cluster or on a bare metal physical server.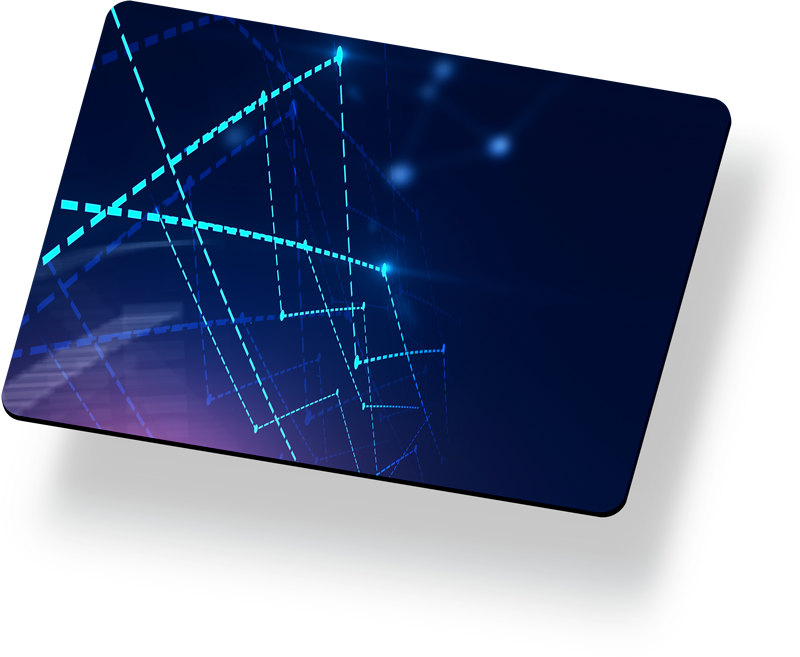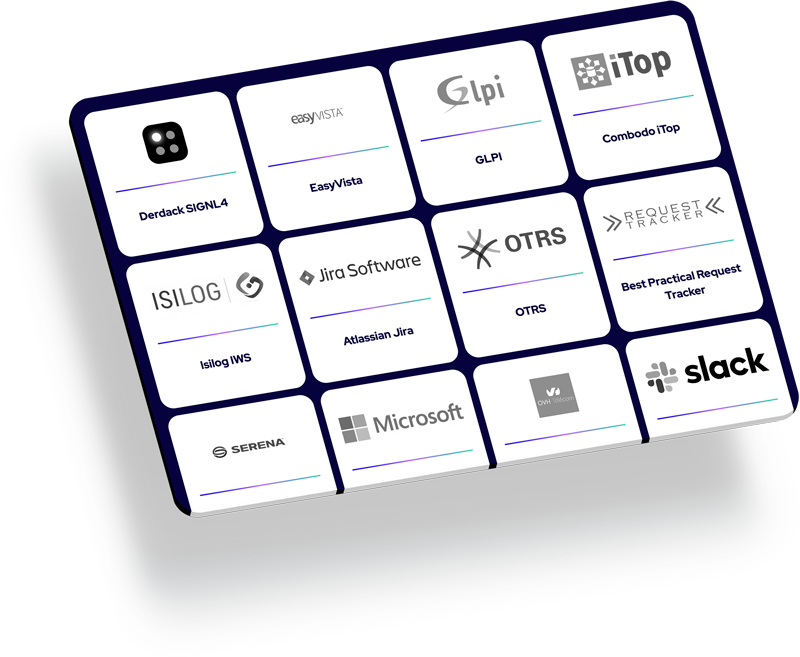 Extensive Integration
By easily integrating with all IT Operations tools, Centreon streamlines all production processes: ITSM, incident management, Industrialization flows such as Infrastructure as Code, consolidation of indicators. Centreon's near-infinite integration possibilities enable a tailor-made and comprehensive observability environment that no other integrated monitoring solution can provide.
CENTREON EDITIONS AND DOWNLOAD
Explore which edition is right for you
Ready to see how Centreon can transform your business?
Keep informed on our latest news