This post is the first one in a series of two posts describing how Centreon can interface to ServiceNow. Today we're discussing incident management.
Integrating IT Monitoring with IT Service Management
The IT Monitoring platform is one of the key elements inside your overall IT Operations environment, alongside the ITSM platform, in charge of Service Management, as well as a set of IT Automation tools that help decrease the number of manual operations.
The business value of your overall IT Operations environment relies on how well these three domains cooperate together. Even if you chose the market leading platforms for each domain, what really matters is how well they're all interconnected together to create a seamless, effective operational suite.
This is why the Centreon IT monitoring platform includes a set of connectors, one of which is dedicated to the leading ITSM and ITOM solutions: ServiceNow.
When connecting Centreon to an ITSM solution, the first requirement is to facilitate incident management. While Centreon's job is to monitor IT infrastructure and applications and send warning and critical alarms as soon as something goes wrong, a ticket describing the incident must be created in the ITSM solution, ensuring the proper management of the human and technical resources that will lead to restoring the service.
Centreon already includes a module called Open-Ticket to do exactly that: create a new incident ticket inside your ITSM platform directly from the monitoring console. This module now comes with a dedicated connector to ServiceNow.
Configuring the ServiceNow interface
ServiceNow is a SaaS solution that comes with a dedicated ticketing API. The Centreon Open-Ticket user interface now allows for the creation and configuration of a connector to this API. Required parameters include your ServiceNow instance, your identification information and associated credentials.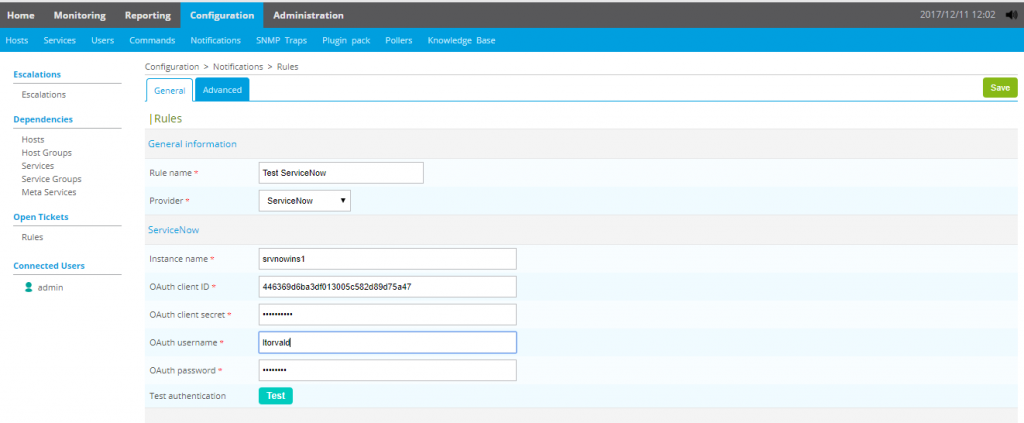 Please note that the "Test" button is a facility to verify the connection can be successfully established between Centreon and your ServiceNow instance.
Creating a ServiceNow ticket from the Centreon user interface
The Centreon monitoring console proposes a set of user actions to handle alarms, such as accessing a knowledge base, triggering a script, temporarily suspending monitoring or creating a ticket in a your preferred ITSM platform.
When connected to ServiceNow, Centreon not only allows for the creation of a new ticket, it also proposes to directly fill in some of its most relevant information fields, such as the name of the user group or user who should be assigned the ticket.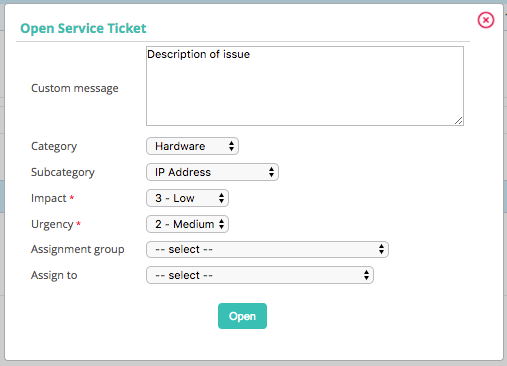 The new ServiceNow ticket automatically includes all the relevant monitoring information about the alarm: no need for a copy and paste operation. Please note that a single ticket may be assigned to multiple alarms.
Alarms assigned to a ticket are automatically changed to the "Acknowledge" state, to show that the incident is taken care of. The Centreon user interface also shows an hyperlink reference to the ticket: hence Centreon users may easily access the ticket details in ServiceNow.
Integrating Centreon is about increasing IT Operations productivity
This ServiceNow connector adds to the list of already available similar connectors, allowing Centreon to integrate with EasyVista, Combodo ITOP, GLPI and OTRS ITSM solutions.
Furthermore, Centreon is an open platform, which means that a new interface to other ticketing solutions may be added without waiting for a new software release. It would then be quite easy, while integrating Centreon into some IT Operations environment, to create a new interface towards yet another ITSM solution. The Centreon ProServices team or Centreon certified partners would handle the job.
This is what IT Operations team productivity is all about: saving every little bit of time when simultaneously using multiple specialized tools or increasing the technical relevance of every little bit of shared information are two of the many ways to improve the operational performance of your IT.
In a few weeks, a new post will discuss a new connector between Centreon and the ServiceNow Event Management solution.