Let's set the stage with what we know already: in the digital economy, an organization's performance is entirely dependent on the smooth operations of its IT system. How are employees expected to do their job well if their mission-critical applications and infrastructure are performing poorly?
To keep things running smoothly, IT infrastructure monitoring teams can act as your everyday partner in creating the best conditions to drive business success.  Hence the concept of business-aware monitoring, or monitoring aligned with business objectives. To achieve the best results, it's imperative that organizations retain an IT infrastructure monitoring solution that will answer your needs, from the frontlines of IT all the way up to the executive suite.
Where Does Your Business Aware Monitoring Platform Fit?
If your IT Operations Management solution is the lifeblood of your IT team, a business-aware monitoring platform lies at the heart of it. It's up to your platform to continuously monitor the availability and peak performance of business-essential applications and technology. This allows the slightest issues to be caught swiftly, allowing your IT teams' and systems' nearly immediate preventative and corrective measures to kick in. All the while end-users, customers and processes continue to operate business as usual.
All of this sounds perfect, but Business-Aware Monitoring is capable of so much more, if you take a peak under the hood…
Your Metrics Gatherer
A business-aware monitoring solution is not simply a program with alerts, it also gives continuous feedback including key metrics that will allow your entire IT department. Providing you the insight needed to align IT performance with business objectives; the winning proposition your boss– and the rest of your team- needs.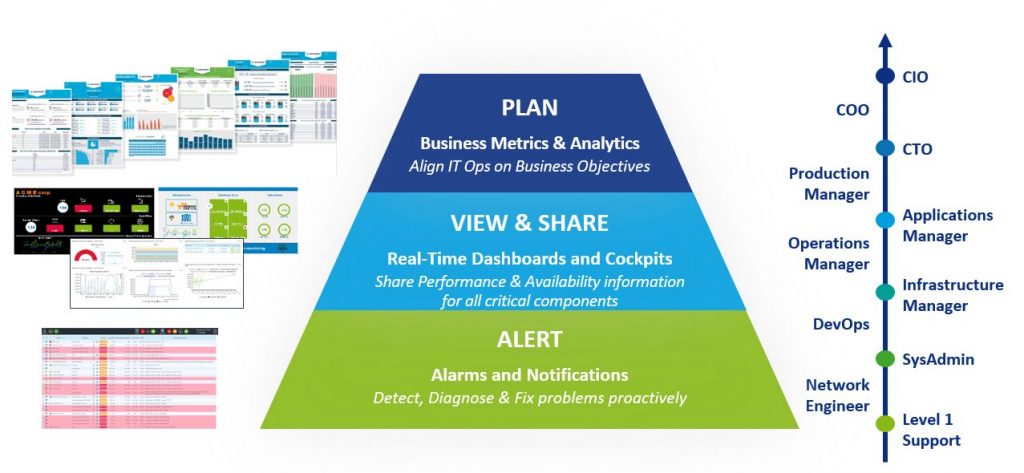 Answering Needs – From the Front Line to the Executive Suite
A business-aware monitoring solution is the answer to the many problems that plague various levels of your organization – even outside of IT. Are you experiencing any of the pain points we help our clients with:
We need more visibility into the real-time performance delivered to end-users.

We need more control of our SLA commitments.

We'll invest if there's a real need – but will we receive better data?

Are there better, low-cost options to ensure business continuity?

How do we make our IT ops more agile, resilient and secure?

How can we reduce the number of tools we have – we have too many providing a similar service?

Is there a way we can share the same IT visibility with our entire IT department?

We need to diagnose issues quicker; we spend too much time responding to fires instead of preventing them.
Choosing the Right IT Monitoring Solution is Now a Group Effort
Nowadays, everyone agrees on the principle that the modern business needs constant visibility into the IT production chain – from infrastructure, to applications, to everything running through the cloud. Yet, a corollary of this principle is that looking for the perfect IT monitoring is not shopping for the right pitch in terms of pings and alerts. No, it's about shopping for the software solution that will rally the most people around a common objective: supporting the business in its value creation activities. Key criteria will include the ability to be on the same page across the IT chain, being able to gather and report the information and developing the crucial real-time views and proactively sharing them with anyone in the business who may benefit.
Who Needs to Follow the IT Monitoring "Story"?
A real-time, visual depiction of the key performance indicators of your IT system's performance, from infrastructure up to the application layer is a fantastic tool to educate ops teams, executives and business managers on the possibilities and inherent limits of your current IT system, helping manage expectations but also support the business case for future capacity development.  
Give Them an Office with a View
Think of it like a corner office overlooking the IT system – these colleagues will love getting a view:
Managers wanting to adhere to SLAs, track their budgets, resources and projects in sync with the evolving business needs of their end-users.

Operations managers craving a clear, high-level, real-time view on the availability and performance of essential business applications across the value creation chain so that they can decide where to invest next.

Infrastructure operators wanting a collection of custom tools to proactively detect and diagnose problems before users are impacted.

Your boss frequently ranting on the lack of collaboration between the IT department and the business teams.

Your colleagues wishing they could play with nicer graphics.
What About a Group Demo?
If you'd like to show your team what business-aware monitoring looks like, contact us and we'll be happy to help everyone see the difference it could make for your organization. Ask for a Demo!
These users are enjoying business aware monitoring: