From humble beginnings, IT infrastructure and application monitoring has become a hot topic at every level of the company. Why? Because what you see on monitoring screen is now information business leaders need you to share to empower their decision-making. Are the communication lines open inside your company? This post provides guidance on aligning IT performance to business objectives.  
IT infrastructure and application monitoring are nothing new. They used to be humble operations, accomplished in the dark, back end of ITOM offices. No one gave it a second thought. It was just something to be done in order to find out if IT systems were running or not. Nothing to write home about, and certainly not something to put real money or resources on. Monitoring was the daily bread of sysadmins and other unlucky junior tech happening by. They were left on their own devices, either developing their own in-house code or snipping the free, open-source systems. Their work went unnoticed. Yet they were pioneers of some sort and we salute them.
In today's digital economy, everything rides on IT performance. Downtime is your worst nightmare when a 100% of your core business functions depends on IT infrastructure, networks, applications and services. Yet it keeps happening. Without IT today, businesses would come to a total standstill. As everyone needs things to run perfectly smoothly, monitoring becomes a matter of life and death. So that explains the revival and the sharp demand for IT infrastructure and applications monitoring. As a core concern for ITOM, monitoring has now been upgraded to a corner office.
Still a Sad Story
Despite the status change, we see the toll years of neglect have taken. Underinvestment and lack of interest probably mean that the tools you are using are not exactly up to the task.
Hybrid IT Complexity: Can Someone Turn on the Light?
The problem is, organizations rely increasingly on a vast and complex IT infrastructure, extending capabilities to internal or external users outside their data centers, whether in a private or public cloud.
Bank or insurance companies with branches all over the country; retailers with hundreds or thousands of stores, industries with spreading manufacturing plants and logistic platforms—all are undergoing some degree of digital transformation, be it as a result of customer demands, competition, or the simple hope of surviving past their golden years.
The net result is a mix of best-of-breed Cloud and Saas technologies tightly interconnected with vast and distributed on premises, legacy IT infrastructure. It's not a match made in heaven. A sprawling array of monitoring tools are needed to manage the consorts. Each is shedding some light on its own subset of the infrastructure. Some tools have been around for a long time and fall outside the reach of new technologies, others are proprietary portals dedicated to one single cloud provider.
Are IT Services Delivered to the Full Satisfaction of Users?
IT operations managers just have to learn to live with this complexity. Or do they? The real question ITO managers are asking is: are IT services being delivered to the full satisfaction of my "customers"? In many organizations the question is left unanswered. No one has a clear view on whether or not their IT Services are delivered at an acceptable level of performance. The plethora of monitoring tools accumulated over the years is silent—it can only say if the system is down or not. I&O leaders and their team are collecting and looking at metrics and alerts from thousands of equipment, but they can't answer a simple question: how and to whom is the service being delivered?
What You See Is What You Share: The Three Layers of Visibility
If you are planning for a new monitoring architecture, one that will provide a full and clear view on the performance and availability of all critical IT services, here is your key to success. Build your system around the three essential layers of visibility: Alerting, Dashboarding, and Reporting.
1- Alerting, obviously! You need to get meaningful alerts as soon as possible, when the performance begins to degrade, in order to notify the people that need to know, so that they have enough time to get a grip on what's going on and fix the problem before it spreads. Alerting should be handled from one single system. For the whole IT infrastructure, however large or complex.
2- Dashboarding. The heart of your monitoring platform must be its capability to build and share real-time views, with clear information about both performance and availability of all critical components: from low level infrastructure for which dashboards must show very technical data to high-level cockpits reporting on a few key applications or services. These views must be fully customizable to perfectly adapt to each team in the organization, from level 1 support to sysadmins to managers, directors, etc.
3- Reporting. While real-time information is key to run your business operations on a daily basis, ensuring IT performance in the long run requires a complete set of meaningful metrics that can be analyzed on a weekly or monthly basis to make the right management decisions: are you compliant to your internal or external Service Level Agreements (SLAs)? Where should you invest next? Have past investments improved performance? Is downtime less frequent? Etc. All this information must be made available to the management team, every week, every month, via easy to read PDF reports. No one in your team should waste time creating these reports—they should just self publish.
All-In-One Monitoring Solution
Centreon EMS is one such all-in-one monitoring solution for legacy and modern enterprise-critical IT infrastructure that let you see every detail, share key insights and streamline IT operations.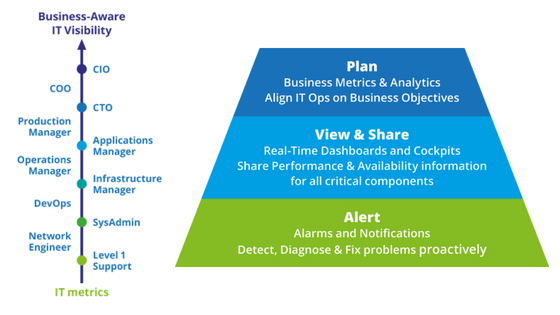 Top 5 Benefits to Share Business-Aware IT Visibility
There is no more excuses for not sharing monitoring insights with the entire team, from the ground up to the CIO. Sharing what you see will take IT performance to a whole new level.
1- A Clear Line of Sight
Everything becomes fully visible—from business-level services down to the most obscure layers of your infrastructure, no matter the system or where it is located. The view is conducive to split-second smart decision-making.
2- Single Source of Truth
You know how people in a team argue, especially under the stress of complex performance issues. A single view combined with unified performance and availability metrics mean everyone is singing the same tune.
3- Empowering Business Stakeholders
It's not your imagination. Business users are getting impatient with their request for real-time information on the performance and availability of key business services. You can now provide them with this critical information in minutes. They'll love knowing exactly how the IT infrastructure they rely on is performing this very minute.
4- SLAs don't lie
Your internal customers are really business teams working hard to positively contribute to the bottom line. They're under pressure. You don't want them complaining that subpar IT performance is dragging them down. Deciding on Service Level Agreements (SLAs) between IT and business teams and then monitoring each KPI and reporting every month on precisely when and how SLAs were not met is a good way to avoid heated discussions and focus on positive actions.
5- Align IT Investments With Business Objectives
The more bottom line results depend on IT performance, the more critical it is to spend wisely on IT. Agility calls for Cloud or Saas investments, while aging legacy infrastructure will benefit from some remedial technology. Oh, and there are some budget constraints, too. This is where a company gains from a deeper understanding of how bottom-layers network and system performance really impacts top business services. To get to this extent of mutual understanding, information needs to be shared and seen at the strategic level, connecting IT spending to business objectives.
This is what Centreon wants to help your business achieve. Contact us to start sharing what you see.