The clock is ticking. IT monitoring that limits itself to measuring availability and resource levels will have lost most of its relevance in just a few years. This will limit the organization's ability to innovate and succeed in the deployment of new technologies. The focus should now be on performance and business outcomes. You may already be aware that your infrastructure and operations (I&O) need an update so they can best align to business objectives, considering that the digital business is now focusing all its efforts on customer experiences. This post gets down to IT monitoring best practices for the 2020 onwards. There are just 3. Read them, share them, and may your entire team collectively enjoy the magic of aggregated IT monitoring and user performance data. 
"By 2023, monitoring practices that rely on the 'uptime' metric will inhibit 90% of transformation initiatives, due to disengagement with the customer in an increasingly cloud-native environment." – Gartner, Monitoring Beyond 2020: Focus on Performance.
Why is IT suddenly having business conversations?
Because in the digital business, the prime consumers of the IT systems you're monitoring are the end users or customers themselves. The way to their heart is exceptional user experience, driven by seamless IT service. Modern business operations rely on complex IT workflows spanning across hybrid IT infrastructure, from the cloud to the edge. The workflow performance makes or breaks the experience, and ultimately business performance. 
Is uptime still important in modern IT monitoring?
It sure is! But let's agree uptime is the deepest piece of the iceberg. The visibility of equipment, services and applications are being layered and combined so users can see actual workflows, so you and other IT and business stakeholders are looking at a live map of critical business transactions, from cloud to edge. This is what modern IT infrastructure monitoring is all about.
3 best practices for modern IT monitoring—make them yours!
1- Complete and up-to-date IT monitoring
Make sure you monitor every single element that plays a part in a given business transaction, drawing a line of sight from cloud to edge, across the full diversity of assets. This could include for example network switches connecting classrooms to the Internet in a word-leading graduate school. 
How to do it: Combine automation with integration
We've mentioned before that even in the most modern digital business, the IT environment is highly diverse, relying on more than the newer cloud technologies—physical and on-premise equipment are also playing a part, especially for organizations overseeing geographically distributed sites.  
 An API-centric monitoring platform such as Centreon EMS makes it easy for large organizations to automatically update the monitoring perimeter at the same speed at which new technologies are adopted—this works perfectly for the latest IT assets, such as cloud-based services. But your on-premise or edge IT portfolio can grow just as much, and quickly! Think of a merger or a new branch opening in another city, or continent for that matter.
With a functionality such as Service and Host Auto Discovery in Centreon EMS, you can automatically discover physical or on-premise assets as a complement to IT automation, ensuring completeness and accuracy of your infrastructure monitoring. This is a convenient procedure when adding new and unknown remote locations to the IT monitoring scope. Say hello to a broad range of equipment, from windows server farms controlled by Microsoft SCOM to branch office SD-WAN networks powered by Velocloud, from WiFi access points controlled by Aruba or Alcatel to Azure, AWS or Google cloud technologies… Nothing should limit your ability to discover and see with the right connectors.
2- Model business-critical IT services 
In its recent research note Monitoring beyond 2020: Focus on Performance, Gartner was referring to the ability to model (or map!) business critical IT services as an important best practice I&O departments should be adopting, as soon as possible.
With Centreon EMS, it's easy to map all IT components underpinning a critical business service so you can track availability and performance of entire workflows rather than individual pieces of IT equipment. Such multi-level dependency trees provide your organization with high-level KPIs which will accurately monitor the performance and availability of each IT Service. Such near real-time visibility considerably speeds up root-cause analysis up the IT chain.
"The next stage aligned with the shift to performance-based monitoring practices is to connect operational metrics to business impact. Service models provide a mapping between IT and the consumer of that service. Any degradation in the service will affect customer experience." – Gartner, Monitoring Beyond 2020: Focus on Performance.
How to do it: Start with your top 10 business critical services 
Start by focusing your efforts on monitoring the performance of the top 10 business-critical IT Services. Think of those that are currently subjected to SLA agreements. As you'll see later, the mapping exercise will make it much easier to provide LOB (line of business) visibility on responsiveness, uptime, service-level availability and other performance thresholds.
As you map the individual IT workflows that are behind each of these critical business operations, make sure to include all the possible connections and interactions. You want to get key stakeholders for these systems and application owners in the same room for the planning exercise. 
What to do with the final paper diagram? A few clicks in Centreon EMS will translate the technical diagrams and information flows into business relevant KPIs that will accurately track your agreed-upon SLAs. Congratulations, you're ready to track your SLAs from the monitoring console!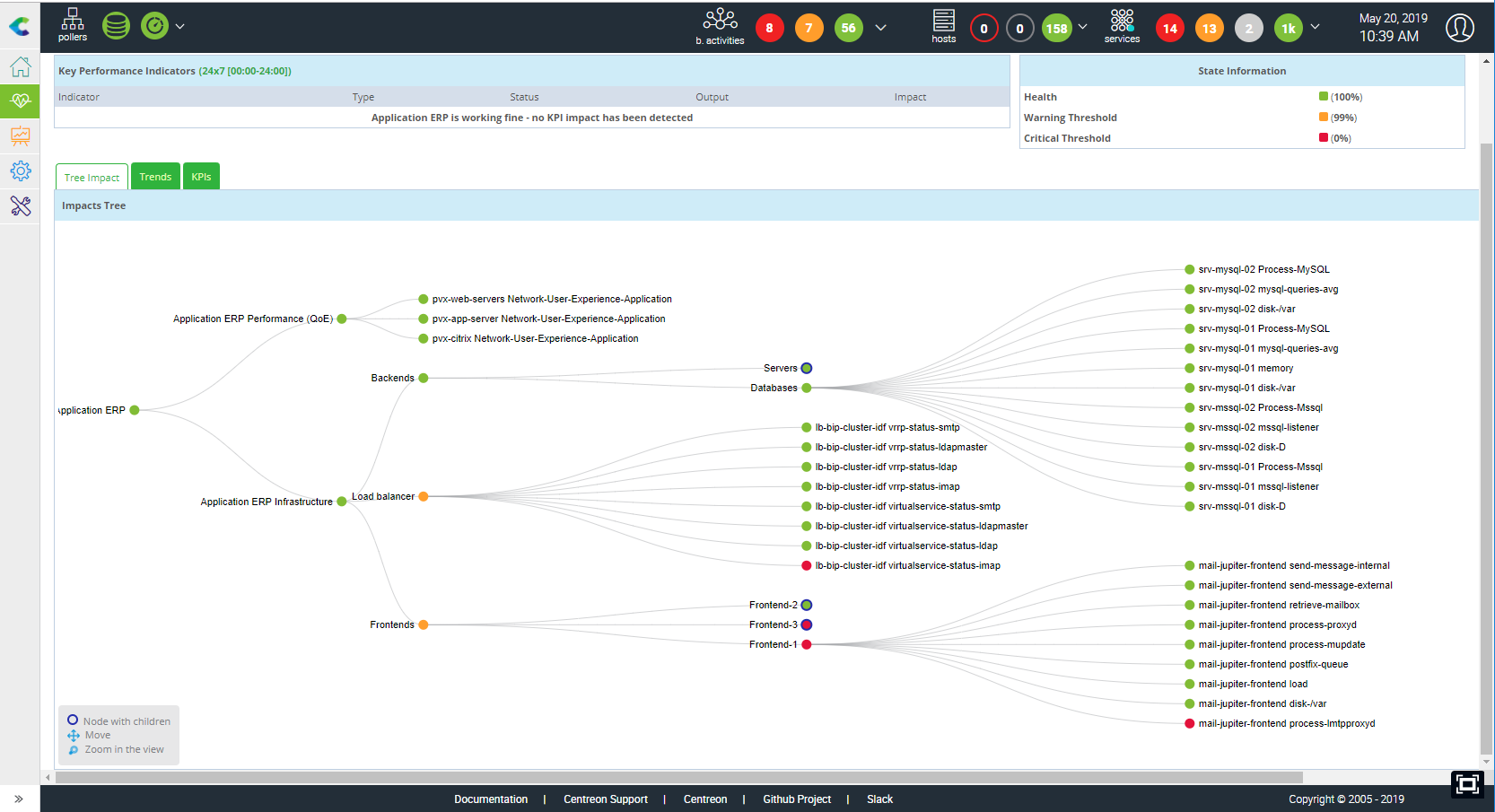 3- Align IT and business teams with meaningful dashboards and reports—and proactively share status with your end users
The number of IT stakeholders is exploding in modern business. IT operations teams, applications owners, line of business managers and DevOps teams, all will benefit from a constant view on the status of key IT workflows. C-Level management can also be looped in, as they need insights to plan and build the next round of innovation to support the organization's business goals. And because the focus is now on customer experience, you may as well add customers to the list of stakeholders! Some organizations making advanced use of their Centreon EMS platform are even providing end users with weather report-like dashboards so they can check the quality of service.  
With the increase in stakeholders, your IT monitoring practice needs robust dashboarding and reporting functionalities. Here's a sample of views we recommend building for each of the critical IT services being monitored:
Real-time views of global IT operations with visibility on the health status of all critical IT Services, all in one single easy-to-read screen. Hint: install large TV monitors in open-space offices so everyone can share in the view.

Weekly and monthly analytical reports to support management decision-making.

Geographical maps showing the performance and availability of each remote site.

Detailed view with real time and aggregated data to help technical teams maintain operations excellence of the infrastructure subsets they're in charge of; (including graphical network views of each subset).

Event management and log console for Level 1 support teams.

Dashboards and reporting are not a one-size-fits-all affairs. For example, you might want to add contextual data to guide proper action when issues arise. Combining data that's not directly related to IT but that have their impact on operations: number of users visiting a website or using an application, number of active shopping carts or daily revenue of an e-commerce shop, number of students connected to the academic WIFI infrastructure, up to weather or traffic reports, if those are factors your business depends on.   
How to get it done: get on the Web!
Centreon EMS' web interface natively integrates four tools that help you create and customize views:
A full-feature event management and notification console.

Customizable widget-based operational dashboards that combine real time and analytics data.

A choice of real-time graphical draw-it-yourself or automatic geographical views with drill-down capabilities and integrated tooltips.

Over 40 templates of automatically created and distributed analytical reports.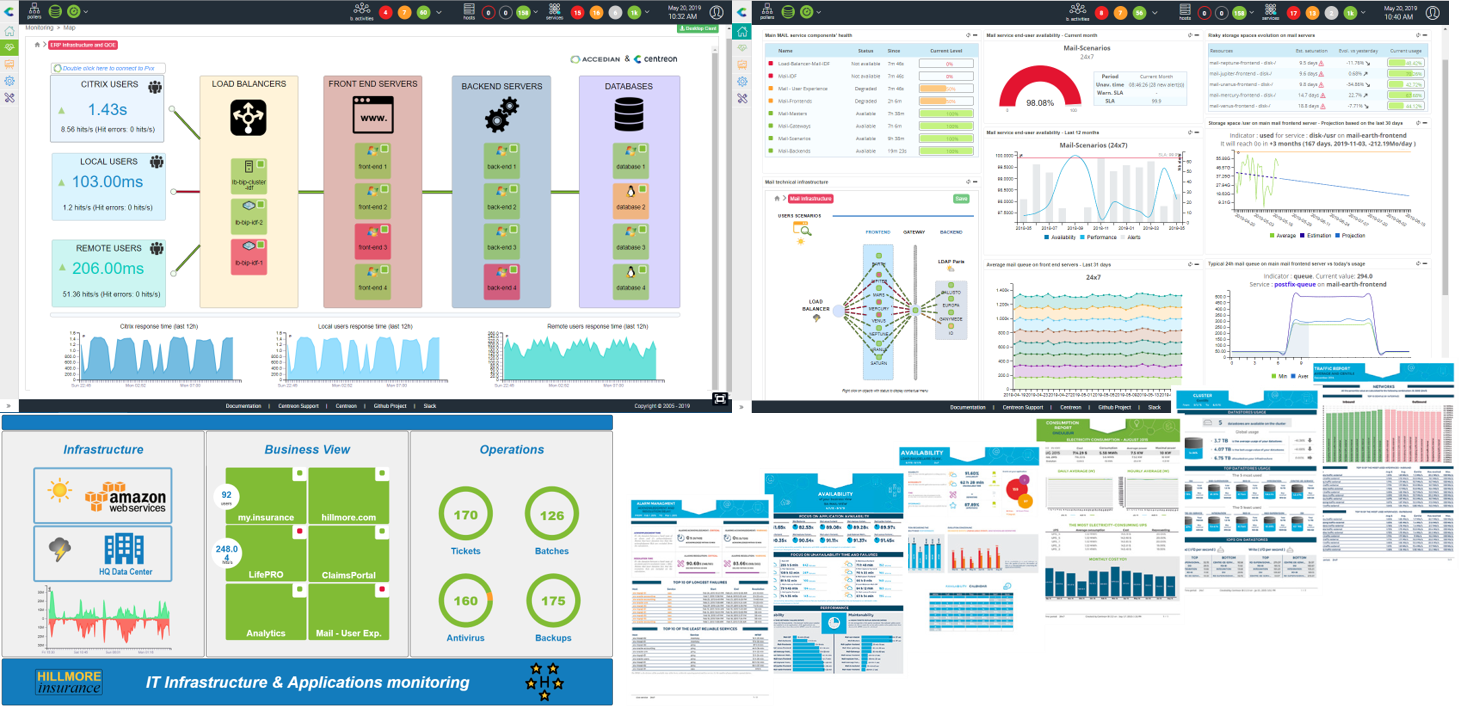 Do you enjoy webinars? Here's one you can catch to learn more on the best practices discussed here. 
3 examples of best practices in action:
DIGITAL GOVERNMENT: The French Ministry of Justice is using modern IT monitoring to strengthen cohesion, communication and efficiency between headquarters and regional offices. From 20 people assigned to IT monitoring, only 3 are now needed, the rest have been redeployed on other value-adding projects. On the material front, the number of servers required was divided by 10, from 40 to only 4. In alignment with agile methodology, silos were broken within the IT department and teams were empowered by their common platform and working methods.
HIGH-TECH EDUCATION. École Polytechnique, France's own MIT, makes available to 6,000 users a simple, three-color coded monitoring view showing the real-time status for Internet, Wi-Fi and email service. Any user on campus, student, teacher, researcher or staff can access the view from the School's portal. When there's planned maintenance, all users are reminded to use this resource for an instant "weather report" on the IT system. The school adopted this highly transparent approach because even the slightest glitch with Internet service or access to applications can negatively impact the work of teachers, students and first class, international researchers.
WORLDWIDE RETAIL. Sports equipment giant Amer Sport, which markets the world's most beloved brands deployed modern IT monitoring because they needed a common, centralized platform to manage some 20 sites across three continents, virtually in real time, in order to be able to gain the visibility and responsiveness needed to serve business users at the expected standards.
Next steps – If you're looking to adopt modern IT monitoring, here's what should be on your to-do list:
Check if you're enabled to monitor everything accurately and completely.

Determine your critical business services.

Map the various layers of IT on which the critical business services depend.

Connect the IT view to the business view in Centreon EMS.

Share the real impact of IT on business results and ideas for improvement with the IT team and business team leaders. 

Contact

Centreon

to discuss your IT monitoring needs. 
Need to read some more?
See how ITIM helps sell burgers.
Want more articles like this? Register to our newsletter.