The characteristics of modern infrastructure monitoring, as simple and business-worthy as the customer experience it supports.
 Ordering fast food is a fairly simple customer experience, if you know what you want to eat. Yet, clicking that flashy ORDER button won't produce any results without some heavy lifting in the background—and we don't just mean at the farm or in the kitchen. We're talking about the IT workflows that needed to be processed, before you even ordered or tapped your credit card, in order to deliver a satisfying burger with crispy fries. On top of making you crave fast food, this post contrasts ease of customer experience with the IT complexity that supports it, making a daring suggestion: Hybrid IT and complex workflows may be there to stay, but modern IT monitoring should be as simple and rewarding as the customer experiences it supports. Yours for take-out: 3 questions to ask to make sure you're rolling out a modern monitoring solution.
But let's first look more closely at that burger order….
Consumer experience VS IT Ops experience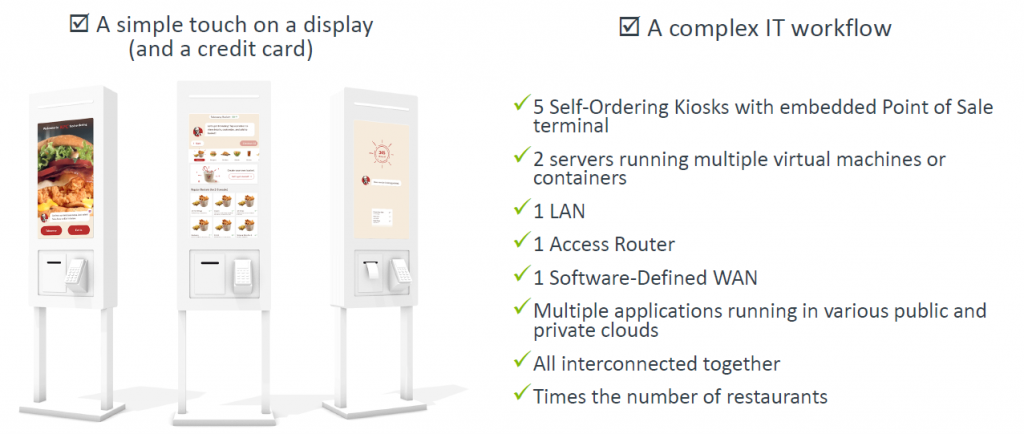 Lights flashing on the IT monitoring dashboard when you order a burger…
Checks connected deep-fryer works
Checks power to safeguard the cold chain
Checks supply chain so you get bread
Checks there's a connection with the bank to validate your payment
Checks wifi so you can look at cat videos while waiting
"IT monitoring answers a very basic question for your business: Can I sell burgers today? Centreon wants it to be easy for you to answer this question."
IT complexity is how you make customer simplicity
To recap, we have a very simple consumer experience that's supported by a highly complex and heterogeneous IT infrastructure. And we have you, entrusted with the mission of averting end-of-civilization scenarios (What the heck, no more burgers!) through ensuring infrastructure is up and running at the optimal level of performance. The good news is, your job is important and it's not about to disappear. It's how your job is done, and the impact your job has on the business that's changing.
IT complexity is here to stay. Unless humanity develops massive mental powers, the more we will want the customer experience to be simple, the more we will need to depend on a complex web of infrastructure and applications. Granted, a lot of our infrastructure is being dematerialized. But the fryers, the POS terminals, the supply chain's trucks and cold storage facilities are staying right where they are. IT diversity forms the matrix that shapes not only those rewarding customer experiences your business craves, but also the minute aspects of our everyday reality.

Infrastructure as a "reflector" of business processes
Over the years, our role at Centreon has been to help our clients take a different perspective on the apparent complexity of their IT system. Although their IT infrastructure is much more diverse than it used to be, combining legacy equipment in data centers (i.e. IBM AS400, older applications), multiple Cloud or SaaS environments, on-premise equipment (networking or edge computing) or even IoT devices, we tell them they don't have to lose sleep on the infrastructure itself. The place to focus is on the business-critical services that run on top of this hybrid infrastructure. In other words, IT complexity does not really matter—what matters is simplicity in monitoring its performance.
And when it's simple, people can actually talk about it.
Actual footage of a chat session between I&O and business colleagues.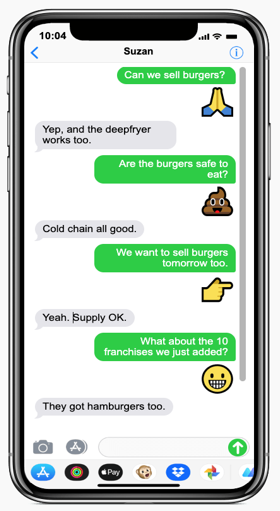 If you'd like to have this simple conversation in your organization, start by talking to us.
Constant dialogue: the infrastructure and the business processes
In simple terms, your job is about telling the bosses at your company: Yes we can sell burgers today. As complicated as the infrastructure can be, we believe that answering this question should be made as simple as possible, just like ordering a burger is. We also believe that modern IT monitoring can bring at the same table the IT department and the business teams. Why? Simply because modern IT monitoring is actually a lot like the patty in your burger, interfacing between the top slice, the business reality, and the bottom slice, the infrastructure reality.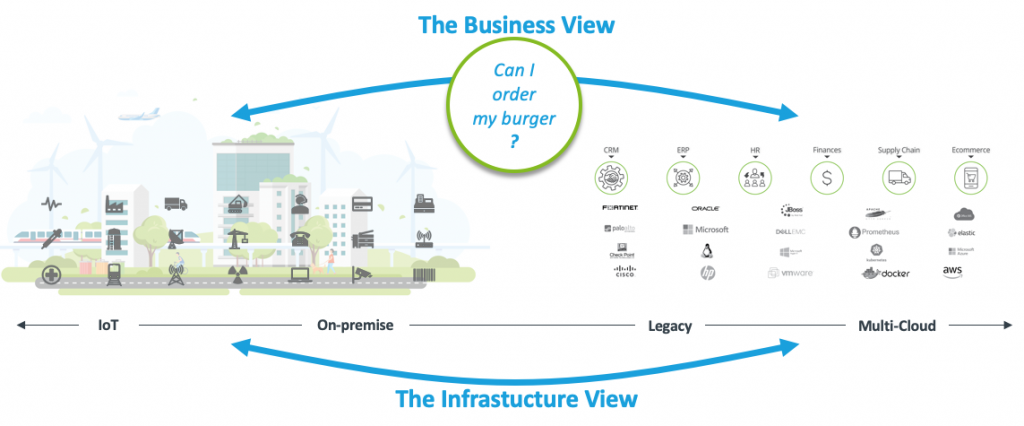 What does it take for business-driven monitoring to happen?
Here's a more serious rendition of the conversation between I&O and business lines.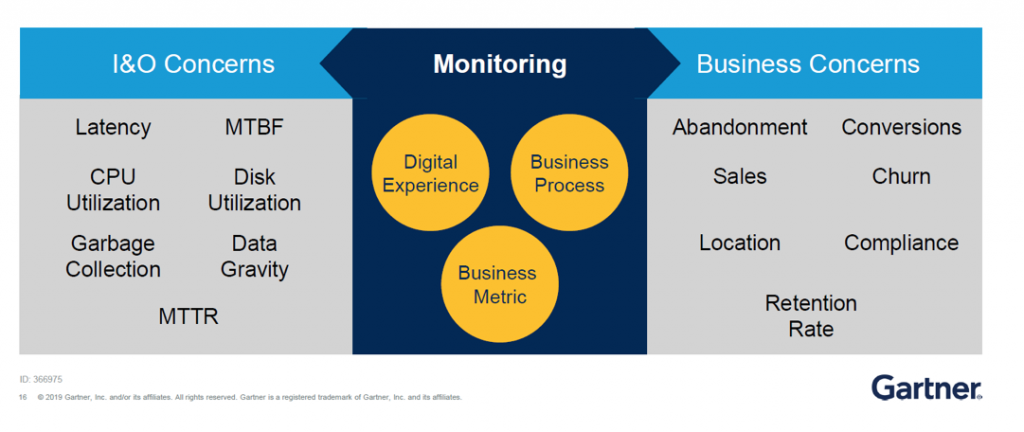 Higher expectations: Characteristics of a modern ITIM solution
So what does it take to start having some serious ITIM-business discussions at your company? Here's a quick look at the main characteristics of a modern IT Monitoring platform to support both IT and business needs. There are only three—proving modern IT monitoring is something that's accessible to your organization.
1. Your system needs to be HOLISTIC. You should be able to monitor everything.
With a modern ITIM platform, there is no longer any necessity to live with blind spots. Being able to see everything removes a lot of complexity. Some tools are labeled as modern—but it's because migrating to the "cloud" is part of a major, ongoing transformation in many organizations. However, a tool that only monitors the cloud should not be confused with modern IT monitoring practices—your cloud monitoring should still be integrated within a holistic monitoring platform that also monitors the rest of your infrastructure: your data centers, your devices, your VMs and containers, or anything else that's connected to the grid.
2. Your system needs to be AGILE. You should be able to automatically discover and map equipment so that you can follow entire business workflows.
Having to monitor everything is no excuse to make the life of your monitoring team miserable. A modern IT monitoring tool automatically discovers all your equipment and allows you to map them into processes supporting your business. For example, when you do the grand opening of a new franchise restaurant, your system needs to be agile enough to immediately discover and map all the new equipment you added in order to run the restaurant. Congratulations on the new opening!
3. Your system should be BUSINESS-ORIENTED. You should get both the IT and business perspectives.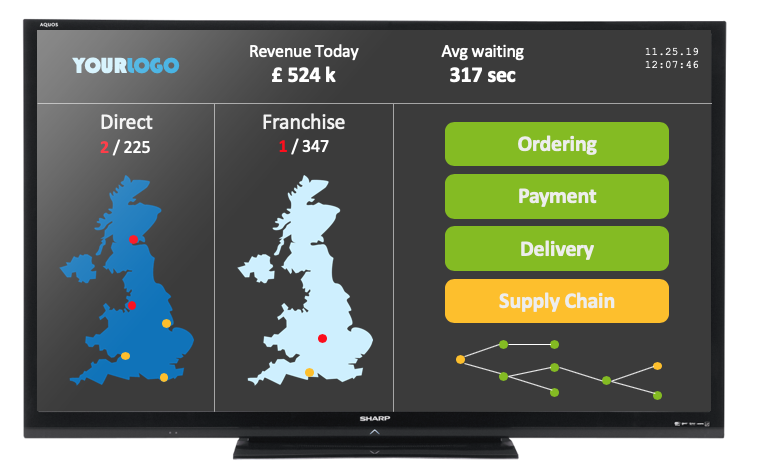 Monitoring everything and being able to watch end-to-end workflows are the prerequisite to relevant and productive conversations on IT and organizational performance. Combining both perspectives will answer concerns of both IT and business stakeholders. It will have an important added benefit: help the IT and business teams be fully aligned in their goals to run and grow the business.
Ease of experience sells
In this modern day and age, running and growing a business is about a single thing: simplifying the customer experience. And it looks like your own operating budget is either already or will very soon mirror this new reality. Now's a good time to start asking the right questions.
« By 2022, IT operations monitoring investments that are not aligned to the organization's customer experience initiatives will have a greater than 50% risk of either getting outsourced or having their budget cut. » – Gartner
3 Questions to ask to determine if you're customer-centric at the level of the IT monitoring system
Can we really monitor all our critical, complex and heterogeneous IT workflow from the cloud all the way to the edge?
Can I automatically discover changes and the evolution in my IT Infrastructure?
Do I have both IT and business views, helping me to fully support the business?
If you've answered "no" once or many times, we'd be happy to help you determine what your options could be to modernize your IT system. If you've answered yes to all, tell us about your IT monitoring practices—we love hearing good monitoring stories.
If you'd like to think about processes—here are the detailed 3 steps of modern IT monitoring.
We recently presented at the Gartner IT Infrastructure, Operations & Cloud Strategies Conference in London. You can view the presentation here.
Ask for a demo of modern, business-aware IT infrastructure monitoring.