As you may have noticed, Centreon releases new connectors (Plugin Packs) as well as enhancements or fixes to existing connectors on a monthly basis. 
Plugin Packs help you interconnect your ITOps tools to your IT monitoring solution, providing higher visibility and observability.   
We make sure to update you regularly on the latest news regarding your best monitoring allies, our Plugin Packs. 
Should you wish to learn more on some of the new items, you may explore the relevant documentation or get in touch with our Presales team. You can also connect with us using the #centreon-plugins channel on Slack.
New Plugin Packs of the Month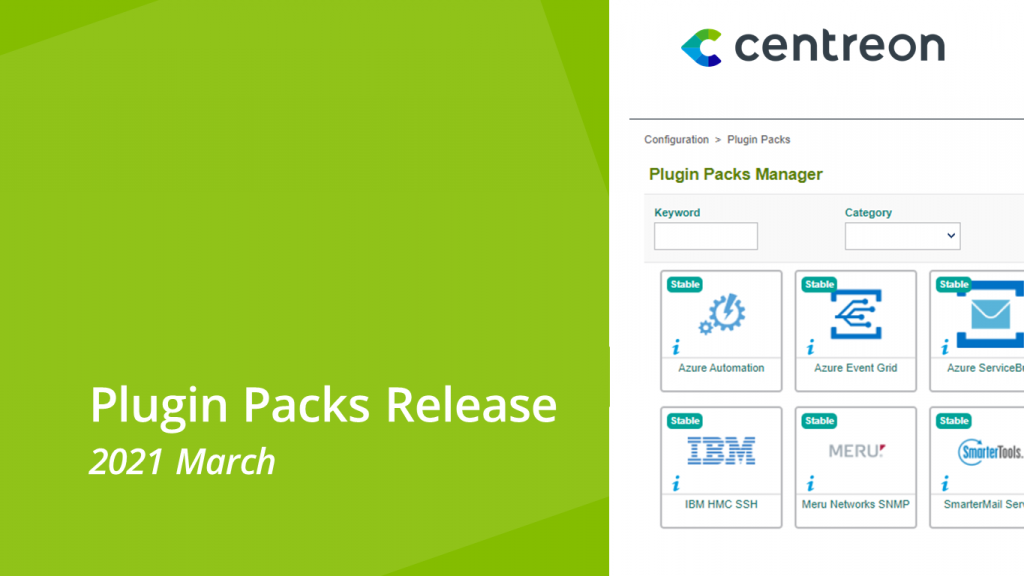 Seamlessly Integrate
Azure Cloud Services
Not less than 4 new Azure Services are part of this monthly release: 
Install these Packs to easily discover and monitor all your related Azure items. 
Network equipment 
To ensure the security and optimization of your applications via a DenyAll (now Rohde & Schwarz) WAF (Web Application Firewalls), a connector is available! You can monitor your reverse proxies and make sure they have all the necessary resources and are working properly.
Nothing more annoying than a Wi-Fi failure? We agree! Whether you have deployed Meru or Ubiquiti equipment, you can monitor in detail these equipment, the access points, stations and associated radio frequencies. 
Applications and appliances
A new monitoring package for the EMC PPMA (PowerPath Management Appliance) solution offers you the possibility to discover via a rule the associated virtual hosts as well as the status and availability of the associated paths and volumes. 
Are you using SmarterMail from the SmarterTools suite for collaboration and communication in your organization and want to be kept informed of how it's working? With this new connector, you can track and streamline license usage and ensure that your application services and message spools are working as expected. 
IBM servers
Present for a long time in open-source, the IBM HMC Plugin has now its Pack in order to use SSH to retrieve, from the administration cards, the health status of the hardware components and the leds of your servers. 
See you next month for the latest updates!
In the meantime, click here to view our full catalog of Plugin Packs and our technical sheets to get your monitoring system connected.