Every month, Centreon extends its monitoring connector catalog and implements new ones, allowing you to connect your IT monitoring with more ITOps tools. The result: increased visibility and business observability capabilities. We also offer enhancements and fixes on existing connectors.
Here is the latest news on your best allies: our monitoring connectors!
To learn more, you can also read the related documentation, contact our sales team or post a message on The Watch.
Reminder: since the 23.04 new release, there is a new name for our Plugin Packs. We will now refer to them as Monitoring Connectors.
Just like that! 5 new monitoring connectors were added to the catalog
This summer, we've added five new monitoring connectors to our catalog: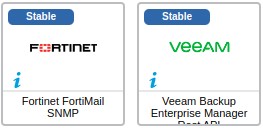 Fortinet FortiMail SNMP monitoring connector
FortiMail protects organizations against e-mail threats, including phishing, ransomware, zero-day and business e-mail compromise (BEC) attacks. This technology prevents, detects, and responds to e-mail threats in real time.
By connecting Centreon to Fortinet FortiMail you can monitor:
CPU, memory, and disk usage
Hardware status
System load
HA status
Uptime
Network interfaces
Queues
Discovery rules are available for configuring network interfaces and queues.
Veeam Backup Enterprise Manager Rest API monitoring connector
Veeam Backup Enterprise Manager is a web-based management and reporting console for Veeam Backup & Replication. It enables users to manage multiple installations of Veeam Backup & Replication, for a convenient, consolidated view of their distributed deployment.
Connecting Centreon to Veeam Backup Enterprise Manager's REST APIs lets you monitor :
Repository status
Job status
Discovery rules are available for both.
Rittal CMC3 SNMP monitoring connector
 The Computer Multi Control (CMC) monitoring system is an alarm system for network and server enclosures, standard enclosures, containers, and rooms. It monitors temperature, humidity, access, smoke, energy and many other physical ambient parameters.
By connecting Centreon to Rittal CMC3 via SNMP you can monitor:
System load
Unit status
Uptime
Attached devices
A discovery rule is available for configuring attached devices.
SailPoint IdentityNow Rest API monitoring connector
SailPoint IdentityNow is a SaaS solution that uses AI for the rapid deployment of identity security services from the cloud. With it, you can discover, manage, and secure all identity access.
By connecting Centreon to SailPoint IdentityNow's Rest APIs you can monitor:
The number of results returned by a query
Source health status
A discovery rule is available for configuring sources.
Tosca Rest API monitoring connector
Tricentis Tosca optimizes and accelerates end-to-end testing. Its no-code, AI-driven approach helps avoid testing bottlenecks and software releases issues.
By connecting Centreon to Tosca's Rest APIs you can monitor :
An execution list status
The status of a scenario
Improvements
Many connectors were enhanced this summer.
Aruba CPPM SNMP: A service model for swap monitoring was added: Net-Aruba-Cppm-Swap-SNMP.
Azure SQL Database. A CPU and memory monitoring service model was added:Cloud-Azure-Database-SqlDatabase-App-Resources-custom.
Cisco Meraki Rest API: Thresholds were added to the service model Net-Cisco-Meraki-Device-Restapi-custom.
Cisco Standard: A service model for interface monitoring was added: Net-Cisco-Standard-SNMP-Traffic-Name.
Cisco WLC: A discovery rule for Access Points was added.
Generic SNMP: All the connectors that are  required to monitor the full scope of  host types managed by the host discovery provided by this connector were automatically installed.
IP Fabric API: This service was optimized: App-Ipfabric-Path-Verification-Api-custom.
OneAccess SNMP: Options for Net-Oneaccess-Cells-Radio-SNMP-custom model were added.
Palo Alto firewall SNMP: A template and discovery rule for interface monitoring was added: Net-PaloAlto-Standard-Interfaces-SNMP-custom.
Rubrik Rest API: A template and discovery rule for job monitoring was added: App-Rubrik-Jobs-Restapi-custom.        
APC UPS: Service templates for time and uptime monitoring was added: HW-UPS-Apc-Time-SNMP-custom, HW-UPS-Apc-Uptime-SNMP-custom.
AudioCodes: A service model for monitoring SBC Calls was added: Net-Audiocodes-Sbc-Calls-SNMP-custom.    
Azure App Service: Threshold on privatebytes were removed from Memory service.
Azure Functions: The threshold on privatebytes has been removed from the Memory service.
Azure Management Costs: The pack has been moved to the correct category (cloud).
IP Fabric API: Logo was updated.
IP-Label Newtest Rest API: Timeframe option was added for the scenario mode.
Speedtest: App-Monitoring-Speedtest-Internet-Bandwidth-custom service model now uses the Ookla service.
UPS Standard: Thresholds were added for alarm and output-lines modes.
Windows SNMP: Service-Generic mode options were added.
Enhancements impacting current configurations
Teltonika SNMP: The Net-Teltonika-System-SNMP-custom service has been renamed Net-Teltonika-Modem-SNMP-custom. The aliases have also been modified.
Major change impacting all host discovery providers: the default host templates used in host discovery were read-only.
From now on, read-write "-custom" templates are used.
For example, generic-active-host-custom will be used rather than  generic-active-host.
This change enables to customize these templates, so they can be  better adapted to each client context.
The following connectors are impacted:
AWS Billing
AWS Discover
AWS ELB
AWS Lambda
AWS VPN
Amazon API Gateway
Amazon Backup Vault
Amazon CloudFront
Amazon Direct Connect
Amazon EBS
Amazon EC2
Amazon EFS
Amazon ElastiCache
Amazon FSx
Amazon Kinesis
Amazon RDS
Amazon S3
Amazon SNS
Amazon SQS
Ansible Tower
Ansible
Azure Event Hubs
Ericsson ENM API
Generic SNMP
IP Fabric API
IP-Label Ekara Rest API
Kadiska Rest API
Nmap CLI
Rudder
Thales Mistral VS9 Rest API
Bug fixes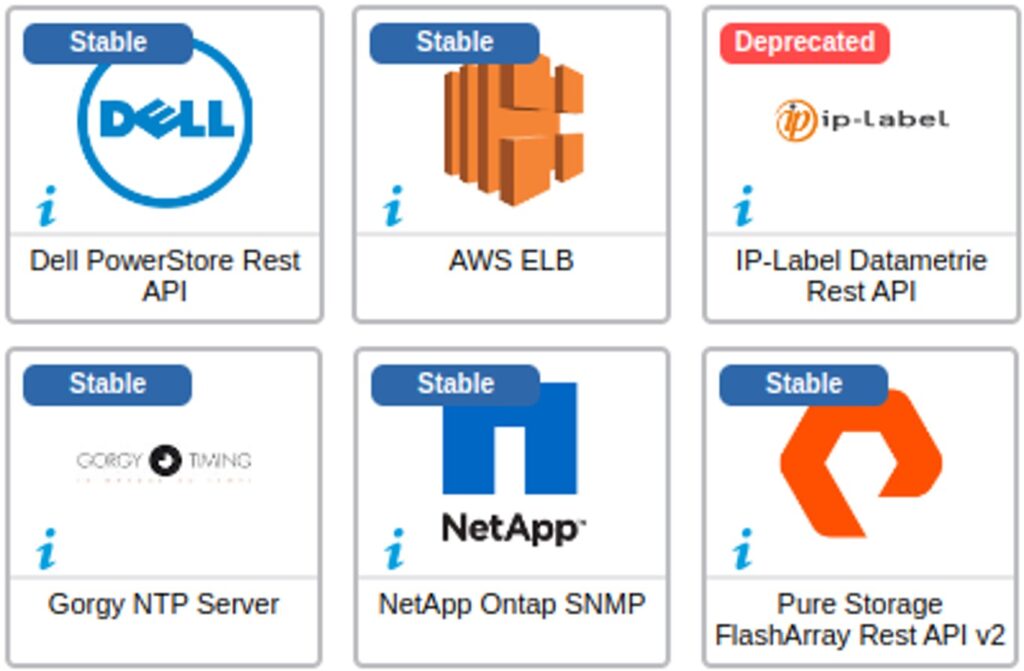 Dell PowerStore Rest API: fixed bug relating to memory information.
AWS ELB: fixed anomaly on discovery uniqueness.
IP-Label Datametrie Rest API: marked as deprecated.
Gorgy NTP Server: correction of $_HOSTSNMPEXTRAOPTIONS$ macro.
NetApp Ontap SNMP: correction of $_HOSTSNMPEXTRAOPTIONS$ macro.
Pure Storage FlashArray Rest API v2: fixed an error that occurred when the storage size was zero.
More details on this month's monitoring connectors can be found in the release note.  😊