Although you probably already know about our IT performance monitoring software, you may not yet have heard of our community called The Watch. As open-source champions, community is in our DNA and community may be just what you're missing out on if you're not yet on The Watch. Read this blog for ideas on how to use Centreon's community to become even more productive in evolving your monitoring, learning, and resolving issues…. All the while playing your part within this community, sharing your knowledge, helping others past hurdles, and making all of us benefit from your great ideas to make Centreon software even better.
Finding your way: The Watch's 6 main spaces
Before we get started, here's an overview of how Centreon's The Watch is organized. There are 6 main spaces you can use for as many different purposes. Note that you'll have to register to access some of these spaces.
Do press on that purple button!
The "Ask Your Question" purple button is your open sesame to question the community, start a discussion, or submit an idea. If you're not registered to The Watch, you'll have to do this first.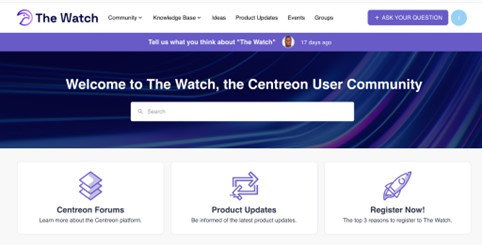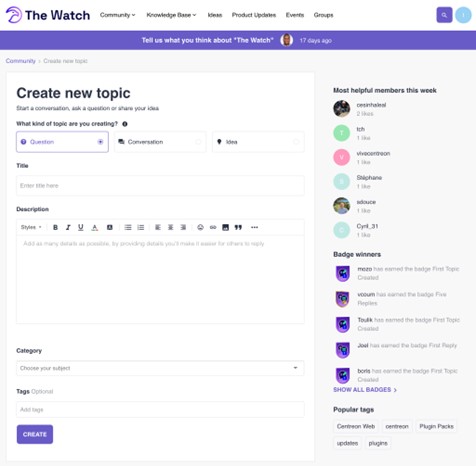 Ok, know that you know where everything is, let's go and be productive on The Watch.
7 Things to Try on Centreon's The Watch
Ready to become a Watcher?  Here are a few ideas of things to try while exploring The Watch.
1.    Register
It may seem obvious to register but you should be aware that you don't have to be registered to enjoy some of The Watch features. You can check out what's happening on The Watch's forums, access the knowledge base, and see the latest events, for example, but you won't be able to interact with other Watchers. In short, not registering makes you a silent observer, which is fine too, if that's all you need. You can register whenever you want by clicking the sign-up button and filling the short form. In that form, you can tell a little more about yourself, it can be just a sentence, so people know who they interact with.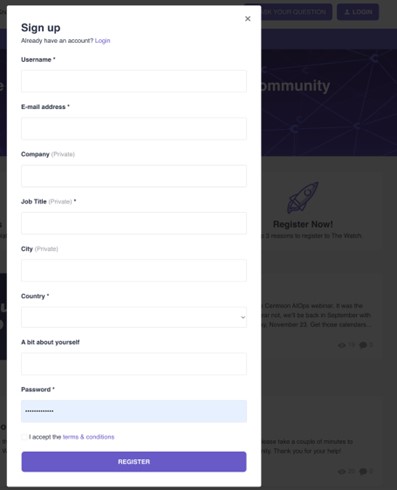 2.    Browse the forums
Trying to fix an issue with your monitoring? Why not hop in The Watch and scan the forums? Someone might just have had the same problem a little while back and the answer to your problem lies waiting for you there. You can simply search the Centreon Forums using some keywords to see what turns up. You don't have to be a registered user to browse forums, but you will need to be if you'd like to post a question.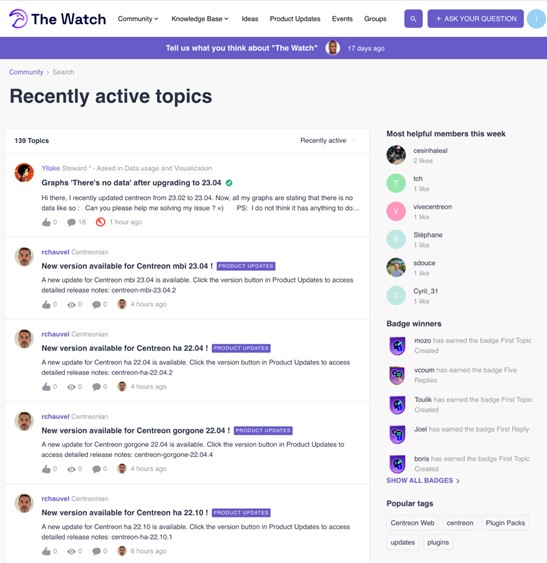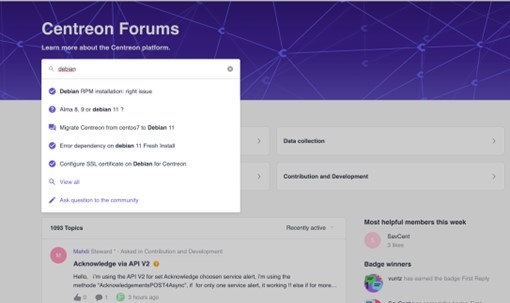 3.    Ask a question—and mark the best answer
An issue comes up? Pick the brains of the community. Then, as you go through answers to your post, don't forget to mark the best one to close the topic and make that answer available for anyone who may come up with the same question later. Best answers are also referenced in web searches. Remember, you must be a registered Watcher to ask a question.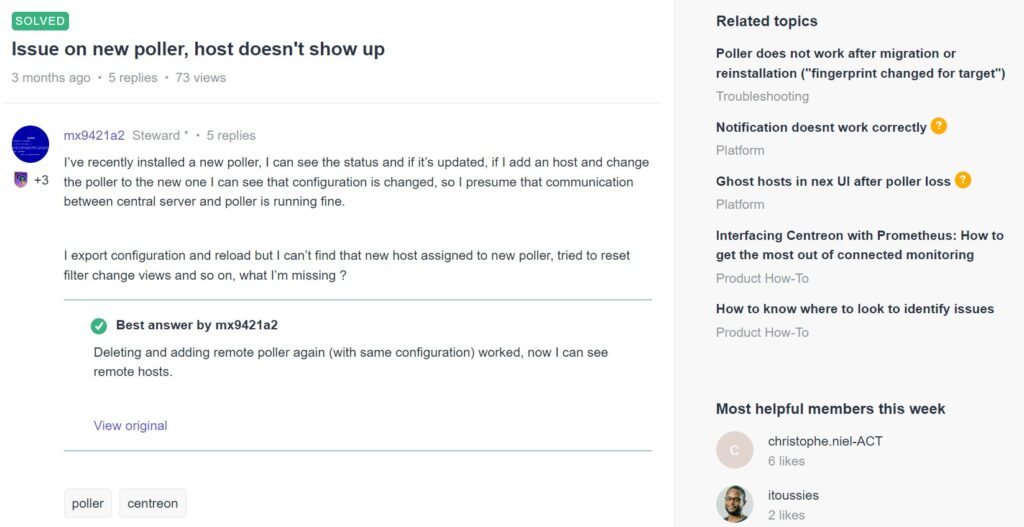 4.    Add to the knowledge base
You've got a great tutorial or found a cool way to use Centreon? Share your best nuggets with the community. Many Centreonians (a.k.a. Centreon staff) do exactly that on The Watch, so the knowledge base is a good place to visit for firsthand learning. There are many tutorials and how-to videos to pick up in that section. 
Send your piece of content to Fabrix in The Watch.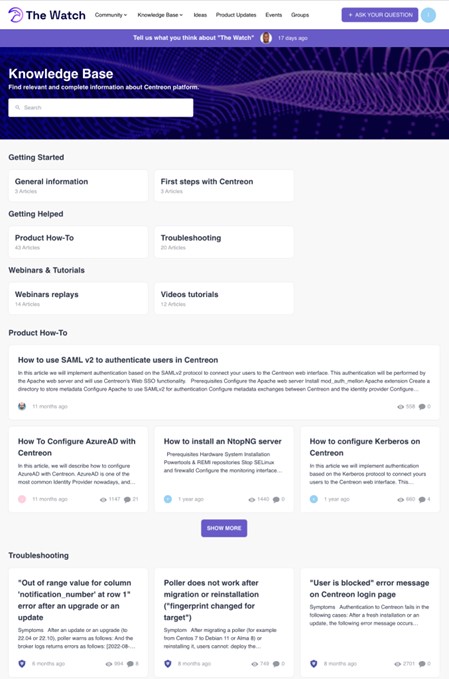 5.    Stay current on security and software updates
Your inbox is probably full of messages and important announcements, and you already have a lot of information to corral and absorb. So if ever you have a doubt about whether you've missed a security update or whether you've got the latest software version, here's where to look. However, you'll need to be a registered The Watch user to check this section.

Never miss an update again. Click on the "Subscribe" button on the Product Updates page to be notified of new updates.
6.    Share your ideas to make Centreon better and vote on others'
"Wouldn't it be neat if…" if a similar phrase has crossed your mind from time to time while using your Centreon software, then the Ideas in The Watch is the space for you. As a registered user in The Watch, go add your idea, or look at currently posted ideas and vote on those you like! Isn't it a great way to have a say in your monitoring software roadmap to best match evolving needs? Read this helpful post on how to use The Watch's Ideas.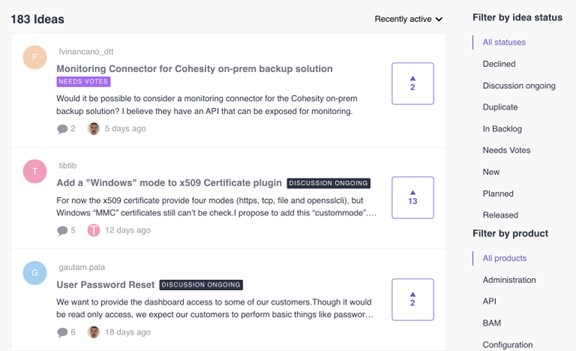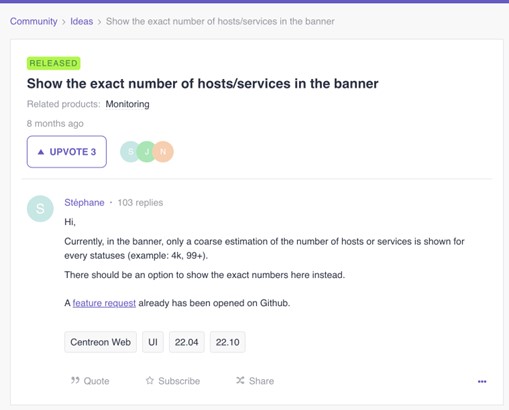 This user suggested an idea which was upvoted and subsequently included in a software release.
7.    Join or browse groups
As we saw above, groups are topic-focused communities. Look at the currently available groups and see if you'd benefit to join one or a few of them. If the group is public, you just need to click on the purple button "Join Group" to get in (granted you're a registered The Watch user).  If the group is private, then you'll have to ask to be let in, using the "Request to Join" purple button.
If you think a group should be organized around an important issue or topic, we'd like to know.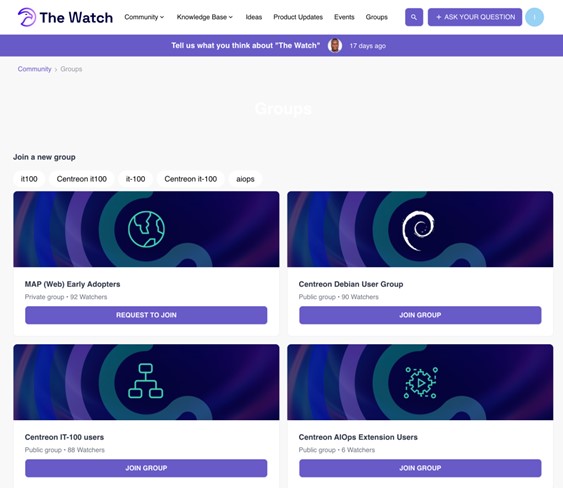 Community complements great software
As you go about delivering impeccable IT service, you need excellent digital performance software, but you also need to be surrounded by a community of like-minded professionals. And that's exactly what you get with Centreon. Try using The Watch today, enjoy helping and learning from others, and discover how The Watch could make you more productive in solving issues.
Explore some more: