We were recently writing about the pillars of a business observability strategy. We saw that a good observability strategy is built around the business goals for the IT system. But now what? You're in charge of IT operations, you manage infrastructure monitoring—it's your turn to take the ball and run with it. This blog post lists the observability capabilities and features built in Centreon's IT monitoring solution which help you contribute to that business observability strategy.
Supercharging IT monitoring with observability capabilities and features
More than ever, a business is only as performant as its digital systems are. Therefore, business stakeholders are turning to IT teams to gain an intimate understanding of how digital outcomes translate into business outcomes. With the right built-in observability capabilities and features,  IT monitoring now provides the platform of reference to keep watch and continuously refine the performance of the key infrastructure and services enabling business interactions—from start to finish. In short, observing IT is observing the business. Centreon offers an all encompassing, business-centered IT monitoring platform that can support even the most ambitious enterprise business observability strategy, through a set of distinct observability capabilities and features.  
5 key IT monitoring abilities supporting business observability
If you're trying to support your organization's observability strategy without harnessing a complete set of advanced observability capabilities and features, you may end up facing the triad of ITOps monitoring pitfalls: no integration, useless data, no business value.
These are the observability capabilities and features you'll need to give your best performance.
Maintain a constant, up-to-date monitoring configuration—

from legacy IT running yesterday's applications up to the just-launched private cloud microservices clusters. 

Monitor equipment at the edge of the network and connected devices

such as WiFi, SD-WAN, and edge computing—in order words, be "present" anywhere the business is and where it interacts with users and customers.

Map the full chain of services executing business processes

, from start to finish.

Monitor end-to-end business processes

, rather than unrelated infrastructure pieces,

assisted by artificial intelligence (AI) and machine learning (ML)

.

Automatically create and share view

s, reports, and dashboards that

show how digital outcomes have produced business outcomes

—sharing this information with all stakeholders.
High priority IT operation strategic capabilities
In a recent survey of 600 IT managers and I&O teams, a majority of your peers (73%) were reporting they were lacking visibility on IT performance and service levels. But the good news is: getting there is a top priority for their organization's IT strategy. In fact, in this poll we saw that organizations were in great part adopting the strategic observability capabilities and features that support an enterprise business observability strategy.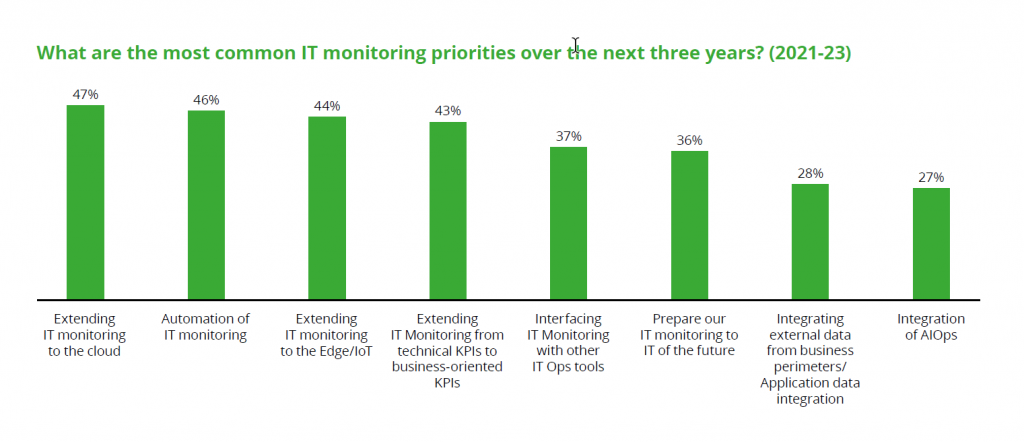 Source: Preparing for the Future of IT Monitoring: How to Ensure your IT is Growing Sustainably, Centreon.
DevOps, PlatformOps and BusinessOps share these strategic observability priorities
The high priority given to observability capabilities and functionalities at the IT monitoring level in a majority of organizations highlights the fact that IT monitoring is becoming an essential layer in the enterprise observability platform and that it's the most cost- and time-effective approach to monitor business KPIs, on top of proactively helping you manage the health and performance of the IT system. This platform is now shared with DevOps, PlatformOps and BusinessOps so they too can understand the infrastructure on which the business service they design and implement depends on, as well as keep constant watch on the impact of infrastructure on overall performance. 
So let's dive in into the fun part, Centreon's observability capabilities and features! 
As you can see, based on the necessary observability capabilities and features listed above, these are Centreon's unmatched observability features for supporting your organization's observability strategy. We've organized them according to the 3 pillars of the Centreon platform: holistic visibility, business-aware monitoring and future-readiness. 
Whether you're a Centreon user or are just starting to discover us—do not hesitate to contact us to discuss your priorities for supporting business observability in your organization. We can help you get there. 
Holistic Visibility
Extended monitoring scope
Automatic Discovery Engine
Ready-to-monitor configuration templates
Ready-to-use, prepackaged connectors (Plugin Packs)
Optimized Event Management
AI-powered Anomaly Detection
Business Aware Monitoring
Service Mapping
Extensive Top-Down Views
Cockpit Views
Custom Dashboards
Graphical Views
Geographical Views
Analytics & Reports
Future-Ready Platform
All-in-one Virtual Appliance
Role-Based Access Control
Scalable & HA
Distributed Monitoring & Operations
Seamless Integrations
AIOps-Ready
Cloud-Augmented
Open Source flexibility
Takeaway: The path to enabling an enterprise observability strategy
Extending IT monitoring to the cloud

Automating IT monitoring

Extending IT monitoring to the edge and IoT devices

Extending IT monitoring from technical KPIs to business oriented KPIs

Interfacing IT monitoring with other ITOps tools

Preparing for the IT of the future

Integrating external data and from business perimeters and application data

Integrating AIOps 
Looking for help supporting your enterprise observability strategy? Contact us today.