Monitoring Linux servers, which are used to host business applications as well as e-commerce sites, has become a key point in the operational excellence of a company's IT system. Being familiar with response time, number of visits to a website and server demand is now part of a "smarter" monitoring offering holistic visibility on the company's IT system and improving defect diagnosis in real time. This implies being able to view data from various sources in a single console. The Linux monitoring data from the Netdata solution can therefore be managed in real time from Centreon's single console. Find out how in this article. 
Monitoring Linux infrastructures in real time to gain visibility
In the face of ever-changing business models and the ever-increasing importance of IT in business, IT Infrastructure and Operations teams must be able to go beyond the technical approach to focus on IT performance and faster, more efficient problem solving.
Linux servers often support applications which are critical for the Lines of Business. Netdata is an easy-to-deploy monitoring solution that collects monitoring data from Linux servers. Information is centralized in a dashboard that provides information on the use of your server resources as well as monitoring indicators on applications such as Memcached, Postfix or Redis.
An open-source tool, Netdata was designed to collect real-time monitoring metrics such as CPU use, disk activity, bandwidth use, website visits and so on. This valuable information, centralized in a single monitoring console, can then be coupled with other technical and business monitoring data. This provides a very fine, exhaustive view of the health of Linux servers and of the applications they host. 
To centralize and correlate all monitoring data, including those coming from Netdata, there is a very simple solution: interfacing Centreon with Netdata in order to benefit from the analysis and restitution power of the Centreon platform, thus giving a holistic view of IT and making diagnosis easier.
The benefit of monitoring Netdata in the Centreon console: integrating and correlating Linux monitoring data in real time 
While Netdata knows how to monitor Linux servers to perfection, its know-how stops where Centreon's expertise begins: 
Consolidating, analysing and correlating monitoring data in a simple and very visual way,

Managing alerts from a single console,

Archiving monitoring data,

Creating IT and business indicators that are relevant and adapted to your activity.
Netdata data are seamlessly integrated and consolidated in real time within Centreon's monitoring console. To do this, Centreon relies on an HTTP/API approach to monitoring (rather than the more standard SNMP/SSH approach), making it possible to define a direct, ergonomic bridge between the two solutions with data being refreshed on demand. 
You can therefore manage all your alerts from the Centreon console and access the Netdata interface directly from the Centreon dashboard in case of an alert.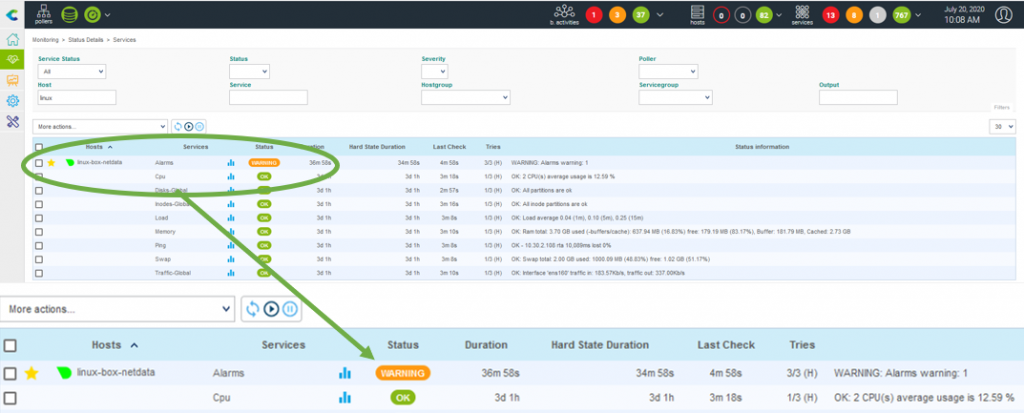 6 good reasons to interface NetData with Centreon with the dedicated Plugin Pack
Experience the natural complementarity between Centreon and Netdata to be more efficient and develop your business approach to monitoring. Here are 6 good reasons to use Centreon's interaction with Netdata:
Your Netdata data can be viewed immediately and in real time

and you can directly access the Netdata interface via Centreon to easily carry out corrective actions

You can keep track of your Netdata metrics

over time thanks to Centreon's archiving capacities, acting as a backend 

You are able to model your clusters

by aggregating data from individual/single Netdata agents through Centreon's BAM functions

You can implement clear, visual dashboards

thanks to Centreon's mapping tools 

You can experience the power of reporting

with Centreon's analytics & reports to ensure regular monitoring of your IT system

You can correlate data from various sources

(business data from Centreon, integrating data from DEM, Cloud solutions and from Office 365) to improve monitoring of the customer experience
With the Netdata Plugin Pack you have everything you need to connect Centreon to Netdata data and exploit them in a Smart Monitoring environment!
It's up to you to put your superpowers in place!
Learn more about Netdata monitoring with Centreon thanks to dedicated Plugin Packs
Technical tutorial: Deploy the Netdata Plugin Pack.
More tutorials or technical blogs about monitoring the cloud with Centreon, Office 365, Azure VPN Gateway, AWS RDS, Kubernetes and Docker: read more tutorials.
More information about Cloud Monitoring best practices. 
Get insights into post-COVID rebuilding efforts from the lens of digital performance and ITOps: download our ebook "Post Covid-19 Recovery: Managing Innovation & Cost Optimization from the Back-End Up".