It's Monday morning, and John, a network engineer, is struggling with customers complaining about network issues. Yet no alerts are showing in the monitoring tool. What's going on here? You may suggest John solves his problem by integrating network assurance and IT infrastructure monitoring for better control over complex networks. This is what this blog post, co-authored by Sebastien d'Argoeuves, IP Fabric solution Architect, is all about: strengthening network security and reliability by combining the best of network assurance with the best of network and infrastructure monitoring—with almost no efforts on John's and your part.
Network assurance and IT monitoring naturally complement each other—and make for stronger networks
The reality is that today, there's just too many network assets to keep track of, whether you're trying to find out if an asset is up and running or checking if its configuration is correct and aligned with compliance standards. The issue here is strengthening network automation and ensuring there's only one source of truth for network asset inventory—so teams work with dependable information. Network security and reliability is at stake.
If you hail from the monitoring side of the business, you may be less familiar with network assurance and vice versa, so let's pause for a short explanation.
What is network assurance and how does it compare to network monitoring?
Let's start by positioning network monitoring vs. network assurance. The reality is that they are complementary. They fulfill distinct roles in the broad realm of network management—but they share a common goal: ensuring connectivity, a.k.a. letting users access their data..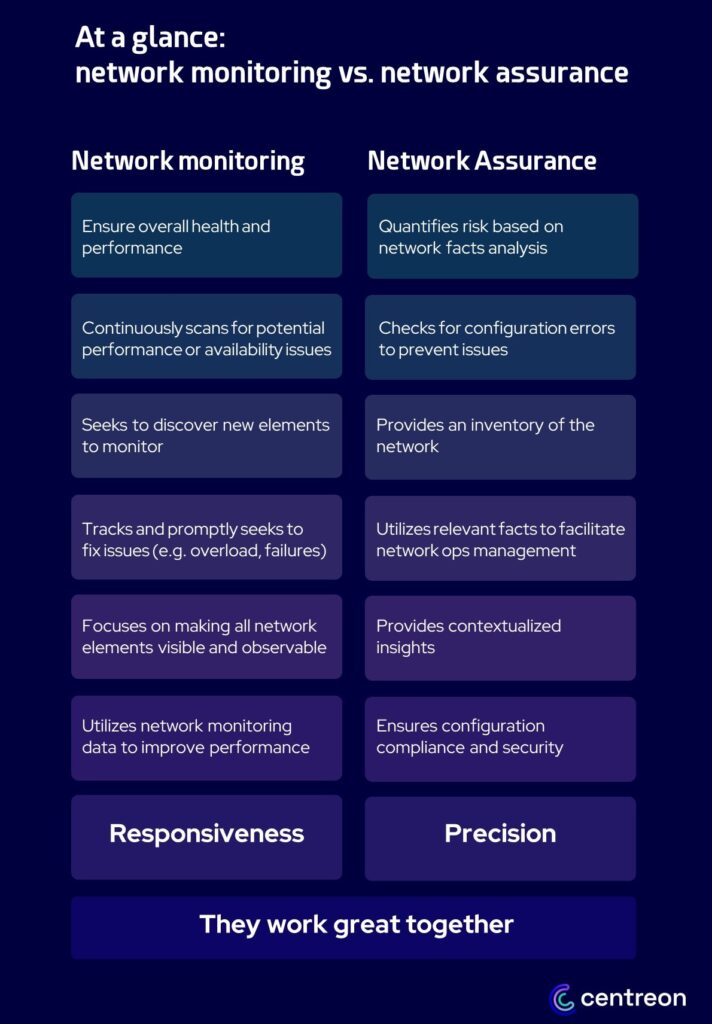 Why are IT infrastructure monitoring and network assurance complementary?
Infrastructure or network monitoring and network assurance are two complementary ways to care for network performance. You need comprehensive monitoring of your complex network, and you need a real-time view of network issues and activity.
The complexity of software-defined networks
SDN (Software-defined networks) can create complexity for device-based monitoring systems. You may need to ramp up discovery capabilities to ensure you're monitoring everything in your network. This is where network assurance comes to the rescue, with augmented automated discovery, documentation, and modeling of your network which provides contextualized insights as to the state of your network and measures this against your intent.
How can IT infrastructure monitoring and network assurance work together?
The answer lies in integration and so, the IP Fabric automatic network assurance platform seamlessly integrates with the Centreon IT monitoring solution to make your network stronger.
Combining complementary network reliability tools:
IP Fabric: automated and intelligent discovery and inventory of network devices and configurations
Centreon: network monitoring packs, host auto-discovery, performance and availability alerting
IP Fabric: leveraging IBN Technology (Intent-Based Networking)
IP Fabric is an intent-based networking technology that serves as the foundation for network programmability, automation and analytics by delivering the critical information required to manage your network operations. It is a vendor-neutral automated network assurance platform that automates the holistic discovery, verification, visualization, and documentation of large-scale enterprise networks, reducing the associated costs and required resources whilst improving security and efficiency. It supports your engineering and operations teams, underpinning migration and transformation projects and making network planning, testing, and troubleshooting easier.
IP Fabric provides granular detail by using a unique network model and algorithms that reconstruct the network state and simulate actual flows to detect critical violations, business-impacting inefficiencies and verify policy compliance. Based on mathematical graph theory, its native visualization of all network topologies and protocols provides unparalleled visibility, answering the question of how your network is operating as a whole and in detail. Detailed visual documentation and report outputs can be used directly as part of an existing process or managerial reporting requirements.
With its powerful API and Webhook capabilities, IP Fabric can be the cornerstone for realizing the full value of your current network operations toolset. Through integrating their network tools, organizations can create a powerful flow of information which enables teams across functions to make the right decisions and derive new value from standalone tools.
Discovery with IP Fabric to get the inventory
IP Fabric's lightning-quick intelligent network discovery process empowers you with deep insight into the workings of your network. Get a baseline of every device and path, configuration, and security policy in your network automatically, equipping you and your team with the knowledge and insight to support, maintain, and develop the most complex of networks. The IP Fabric virtual machine performs the discovery via a lightweight interaction with the network infrastructure using CLI management protocols and ICMP probes. More info on IP Fabric documentation portal.
The power of IP Fabric relies on its capability to automatically and intelligently discover multi-vendor networks. Centreon is utilizing IP Fabric's discovery capabilities to ensure reliability of the inventory list.
Enhanced IT monitoring: always know what's in your network
Leverage IP Fabric in Centreon to maintain an up-to-date network inventory and eliminate potential gaps in the monitoring scope—and by extension any potential unseen issue, because obviously, you can't monitor what you don't know.
A single Centreon connector to configure
All you have to do is use the Centreon IP Fabric connector. Configure it once, and you can regularly ensure Centreon monitors the full scope of your network environment. Plus, you ensure your network monitoring team sees the same thing as your network managing team.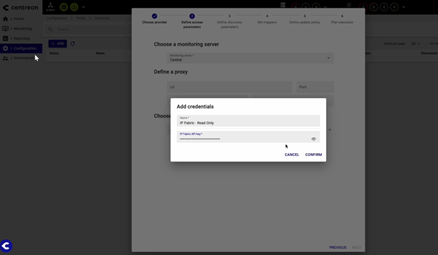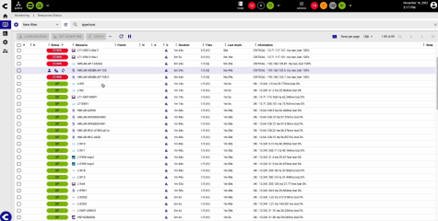 Explore this topic further
How to Video: Connect IP Fabric with Centreon, with Sebastien d'Argoeuves, IP Fabric Solution Architect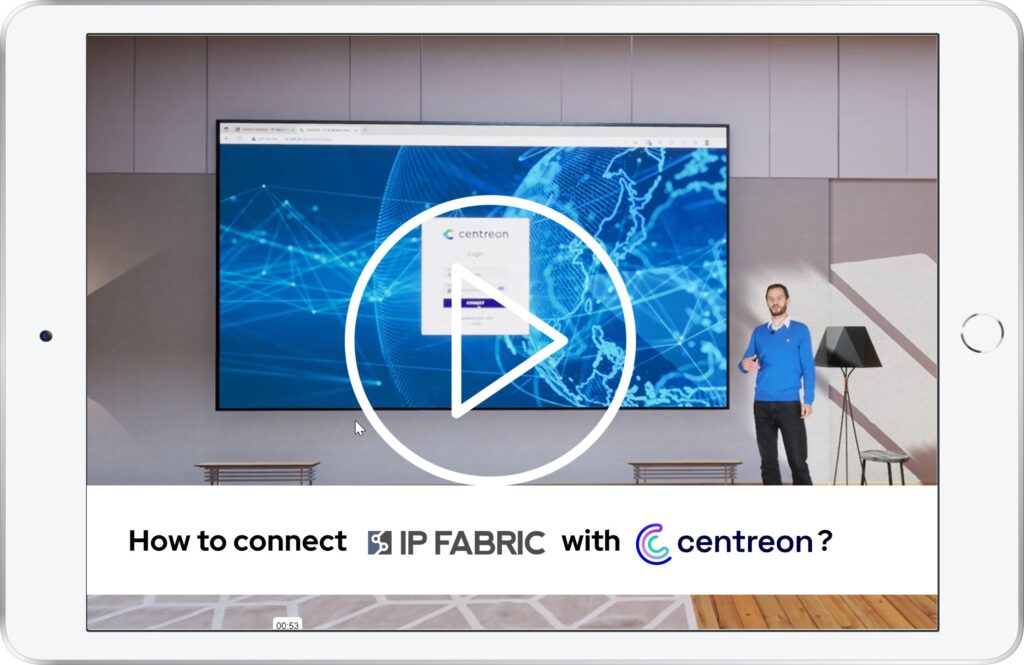 Could combining network assurance and IT infrastructure monitoring work for you?
If you're trying to find out if integrating network assurance and IT infrastructure monitoring could help reinforce your network's reliability and security, answer these few questions.
Do you currently have internal processes to ensure monitoring is accurate and up to date? And if so, would you say they are efficient?
What's the frequency for those update checks? Is there a person manually all assets in the ecosystem have been correctly updated after a change?
Are network assurance and IT infrastructure teams complaining of silos and discrepancies in their tools?
Could some issues have been prevented or resolved faster through a more accurate and up-to-date monitoring scope?
With IP Fabric and Centreon, network teams can get a fully accurate vision of the compliance and the performance of their networks and the devices supporting it.
Integrating the network assurance and IT monitoring tools could help break down silos and result in better alignment and operational efficiency for your organization.
More info : IP Fabric Free Online Demo
More info about the IP Fabric Centreon Connector on our online documentation.
Want to discuss connectors with your peers ? Come and join the Centreon community, on the watch.