Every month, Centreon extends its connector catalog (a.k.a. monitoring packs or Plugin Packs) and implements new ones, allowing you to connect your IT monitoring with more ITOps tools. The result: increased visibility and business observability capabilities. We also offer enhancements and fixes on existing connectors.
Here is the latest news on your best allies: our monitoring connectors!
To learn more, you can also read the related documentation, contact our sales team or post a message on The Watch.
New monitoring packs available 

Three newcomers this month: 
You can finally monitor your

vCenter appliance

using SNMP, including memory consumption

Aruba Orchestrator

, if you manage your WAN network migration to SD-Wan using this tool, check this pack and discover all your assets painlessly. 

There's already a stream connector to send monitoring data to

Splunk

and now there's a dedicated pack to monitor the health of  its main components, ensuring that your indexes are correctly ingesting data. You may only want to run a SPL query and trigger an alert based on the number of matches.
Enhancements

The Centreon Base Pack has been enhanced, a rare occurrence. No need to run an update unless you want to add extra options and parameters to Ping probes. 
The Kadiska integration is extended once more, with added discovery capabilities, new metrics, and new ways to display Watcher metrics, splitting them according to sites or gateways or tracking WFA (work from anywhere) performance. 
The Alcatel Omniswitch integration has been enhanced to support more hardware series within this single pack. 
Windows packs include a new Update service, whatever the protocol you're using to monitor your servers.
Enhancements impacting current configurations 

A great part of the Fujitsu Eternus DX pack  was rewritten. This enhanced pack now supports more hardware series and more flexible SSH connections. It may impact some configurations so be careful when upgrading it. 
Bugfixes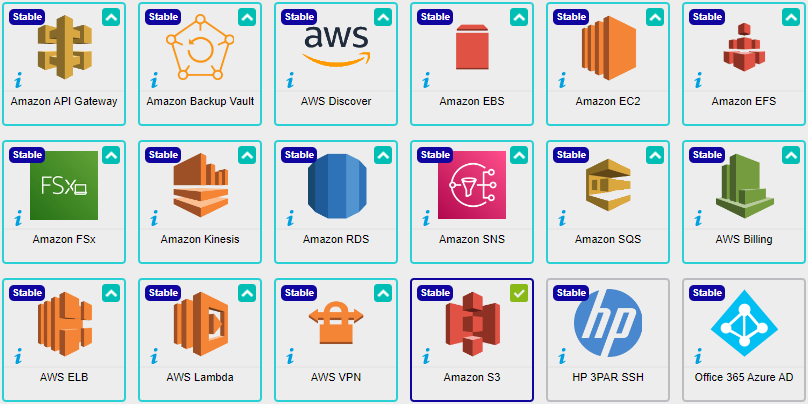 Many packs were subjected to fixes this month, mainly to account for a regression found in discovery jobs, a consequence of the recent Amazon Secure Token Service update. 
Minor typos were corrected in the HP 3PAR and Azure AD packs.
If you use one of the packs above, you should consider upgrading. Bug fixes may have more or less impact depending on how you use them. To know if a quick upgrade is required, simply check the release note.
Want to help us or suggest improvements? Join us on The Watch or GitHub 💥 and add a star ⭐ Also, feel free to come and discuss plugins and connectors (monitoring packs, Plugin Packs) on The Watch. 
See you next month for more new features!