Every month, Centreon extends its catalog of Plugin Packs and implements new connectors to allow you to connect your IT monitoring with ITOps tools. The result: more visibility and business observability capabilities. We also offer enhancements and fixes on existing Plugin Packs.
Here is our latest news on your best allies: the Plugin Packs!
To learn more, you can also read the related documentation, contact our sales team or post a message on The Watch.
New Plugin Packs available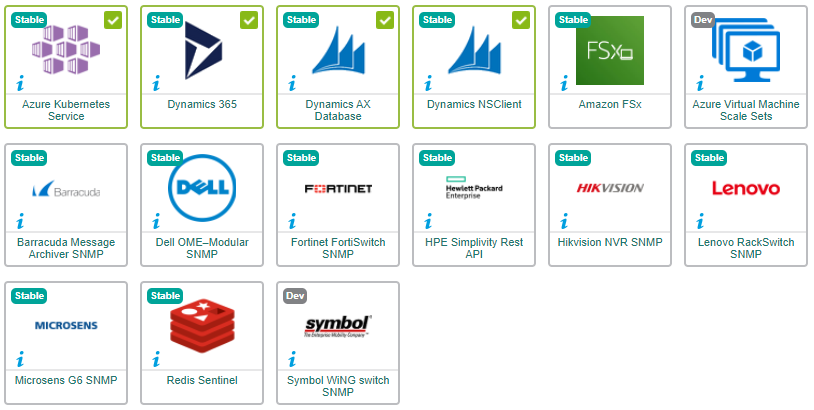 Happy new year everyone. May 2022 bring you much happiness and excellent IT monitoring results. To start on a good footing, let's review January's new Plugin Packs. 
Amazon FSx
Monitor read, write or metadata operations volume on filesystems as well as remaining space. A dedicated discovery rule is included! 
Azure
Monitor your Azure clusters and high availability deployments with dedicated packs for

Azure Kubernetes Service

and

VM Scale sets

. Both Packs come with discovery rules. 
Barracuda Message Archiver
Track archiver usage: number of inbound and outbound emails, space usage, and system load are among the key metrics covered by this new pack. 
Dell OME-Modular
Check OMEM (OpenManage Enterprise Modular) uptime and hardware components included in your

Dell MX7000

PowerEdge modular chassis.
Fortinet FortiSwitch
Check bandwidth going through

FortiSwitch

ports and ensure CPU and RAM are operating in optimal conditions. 
HPE Simplivity
Get extensive HPE

Hyper Converged Infrastructure

monitoring. Discover Host and VMs to track space usage. Add to this the ability to track efficiency and deduplication ratios to measure omnistack clusters performance. 
Hikvision NVR
If

Network Video Recorders

are an important part of site security, then new pack. Connecting to their Intelligent Security API, it gathers all the data you need to stay on the safe side. 
Lenovo RackSwitch
Check your Lenovo datacenter switch health at any time with a dedicated pack.
Microsoft Dynamics
Still using Dynamics on prem or hybrid? Check out these new packs and share your feedback, we would love to hear what indicators might help you beyond service health, batch or EDI Orders processing. 
Microsens G6
It is the smallest gigabit switch available on the market, but that doesn't mean you should neglect monitoring it. 
Symbol WiNG
Symbol WiNG Firmware is used in

Extreme Network NX7500

devices, for example. This pack will monitor system-level metrics and traffic. 
Enhancements

Make your life easier and deploy your monitoring as fast as possible: Amazon

EBS

now has a discovery rule.

Check the health of the

SDWan

link configured on your Fortinet Fortigate device.

Discover many

VMWare

enhancements: check cluster CPU usage, total datastore IOPS, licenses, and more. Give it a try!
Enhancements impacting current configurations 

Be aware: Recently introduced enhancements and additions are resulting in significant changes that may disrupt current setups. 
To make the discovery of assets easier,

SQL Server

et

SQL Database

Azure services packs have been reworked. But good news, twenty more metrics are now available to observe database performance and operations.

Some thresholds and options change in the

MSSQL Pack …

But this is to let you monitor new kinds of backup jobs those that are incremental. 

Microsoft365

is reworking its public APIs, so we are modifying this pack to ensure you can still trigger an alert for any incident impacting your favorite Microsoft hosted services. More information on the outage is now available in the standard output.
Bugfixes 

Azure Virtual Networ:

fix for a regression introduced in the last release which was generating false positives. 

AWA JMX:

fixed a typo in a macro name.

Dell CMC:

wrong host template association.

Ruckus SCG:

wrong warning and critical CPU threshold options.
Want to help or suggest improvements? Join us on The Watch and on  GitHub 💥 and add a star ⭐ Also, feel free to come and discuss plugins and packs on Slack or The Watch. 
See you next month for more new features!