As you know, at Centreon we are continuously expanding our Plugin Pack catalog and we offer new connectors so that you can connect your monitoring system with ITOps tools to gain visibility and observability. We also provide updates which include improvements and patches on existing Plugin Packs.
Here's where you can catch up on your new best friends: the Plugin Packs! 
For more information, feel free to browse the corresponding documentation, contact our sales team or post a message on the #centreon-plugin channel on Slack.
Welcome to the new Plugin Packs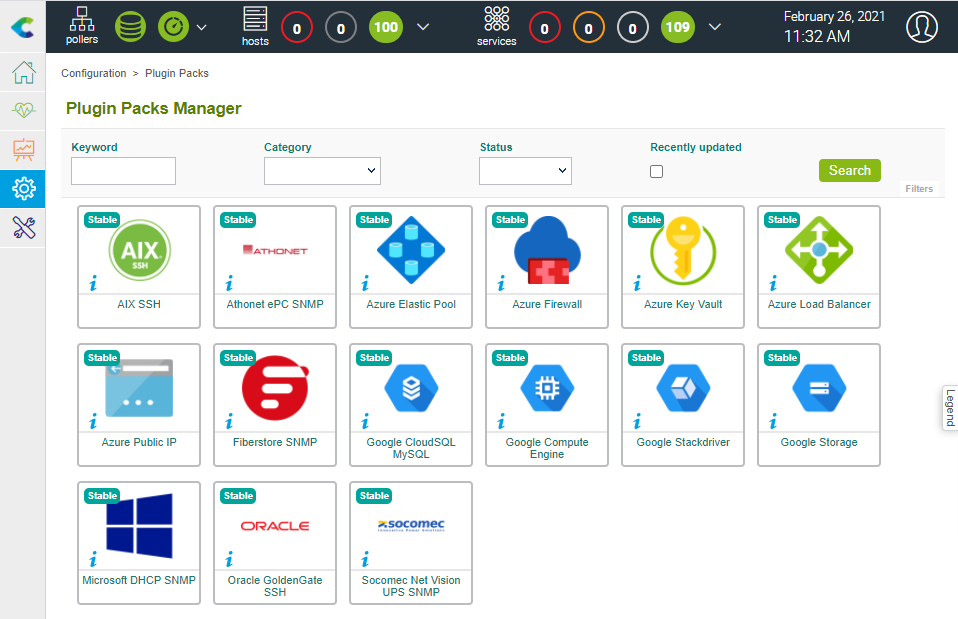 This month: Special feature on the cloud
Azure
We continue extending observability on Azure PaaS services.
Security and availability for your applications and associated cloud services is a priority for us, and so we have integrated some highly useful new features:
The

Key Vault

Plugin Pack provides a holistic view of both service usage (capacity) and performance (latency).

Whatever use or service is linked to your public addresses, via the

Public IP

Plugin Pack, you can monitor their status in real time, as well as the metrics used to detect DDoS type attacks.

Are you a user of new FWaaS technologies? The

Azure Firewall

Plugin Pack will be essential to monitor their status and scrutinize the data passing through them, whether they are blocked by a rule or not.
We have also created Plugin Packs for Elastic Pool databases and Load balancers, full details of monitored metrics and how to use Plugin Packs can be found online here and there respectively.
AWS
Monitoring of your RDS instances has been improved, with new metrics now being supported. Everything you need to know is available here.
Google Cloud Platform
The first packages for Google Cloud Platform environment monitoring are available online. You will now be able to specifically monitor your Compute Engine, Cloud SQL MySQL, Storage resources as well as every exposed metric with the generic Stack Driver mode and a bit of elbow grease!
Also featured: New multilevel possibilities for connecting your IT monitoring system
Applications
You will now be able to monitor your DHCP leases via SNMP on your Windows servers.
Does Oracle Goldengate mean anything to you? Is it a critical tool you use for data replication? Well, the good news is you can now use a Plugin Pack to keep an eye on the metrics.
Network
If you operate and/or use private LTE / 5G networks with Athonet technologies, make the most out of the Athonet ePC connector to monitor license use and interface status.
Your optical networks are based on Fiberstore, meaning you can use SNMP to monitor it and make sure everything is running smoothly.
And so much more
Upgrades for Cisco (AAA-Server), SD-WAN VMWare VeloCloud solutions: a new connector is now available for your Socomec Netvision UPS and it also makes it easier to monitor your AIX systems by freeing you from SNMP in favor of SSH for an easier, more secure experience! 
Optimized Time-to-Monitoring thanks to Discovery
For each of the new Cloud Plugin Packs, a discovery rule lets you scan your provider's APIs to add and configure metrics even more easily.
New, improved rules have also been added for the following technologies:
Process discovery, services via SNMP for

Linux

and

Windows
Cisco Meraki

Software-Defined Networks

discovery at the services level
See you next month for the latest updates!
In the meantime, click here to view our full catalog of Plugin Packs and our technical sheets to get your monitoring system connected.