Every month, Centreon extends its catalog of Plugin Packs and implements new connectors to allow you to connect your monitoring with ITOps tools. The result: more visibility and business observability capabilities. We also offer enhancements and fixes on existing Plugin Packs.
Here is our latest news on your best allies: the Plugin Packs!
To learn more, you can also read the related documentation, contact our sales team or post a message on The Watch.
New Plugin Packs available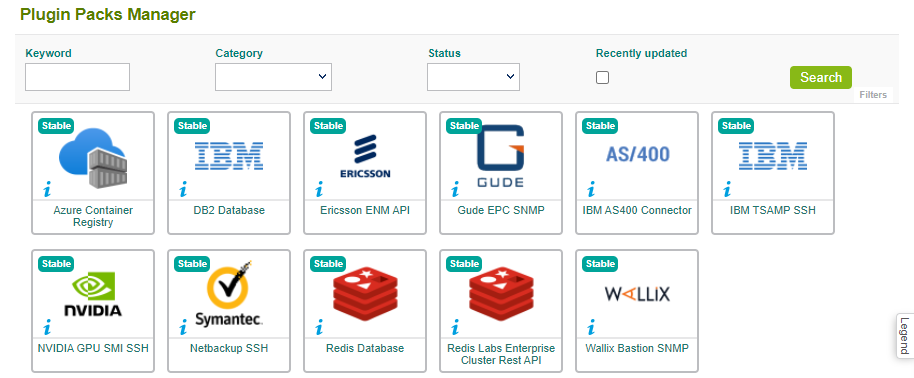 Many exciting things are coming your way for the holidays, to extend, enhance, and make your monitoring easier. Unwrap these new Plugin Packs.
WALLIX:

If privileged access management is a day-to-day concern, and you picked a

Wallix solution to help, you'll be pleased to see that a pack lets you track usage, including licences, requests, and sessions, in a

very detailed way

. 

REDIS:

If you use Redis, we now have two new packs. One enables specific metrics recovery for enterprise versions of Redis (Redis Labs Enterprise Cluster), the other optimizes the observability for the solution's open source base metrics. 

NETBACKUP

:

Suppose you're running

Netbackup

on a Linux instance. You can now monitor it without the NRPE protocol or NSClient++ agent. The SSH pack is your best friend. 

GPU Nvidia:

Whether you are a gamer, a blockchain miner, or a researcher requiring massive computing power (the latter being the reason we built the pack), you'll probably be thrilled to enjoy advanced monitoring to track the performance and statistics for your

Nvidia GPUs

. 

IBM:

Many new features and deep work in the IBM technologies and solutions area. It is possible to monitor DB2 relational databases and clusters supported by the Tivoli SA MP component:

DB2 databases

,

Tivoli SA MP Clusters,

a

 brand new connector for

AS400/iSeries

bringing discovery capabilities (disks, subsystems)

Ericsson Network Manager:

Telecom operators and service providers, we have something for you! With a software-defined network and 5G, your network is constantly evolving. A new

Ericsson Network Manager

pack gives you the ability to discover nodes and their critical component statuses!

GUDE: Still in the hardware field, Gude is now a supported manufacturer for monitoring power distribution units, power channels, and their interfaces. Centreon can now monitor Gude devices

, providing detailed metrics about power consumption, intensity,

and more

! 

AZURE:

Last but not least, use the latest Azure pack to monitor the space your container images take by observing metrics with Azure Monitor on top of the

Container Registry

cloud service
Enhancements

New PBX-Role monitoring mode with

Alcatel OXE

New discovery rule for

Oracle Tablespaces

New discovery rules to discover and monitor

disks and storage

of your

Linux

and

Windows

boxes using NRPE
Enhancements impacting current configurations 
Be aware: Recently introduced enhancements and additions are resulting in significant changes that may disrupt current setups. 

The recent

Moxa

plugin code refactoring will force you to synchronize the Pack and Plugin RPM updates. 

To fit better in

NetApp

functional concepts, we had to replace the Qtree service with a new one: Quotas. If you used the Qtree mode, please replace the template or start with a brand new Quotas service. 

To help you choose which

Redis

Packs you should use, we have deprecated the original ones and will not maintain these anymore. 
Bugfixes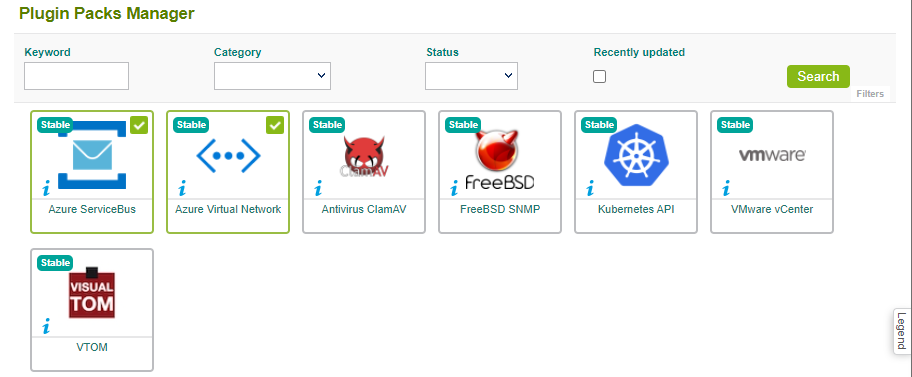 Refactoring and optimization of

Azure Virtual Network

pack and plugin 

Fixed an error in the Namespaces check command for

Azure Service Bus 

Typo correction in the

ClamAV

monitoring pack 

Fix macros naming for

FreeBSD

hosts

Fix

Kubernetes

API discovery types

Fix exclusion filters in

VMWare

ESX network internal cards discovery

Add configuration macros and missing thresholds for

Absyss VTOM
Want to help us or suggest improvements? Join us on GitHub 💥 and add a star ⭐ Also, feel free to come and discuss about Plugins and Packs on The Watch. 
See you next month for more new features! In the meantime, enjoy the holidays.