IT service management (ITSM) has become pivotal to business success in the digital economy. A critical element to this is IT monitoring intelligence that is easily understood for strategic business decisions.
Centreon MBI is the modular software that delivers this intelligence for Centreon monitoring to aid decision-making in highly-performing IT services. Through ITIL-compliant reporting, Centreon MBI renders operational and performance patterns easy to grasp for business-minded stakeholders.
Here are 5 obvious reasons for Centreon MBI.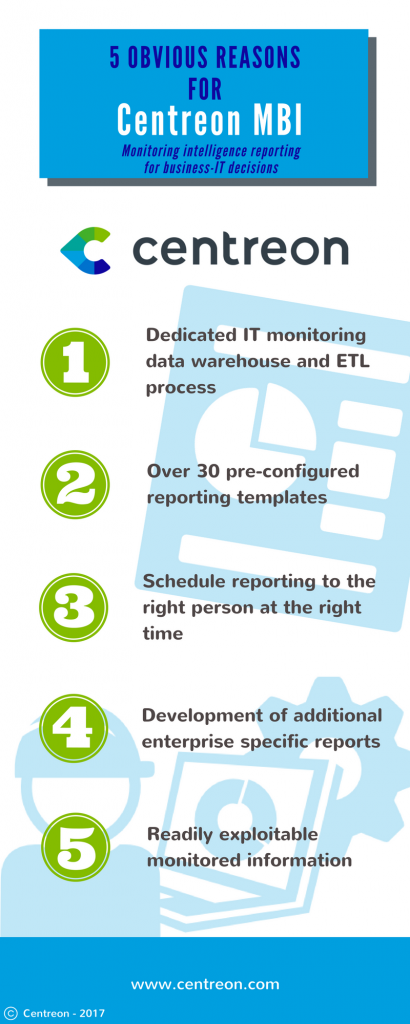 1 – Insightful reporting generated within a day using the simplified and ready-to-integrate reporting platform of Centreon; it incorporates a dedicated data warehouse and IT monitoring ETL process capable of mass data treatment.
2 – Over 30 pre-configured ITIL standard reporting templates that cover operational IT metrics for availability and events, capacity and performance, network traffic, business activity monitoring, virtualization, electrical consumption, profiling, database diagnostic, inventory and configuration.
3 – Programmed availability to the right person at the right time with a scheduler that generates cyclical or on-demand reports in multiple userfriendly formats e.g. PDF, Excel, Word, Powerpoint via email, standard file transfer protocols, intranets or internet platforms e.g. FTP, SFTP, CIFS, Dropbox.
4 – Development of additional business or enterprise specific reports is facilitated with its open source codes and libraries based on BIRT.
5 – Readily exploitable monitored information from Centreon MBI's accessible data warehouse for overall BI correlations and analysis, even when interfaced with other BI tools.
More information about Centreon MBI.