Centreon MBI 3.0 better meets your needs for steering and monitoring your IT. Among the new features:
Dynamic dashboards: with the integration of 11 widgets that use Centreon's "Custom View" mechanisms, create dynamic reporting dashboards that use the datawarehouse data live and, in some cases, mix real time data and aggregated data. You can thus analyze abnormal behavior on your IT live and react on service levels.
6 new report templates, 3 of which are "Morning check" types that exploit live data coming from Centreon and give you a live view of your equipments and applications status. New color themes are also available.
BIRT 4.4.2: BIRT, the report engine, is updated to version 4.4.2. It brings many improvements and innovations including new export formats, improved Microsoft export formats, new data sources, etc.
Dynamic dashboards to monitor your information system
Define your dashboard to monitor your information system through reporting widgets integrated to Centreon MBI 3.0. Based on Centreon "custom view" mechanisms already very appreciated by our customers, we have created 11 widgets that exploit the availability data of Centreon and Centreon BAM, as well as metrology data.
With a mix of real-time and aggregated data, you will be able to analyze your IT's abnormal behavior live as well as the applications on which you need to take action in order to respect your service level commitments.
Below is an example of a dashboard that can be created with the new widgets. Use this view to monitor the availability and performance of your company's email service.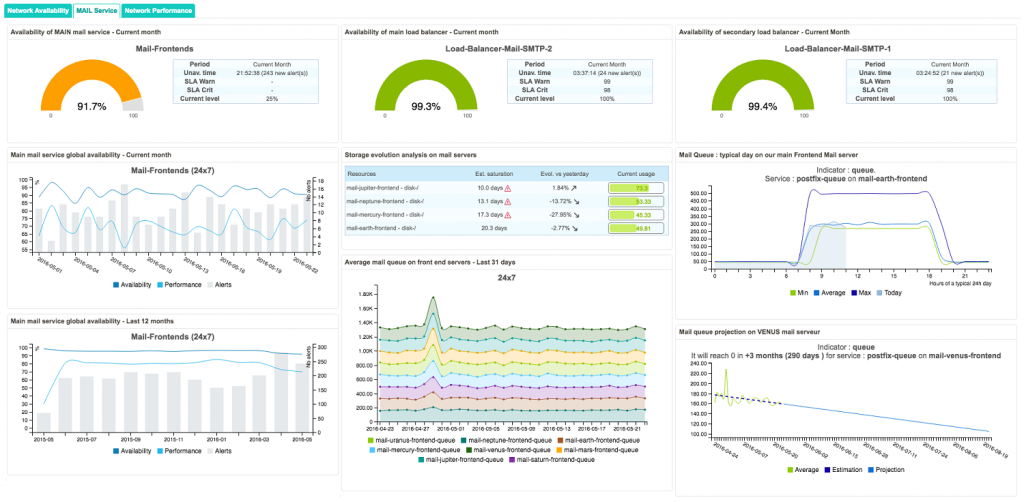 By combining these widgets with the Centreon ones you'll have a complete dashboard, mixing both the live state of the IT and the monitoring of key indicators.
Check out the documentation to discover all available widgets.
New reporting templates
Version 3.0 also includes 6 new reports. 3 of which allow you to extract as you wish current events on your equipments and IT services. This type of report is ideal for your morning checks or any other follow-up meetings.
Do you wish to track the current service level of your IT services and their availability on the previous days? Then the new BAM report is for you:

Do you wish to know the state of your equipment or critical indicators at any time of the day? Refer to these two new reports:
State of your equipments at the time of generation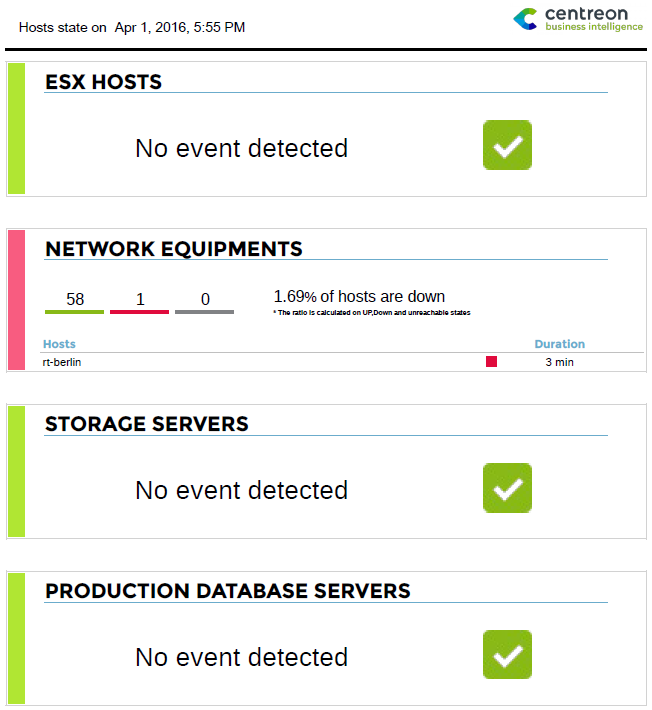 For developers: Update of the BIRT version
You develop your own reports to exploit in Centreon MBI? You'll be happy to learn that the version 4.4.2 of BIRT has been integrated. This includes:
Many fixes
The improvement of the UI
Improved export to Microsoft formats
Added new LibreOffice export formats
A new chart type (Donut)
New sources of data (Excel, MongoDB, Hive, Cassandra…)
For more information regarding BIRT news, check out the release notes of Eclipse BIRT between versions 3.7.2 and 4.4.2.
Reports developed on BIRT 3.7.2 are compatible with this version. However, we ask you to test them on the new engine before migrating your reporting platform.