We recently had a panel of 200 IT professionals assess their IT monitoring maturity using our online assessment tool, and on average, they found themselves about midway on their transition to modern IT monitoring aka Smart Monitoring. This blog post describes the Smart Monitoring maturity journey and provides some visibility into the progression of organizations similar to yours. Curious to find out about your own journey and how you benchmark against peers? Assess your own IT monitoring maturity here.
A Model to Measure IT Monitoring Maturity
The whole idea of Smart Monitoring is simplifying what's complicated. Smart IT Monitoring is therefore a fairly simple concept: it refers to three key abilities that are required to face the challenges of digital business complexity. 
The 3 essential capabilities to Smart Monitoring
1) Holistic visibility
2) Business awareness
3) Future-readiness
In a nutshell, Smart monitoring is about:
1) Getting the most complete visibility across the technology stack, with the least possible tools and silos.
2) Knowing how what you're seeing on the dashboard might be impacting the business in real time, making sure to collect, track and share those insights with IT and business stakeholders.
3) Ensuring you'll still have those two key capabilities as new technologies are adopted, whether it's next month or next year, and as your IT estate grows. 
OK, now let's look at the stages towards acquiring those key capabilities, as the progression towards achieving the first two dimensions of the journey, Holistic Visibility and Business-Aware, can be broken down into four stages each. 
Stages in the Smart Monitoring journey
The 4 stages towards Holistic Visibility
1. BLACK BOX
Monitoring happens at the device level with no or little capacity to contextualize or correlate data.
2. SILOED
Most of the IT environment is instrumented, but this is achieved using multiple independent tools. At this stage, there is no unified cloud-to-edge visibility, and crucial data is potentially lost or duplicated.
3. CENTRALIZED
Cloud-to-edge visibility from one centralized tool is attained. Blind spots and silos have been eliminated and there's a clear, unified vision on the functioning and performance of the IT system as a whole.
4. HOLISTIC
The IT monitoring solution provides full descriptive capability through total visibility on an always-more dynamic, more-complex IT infrastructure. All IT teams are enabled to maintain cloud-to-edge visibility no matter which new technological adoption is in the works, as the organization continues its journey towards digitization.
Where our panel of 200 IT pros stands*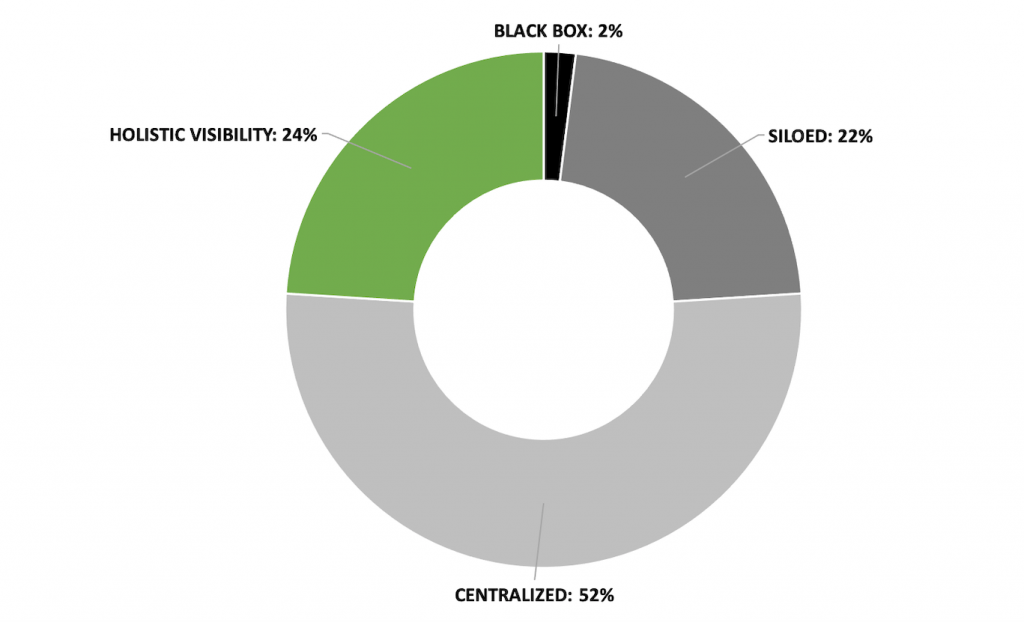 Find out where you fit on dimension 1 using our online assessment tool.
The 4 Stages towards business awareness
1. IT-FACING
Monitoring data is IT-facing, informing principally on the performance of the IT equipment, rather than on the business workflows the equipment is supporting.
2. SERVICE-AWARE
Critical IT services for business operations have been mapped. Line of business (LOB) teams now have visibility into responsiveness, uptime, service-level availability and other performance thresholds for a better overview of the digital health of the business.
3. COLLABORATIVE
Monitoring data is fully contextualized and reported to key business managers through advanced reporting and dashboards that include CX monitoring and business contextual information. LOB are thus enabled to make informed decisions when launching new initiatives, managing capacity and costs, and creating the backdrop for the frictionless user experiences required to grow a digital business.
4. BUSINESS-AWARE
At this highest stage of Smart Monitoring, qualified, business-relevant events and metrics from the IT monitoring platform are fed into the corporate Business Analytics solution, for constant, real-time organizational performance optimization.
Where our panel of 200 IT pros stands*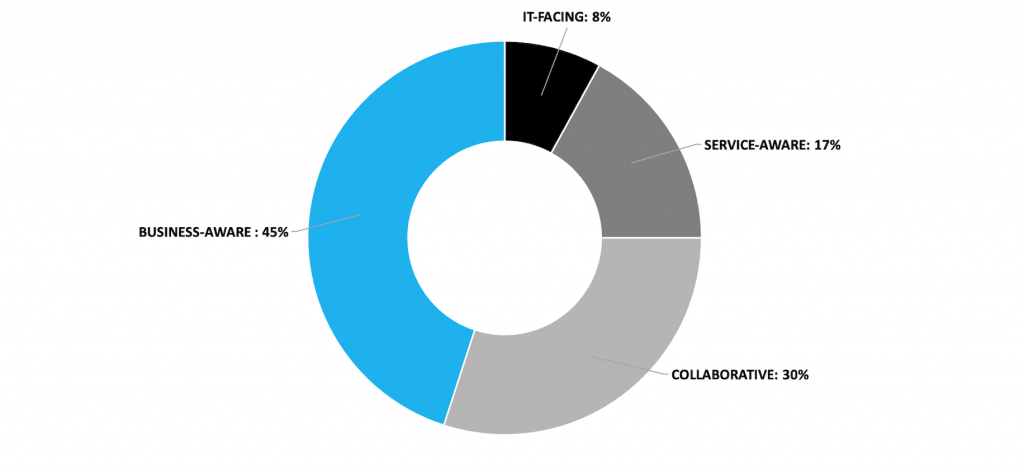 Find out where you fit on dimension 2 using our online assessment tool.
The paradox of business awareness without holistic visibility
It's interesting to note that the progression towards dimension 1, Holistic Visibility (24%) is not happening as fast as the progression towards dimension 2, Business Awareness (45%). If many ITOps are setting themselves up to track key business performance indicators, they may still be lacking the holistic visibility and integration that would help ensure those business insights are current and accurate, and that they are acquired without unnecessary data duplication or human intervention. 
The Smart Monitoring Quadrant
Mapping and benchmarking one's progression on the Smart Monitoring Quadrant, which combines dimension one and two, provide a more defined picture of the true progression towards Smart Monitoring maturity. Our online assessment tool lets you see how you compare to other organizations in the same region, industry or of similar size.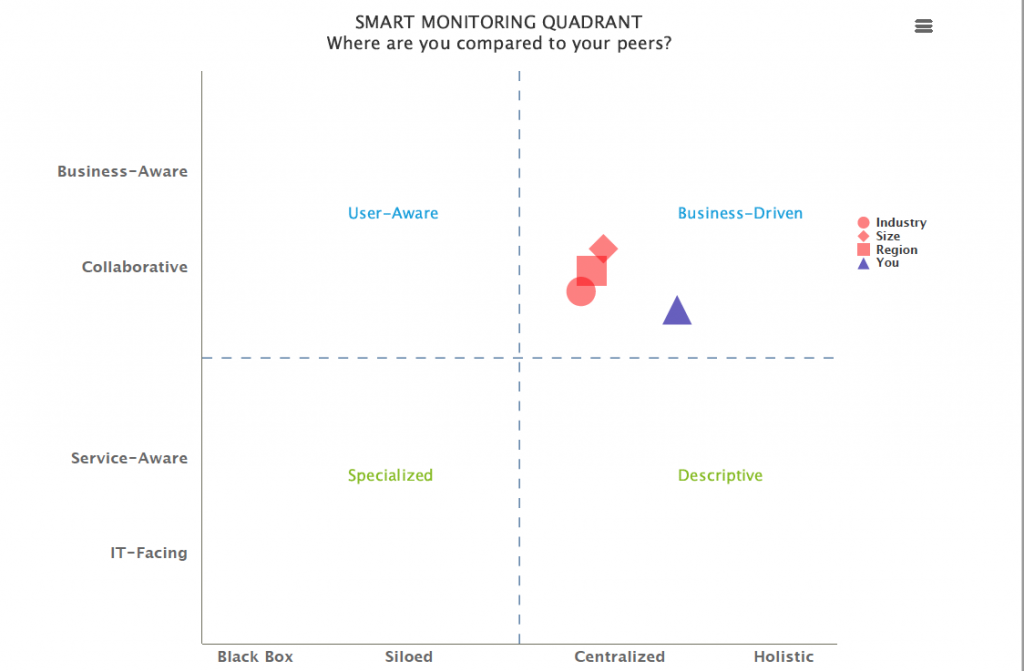 In this chart the purple triangle is for illustration purpose only—it would mark your own position on the quadrant compared to other ITOps organizations. 
Building in Future-readiness
Measuring the future-readiness dimension requires attention to two key aspects of your IT monitoring capabilities:
Openness, or ability to integrate new technologies or devices as the digital business grows. In our panel, only 23% of IT professionals said they were ready to handle any kind of new technology.

Defined roadmap to build an AI-augmentedITOps environment. Although AIOps is still a thing for the future, over a third of respondents are prepared to leverage the benefits of AI and ML to manage IT performance.
What can you expect using our free IT maturity assessment tool?
A quick, 10 questions or less online survey with insights on the various indicators of IT monitoring maturity.

An instant, personalized report analyzing your position on the IT monitoring maturity scale.

A follow-up guide to plan the next step towards IT monitoring maturity.
Try it: 
Additional resources on Smart Monitoring
Ask us how we can take you from complex to simple IT performance monitoring.
*FocusVision & Centreon Research in September 2020.