Centreon's IT monitoring platform is diverse in its offerings, whether it is the open source project, one of our commercial editions, or the choice between self-hosted deployment or our SaaS option.
As we get ready to unveil the latest software version 23.10, it's important for you to be familiar with the exciting new features it brings. This blog post serves as a summary of the main changes included in this new release.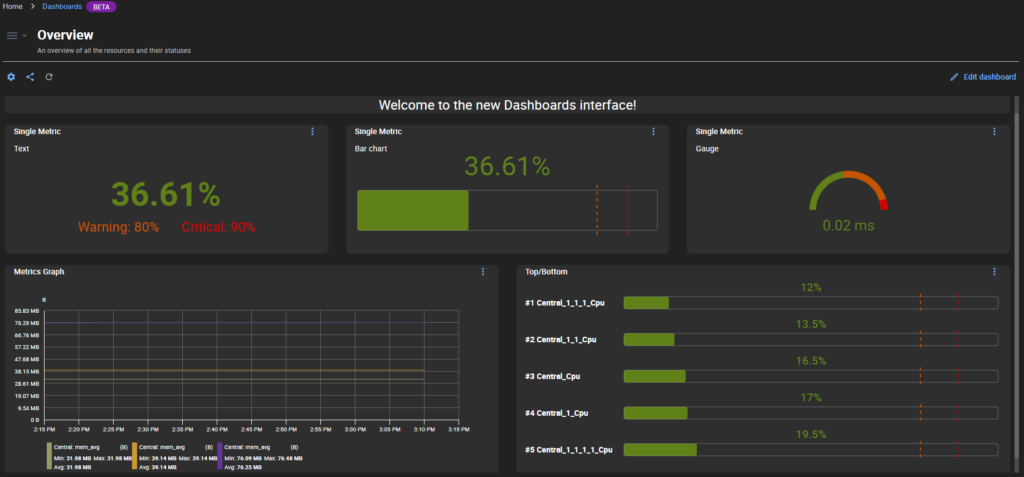 New Centreon Dashboards functionality
More flexibility with new dashboarding capabilities!
At Centreon, we believe that monitoring is much more than just being alerted when a problem occurs (although that certainly helps): teams operating complex, distributed infrastructures need customized dashboards that instantly show the health and performance of the IT domain they are responsible for.
This is what the Custom Views feature has always been all about: creating your own dashboards, choosing from a variety of graphical widgets to show you exactly what you need to keep an eye on.
With Centreon 23.10, we're very proud to introduce a brand new user interface to create, configure and share new customized dashboards. We call this new feature: Centreon Dashboards, quite simply.

UX Design team mockups for the new Centreon Dashboards feature
Our dedicated UX Design team worked with Centreon users over the last 18 months to create a brand new user experience that focuses on many differentaspects such as: flexible widget positioning (no more limit to one, two or three columns!), responsive design, easier dashboard creation or widget configuration, dashboard library management with tiles, dashboard sharing capabilities with user right management (administrator, editor, viewer), automatic rotating displays, … And in the future allow for dashboard templating, drill-down interactivity, and more!
More than ever, these new dashboards are designed to help users make better decisions, faster.
Centreon Dashboards is available to all 23.10 users, both on the open-source and the commercial editions of the Centreon platform. The feature is currently in Beta status: we've implemented the overall framework and a few widgets, and we will continue to implement all the remaining widgets in the coming months to be ready for a General Availability in the 24.04 software release, in April next year.
Easier dashboard creation or widget configuration with this user interface
Upgrade your platform to Centreon 23.10 now to experience the future! Try Centreon Dashboards alongside your Custom Views. Share your questions and comments with a dedicated user group on The Watch.
Want to see a demo before upgrading? Register now to this 23.10 dedicated webinar where Romain Bignotti, Product Manager, will showcase the new Centreon Dashboards feature.
A new set of comprehensive views in Resource Status
Well, it is indeed important to be alerted when something starts to go wrong, and this is where the Resource Status user interface comes in handy. Not only to display the list of assets in Warning and Critical status, but most importantly to identify what's going wrong, find the root cause of the problem, understand its impact and take action.
Let's be transparent: when we originally introduced this Resource Status view, we thought we could quickly deprecate the old user interfaces. You proved us wrong. When it comes to operating large and complex IT infrastructures, not all organizations work the same nor implement the same processes, and you need a lot of flexibility in the way the information is filtered and displayed. You needed more possibilities.
Once again, our dedicated UX Design team worked with focus user groups to create two additional views that, when combined with the previous view, provide a comprehensive set of tools for the most demanding organizations. Users can now switch between three alternative views:
All Resources: this is the original view we introduced a while back, shows both Hosts and Services in the same listing
Host View: this new view lists Hosts and can be expanded to list their Services
Service View: this new view lists Services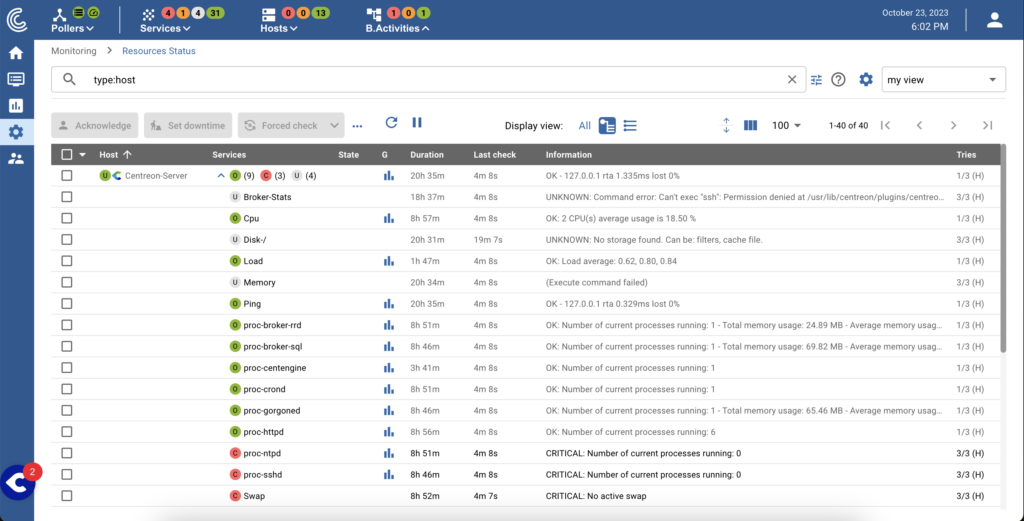 Resource Status with view By Host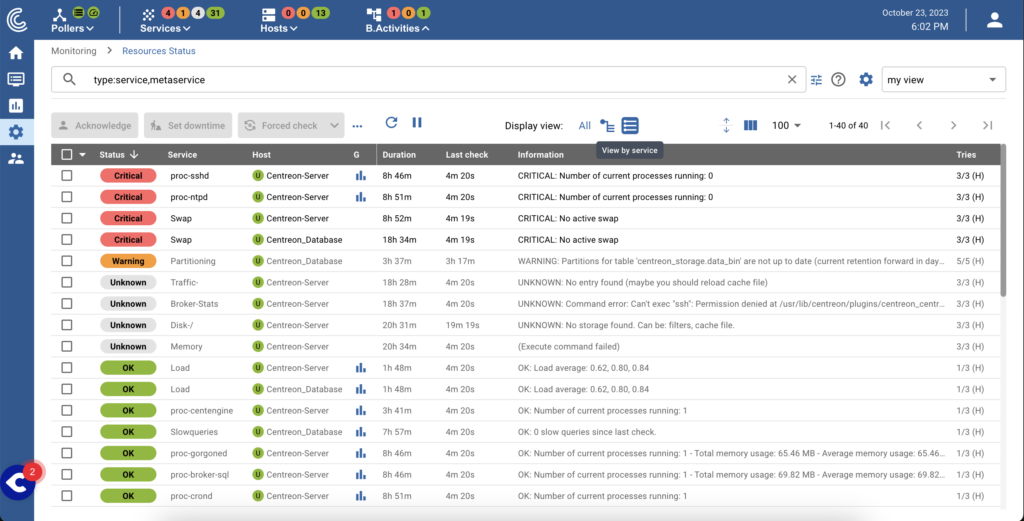 Resource Status with view By Services
Centreon 23.10 brings more enhancements to Resource Status, based on user feedback, such as a new graphical user interface to intuitively set your filters, with both a basic mode and an advanced mode.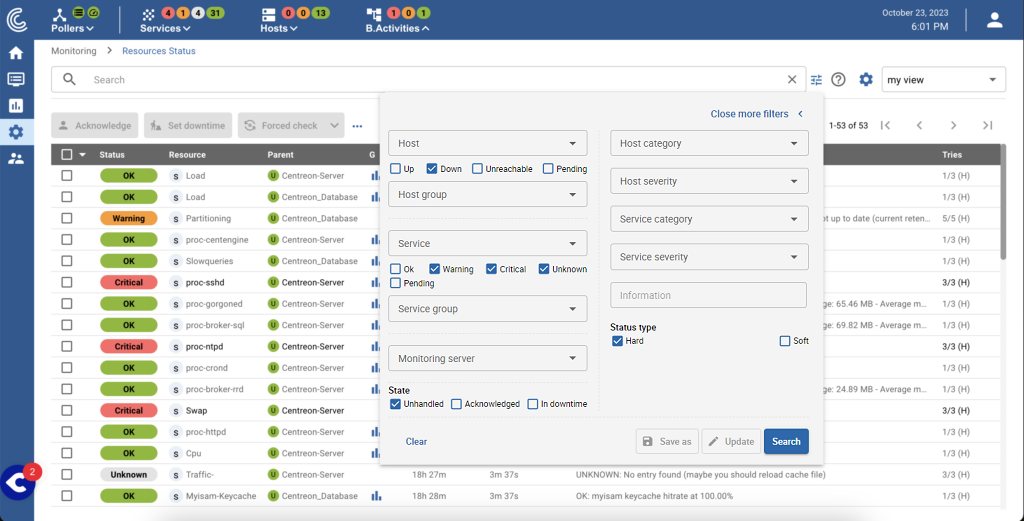 New Resource Status filtering (Advanced Mode)
Don't worry, we have kept the old Status Details views available on 23.10. But we're pretty confident that you'll adapt your processes and habits to the new Resource Status. That means we plan to make the old user interfaces obsolete in the next major release in 2024. This is detailed in this post on The Watch.
The best way to see for yourself is to upgrade your Centreon platform or to register for this 23.10 dedicated webinar, where we will demonstrate all these enhancements.
API-centric Centreon for seamless IT Operations Automation
IT Monitoring is far too critical to be an afterthought, something you would manually configure days or months after deploying a new piece of infrastructure.
Centreon has always been an API-centric platform that fits into any comprehensive IT Automation processes to ensure that "if it runs, it's monitored". Over the years, three generations of APIs have been developed, and they are still all available today:
CLAPI: the original command line interface that runs on the central server and can be used for configuration
Rest APIv1: an HTTP/JSON API that can be used both for configuration and to retrieve real-time monitoring data
Rest APIv2: a fully Rest-compliant API that was originally available only for retrieving real-time information, not for configuration. This is the one that evolves with 23.10.
Centreon 23.10 adds monitoring configuration capabilities to the Rest APIv2. The following objects can now be configured via this API:
Host : CREATE / DELETE / UPDATE (add/retrieve one host group)
Host category : GET / UPDATE
Host severity : GET / UPDATE
Host template : CREATE / DELETE / LIST / UPDATE
Service : CREATE / DELETE
Service template :  GET LIST / CREATE / PATCH / DELETE
Commands :  GET LIST
Token : CREATE / DELETE /  GET LIST
When asked, our customers say that one of the top three reasons they choose Centreon is to increase productivity, monitor larger infrastructures with fewer people, and eliminate error-prone manual configuration through complete automation.
With this addition to Rest APIv2, Centreon 23.10 makes it easier than ever to integrate with your most advanced and powerful IT automation toolset.
IT and OT convergence: Centreon Pollers now run on Raspberry Pi devices
Operational Technology (OT) is the term used to describe the systems that control valves, engines, conveyors, and other machines in sectors such as utilities, energy, transportation, manufacturing, logistics, building management, and other industries. Combined with the Internet of Things (IoT), operational technology platforms have evolved from bespoke proprietary systems to complex software portfolios that rely on IT infrastructure.
This is where Centreon comes in.  IT/OT convergence simply means that operational processes rely on always-on IT connectivity, from the data centers, cloud and SaaS where software applications reside, to the most remote or harsh industrial environments where these industries operate.
With version 23.10, the Centreon Poller can now run on a tiny Raspberry Pi device that can be deployed in the most remote environments where a server or virtual machine is not an option. Pollers collect monitoring data locally and send it to the central server. Should the network connection fail, the pollers cache the data and automatically send it back when the connection is restored.
Raspberry Pi OS (formerly known as Raspbian) is a free operating system based on Debian and optimised for the Raspberry Pi hardware (running ARM processors). The Centreon Poller can now be installed on the Debian 11 variant for Raspberry Pi OS.
This is still a beta version: we're waiting for extensive testing by the user community under various conditions to declare it generally available. We've created a dedicated group on The Watch to document and discuss Raspberry Pi operations.
Please note: you can run these pollers with your 23.04 Centreon platform, no need to upgrade the whole platform to 23.10!
And also…
There is more to Centreon 23.10 than the features highlighted in this blog post. Numerous product improvements and bug fixes are included and detailed in the Release section of the online Documentation.
For example:
Numerous fixes and major enhancements have been added to MAP to facilitate graphical views creation and edition (note that these have been backported to 23.04 minor releases also). In particular, it is now possible to add resources en masse, in just a few clicks, via an advanced search.
The Centreon Mobile application has been updated and will soon allow for authentication with third-party identity providers.
Centreon Cloud users will have access to a new user interface to configure Notifications.
And as usual, we're adding new Monitoring Connectors on a monthly basis, you may access them from the Monitoring Connector manager user interface without having to update your platform.
What's next?
If you are a Centreon Cloud user, you will automatically benefit from 23.10, no action is required.
Centreon On-Premises platforms, both open source or commercial editions, can be updated to 23.10 using the standard procedures. If you're still running Centreon on a CentOS 7 operating system, you'll have to upgrade your OS to a newer, supported version.
Read the online documentation for update, upgrade and migration procedures, or for more detailed release notes.
Contact us to request help from our Professional Services team if you don't feel confident upgrading or migrating your commercial on-premises Centreon platform.
Register to the 23.10 webinar on Thursday 9 November 2023, for a demo of all new features and interactive Questions & Answers session with the Product Managers.
Also, don't forget to subscribe to the Product Updates section of thewatch.centreon.com to be informed in real time about security bulletins, minor updates and monthly monitoring connector releases.
New to Centreon? Take the Product Tour or  Ask for a demo to see if the Centreon platform is for you.