Do you want to have round-the-clock monitored IT information and boost your Time-to-monitoring? Centreon IMP is for you! Regardless your business sector, the size of your IT staff or resources, with Centreon IMP you will be able to monitor IT availability and performance of your IT equipment very quickly.
Here are 5 obvious reasons for Centreon IMP: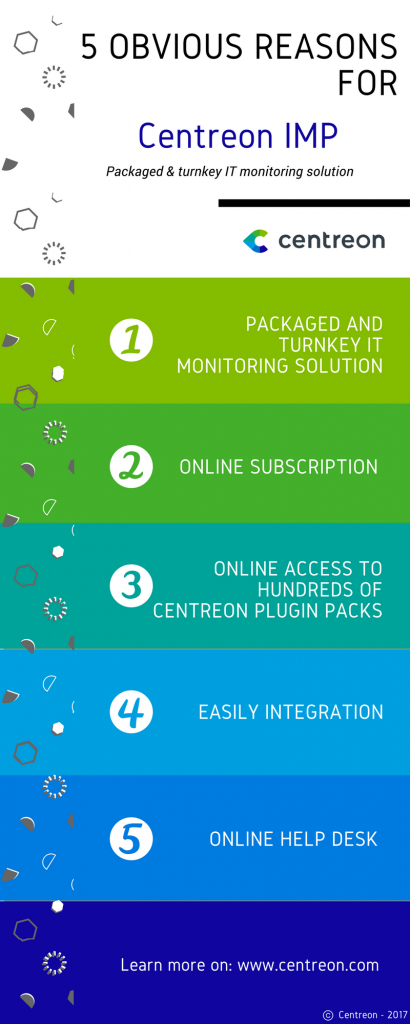 1- Packaged and turnkey IT monitoring solution
Centreon IMP is based on Centreon open source, already used by hundreds of thousands of IT professionals and companies worldwide, packaged with Plugin Packs for an instant Time-To-Monitoring.
2- Online subscription
Monthly subscription for only 175 € or benefit from a reduction on annual plan. You can also try Centreon IMP for free.
Try it now!
3- Online access to hundreds of Centreon Plugin Packs
Includes a library of fully pre-configured service templates to immediately monitor a vast range of IT domains and assets in any hybrid infrastructure: OS, storage, cloud, applications, database, network, etc.
Check out the full catalogue of Plugin Packs.
4- Easily integration
Easier management of your Plugin Packs thanks to the Plugin Pack management system, the Plugin Pack Manager. Its ergonomic and intuitive interface simplifies access to the Plugin Packs and their installation. It also makes it easy for the user to select what's needed.
5- Online help desk
Online technical assistance (support ticket opening): online technical documentation, FAQ or community resources: GitHub, forum.