The Watch is Centreon's community platform: a place to find and provide help, contribute to product evolutions and grow the knowledge base. Whether you're a high-level Centreon expert, a long-time or recent user, whether you're just considering using Centreon or achieving your first Centreon monitoring project, you have much to gain in joining The Watch. Why? Because Centreon is not just about great products, it's also committed to help you succeed in your mission to deliver digital performance through a mutually enriching community experience. The Watch is where it happens. Read on to learn how you too can join The Watch, growing and sharing your performance monitoring knowledge.
Open source software is all about community
Even though Centreon markets commercial off-the-shelf solutions, our core software and culture are open source. As such, we've always been passionate about fostering a strong community around our IT monitoring software. Over the years, we've garnered over 250,000 contributors and 950 customers in over 60 countries. In 2021, to provide a better collaborative experience to our community, we founded The Watch, a central place for all Centreon community members to unite, learn, and do great work together.
Today, over 10,000 unique visitors log in to The Watch every month. 
Why is it called The Watch?
Exceptional digital performance requires exceptional visibility over complex IT environments, so the name for the Centreon community, The Watch, came to us quite naturally. We envision it as your personal watchtower, where you can keep within sight important IT performance monitoring topics. This platform not only brings us all together, but it keeps us connected to information and insights we need to deliver flawless digital performance. 
You've seen The Watch somewhere else?
Right, you've spotted it! There's an inside story to our community being called The Watch. Some of us have been long-time Game of Thrones fans and The Watch is also a nudge to the warriors tasked with defending the northern border of the Seven Kingdoms. You have to admit it, some days, defending digital performance feels just the same … hello to you, Jon Snow.
What do we call The Watch community members?
Being part of the Centreon community The Watch makes you a Watcher.
Watchers obtain various badges (ex. Pioneer, Beta tester…) as well as ranks based on how often they participate and the type of interactions they generate. This post is just a general overview but as a Watcher, your evolution will look like this.
Newbie 
Steward
Builder
Ranger
Coming soon: The highest order of Watchers will soon be known.
Remember that your presence on The Watch is not about competition—it's about taking what you need and giving what you can.
Good to know: Watchers that work at Centreon are known as Centreonians. Some of our key people in Centreon, from management to product support, are active in the community.
The Watch vs. Slack and Github
Chances are you're already using Slack and Github and these are still excellent platforms to exchange with us. The Watch aims for something different, adding value to the Centreon ecosystem. The Watch covers it all: the people that can help you, the topics or product improvements that interest you and to which you want to contribute, the latest info on our products, knowledgeable Centreonians waiting to have their brain picked … in short all things relating to Centreon and IT monitoring are there, in plain sight.
Contrary to other collaboration platforms, such as Slack, discussions on The Watch are permanent and referenced in search engines like Google.
Why you should join us on The Watch
Joining The Watch community offers a wealth of benefits. It's free and participation, is voluntary.
Collaborate with others on a rich diversity of topics such as the Centreon platform, deployment, scripts, upgrades, automation, APIs, and more.
Become more efficient in configuring auto-discovery, data collection, monitoring templates, and notifications.
Enhance your reporting skills by learning from others and discussing best practices.
Influence the development of the Centreon platform and integrations through active conversation and open source contributions.
Troubleshoot issues faster learning from Watchers that have been there before you.
Maximize your IT monitoring skills and knowledge.
Facilitate your onboarding process with helpful content from the knowledge base.
Network with peers in an immersive and integrated environment.
To start your journey with The Watch:
2. Read The Watch's guidelines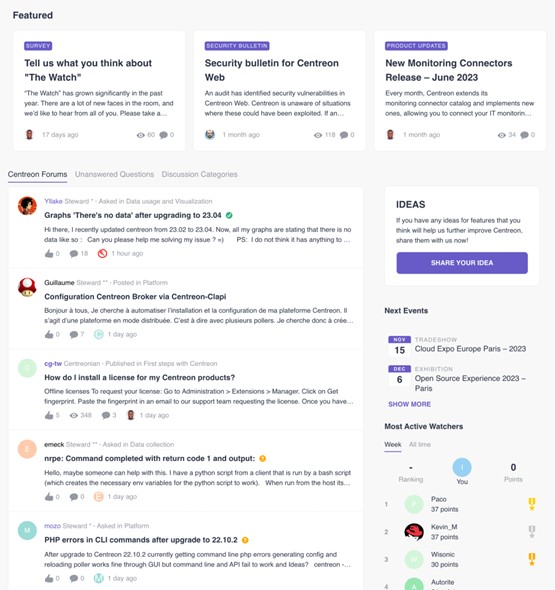 How to make the most of The Watch
We hope we'll see you on The Watch. In closing, here are a few tips to elevate your Watcher experience.
We truly believe that The Watch will be a better place with your active participation.
Welcome to our community, and we look forward to seeing you there!