Centreon just launched a new place for its community, aptly called The Watch—and it's where you want to be to keep in touch, network, learn, and share your knowledge on all things Centreon—whether you're using a commercial or free open source Centreon Edition. This blog post is your "welcome home" visit—as The Watch, Centreon's new hot spot, brings together under one roof all you need to achieve a range of purposes relating to IT monitoring, leveraging all the possibilities the Centreon environment and the community have to offer. 
Here's a quick Q&A to learn more on The Watch
Why a Centreon community? 
Open source is our DNA and so community building has always been part of who we are, with to date over 250,000 contributors and 750 customers in over 60 countries. But what's new with The Watch is that not only do we bring people together, but we connect them to the information and insights they need, helping them achieve a variety of purposes in just one place. The Watch seeks to offer an enhanced, more integrated experience to community members. And you have a role to play, contributing to and drawing from this pool of knowledge. 
What about other collaboration channels?
We are keeping our other channels, such as Slack and Github open, and we're still looking forward to interacting with you there, but The Watch is where our collective knowledge will reside from now on, so you can always find topics easily, in a single place of reference. 
Why is the community called The Watch?
We stand for exceptional visibility on complex IT environments, so The Watch was quite the obvious name. We also like to think of it as your own watchtower to stay on top of important IT monitoring topics. 
What can you do in The Watch? 
Find relevant and complete information about Centreon software

Share and learn from the experiences and best practices of other expert users 

Get involved in

beta-testing new product features

Report bugs and join in in finding fixes for them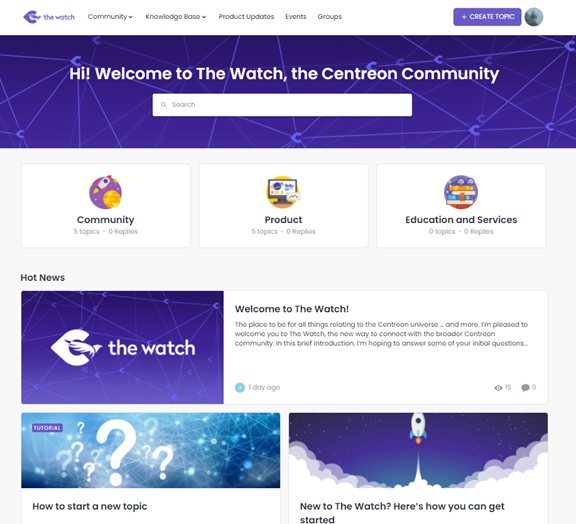 The Watch Keeps You on Top of Things
We believe The Watch will be a better place if you contribute to it. Join us today!
8 reasons why you should join The Watch now
Don't work alone.

Discuss and learn about the Centreon platform, installation, upgrades, operations, APIs, etc.

Do things better and faster.

Become more fluent in configuring auto-discovery, data collection, monitoring templates, notifications, etc.

Improve reporting.

Learn from others and discuss best practices for monitoring data visualization, reporting, etc.

Play an active role.

Be part of the conversation on the development of the Centreon platform and integrations, open source contributions, etc.

Find fixes.

Find articles that help identify and fix issues when there's a problem.

Maximize monitoring.

Grow your knowledge and the value you get out of IT monitoring.

Start on the right foot.

Support your onboarding process with complementary content from the knowledge base.

Enjoy a better networking experience.

The Watch offers you an immersive and integrated environment to exchange with your peers on topics that matter to you.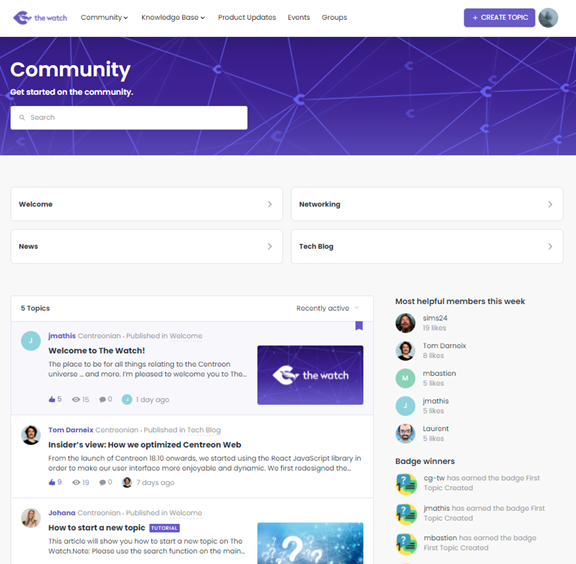 Get started
Summarizing what we want to achieve with The Watch, the brand-new Centreon Community, we like this quote from American actress and comedian Amy Poehler.
"Find a group of people who challenge and inspire you, spend a lot of time with them, and it will change your life." —Amy Poehler 
We hope you'll feel at home in The Watch and that you will get much fruitful interactions with fellow Watchers. See you there!