By Romain Le Merlus
 A year ago, we embarked on a new adventure in our 13-year history at Centreon. As digital transformation was accelerating, demand for Centreon EMS, our enterprise IT infrastructure monitoring solution was growing and we needed to get closer to clients, potential partners and business opportunities across the Atlantic. I'm more the type to look ahead, but I'll make an exception here, sharing a few highlights of our first year in North America, my first as a new Canadian, and a brand-new, devoted Raptor's fan.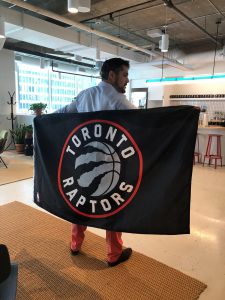 CEO North America Romain Le Merlus representing his Raptor pride during the 2019 NBA Championships in Toronto.
This was a team effort: the climate at our Toronto office has been anything but polar (despite my fears of Canadian winters), with a dedicated team providing on-the-ground customer support, sales and marketing. There's so much to be thankful for in terms of achievements, incredible encounters, learning journeys and insightful conversations, all of which are overflowing into what promises to be an excellent second year.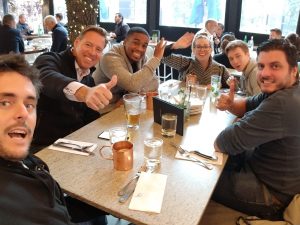 Centreon's North America team celebrating a successful day.
Partner-First
Blame it on our open source DNA, but at Centreon, we are strong believers in the power of integration. It's a given in our solutions, but also in how we do business. The same culture was applied to our partner program: going to market together, integrating the resources necessary for them to create value and sustain innovation for their clients—not an easy feat in the constant turmoil IT has become.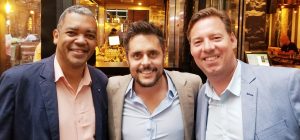 Centreon North America's Luis Contreras, Romain Le Merlus and Bobby Blake.
In just 12 months, we've welcomed seven new partners, ready to put their expertise in supporting client innovation to work. We're looking forward to continuing to support our partners and clients in their quest for seamless IT.
Here are a few things we've been doing to support our partners:
We named a dedicated channel chief for the Americas, Bobby Blake—give Bobby a shout if you're looking for innovative solutions to support your clients' or your own IT performance issues.
Our VIP partner program enables innovation and incremental business value to grow our partners' service portfolios through sales, marketing and technical resources.
We engage our clients, the open source community and users with regular training sessions, meet-ups and participate in industry events.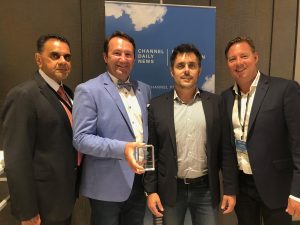 From left, Frederik Martin, Director of Business Development and Marketing, Benchmark Corp, Luc Villeneuve, President, Benchmark Corp, Romain Le Merlus, CEO and Co-Founder Centreon North America, and Bobby Blake, Channel Chief, Centreon North America with their Diamond Best Open Source Solution win at CDN's Channel Innovation Awards for their joint work together.
 News from the Market: The Urge to Innovate
North America is a market with very distinct challenges, and one where the need for end-to-end ITIM is acutely felt. We're seeing a mix of mature IT environments—in which many organizations still rely on legacy infrastructure, and a growing number of born-in-the-cloud ops. Whatever the case, there's tremendous pressure for organizations to innovate. The adoption of new technology is accelerating, and so is the average enterprise digital footprint.
There's a lot of ground to cover for data these days, which poses greater risk for service availability and increases costs and complexity when ironically, the new tech was adopted to optimize and cut costs. Innovation needs to reach the deepest layers of IT, and that's exactly what our work has been about in the last year.
The year ahead promises to be even more exciting as we deepen our channel reach and empower partners to capture incremental IT software and service revenues in an accelerating, worldwide market expected to reach $462 billion by 2020.
(source: Gartner, April 2019)
Answering the needs of modern industry with a fresh ITIM perspective
We came to North America with a vision: helping I&O play a larger role in their company's digital success. We introduced an approach that has proven its value globally: performance monitoring that's agile, integrated, scalable, uncomplicated, and which is specially conceived to support innovation.
It's nice to be writing a new chapter of our history, but it's even better to be part of something that is much more significant, playing our part in transformational stories. We're thrilled to be a trusted team player that helps improve business performance.
If you want to keep in touch with industry and Centreon news, subscribe to our monthly newsletter. You can also follow me and Centreon on Twitter.
If you have any questions or requests, give me a shout, I look forward to hearing from you.