With more than 150 domains, the Centreon Plugin Packs cover a wide variety of components that are widely used in ISD: network, applications, storage, databases, servers, hardware, etc
Since Centreon 3.4 (latest open source version), 6 Plugin Packs are available free of charge: Cisco Standard, Linux SNMP, MySQL DB, Printer Standard, UPS Standard et Windows SNMP.
But the catalog contains many other Plugin Packs.
Brief recap: What are the Plugin Packs?
The Centreon Plugin Packs is a set of predefined configuration associated to a deploying procedure. They rely on collecting structuring metrics to deliver useful information, beyond just pings and alerts.
Result: deployed and operational monitoring in record time and considerable time savings.
Do you want to deploy Synology NAS quickly and easily? This tutorial is for you!
Plugin Pack installation
Together we'll see how to quickly and easily deploy a Synology NAS.
Please note that this Plugin Pack is available in the purchased catalog via the Plugin Pack Manager.
From Centreon's Plugin Packs dedicated menu search the desired pack:

To get more information about this pack, click on it:

In this example, the Synology Plugin Pack allows to monitor, using SNMP protocol, several indicators such as the CPU/Memory/Disk consumption, the internal temperature of equipment or the network interface bandwidth usage.
Click on the installation button, the Plugin Pack is now available in Centreon:

Plugin Pack deployment
After installation of the pack you can access to the monitoring procedure: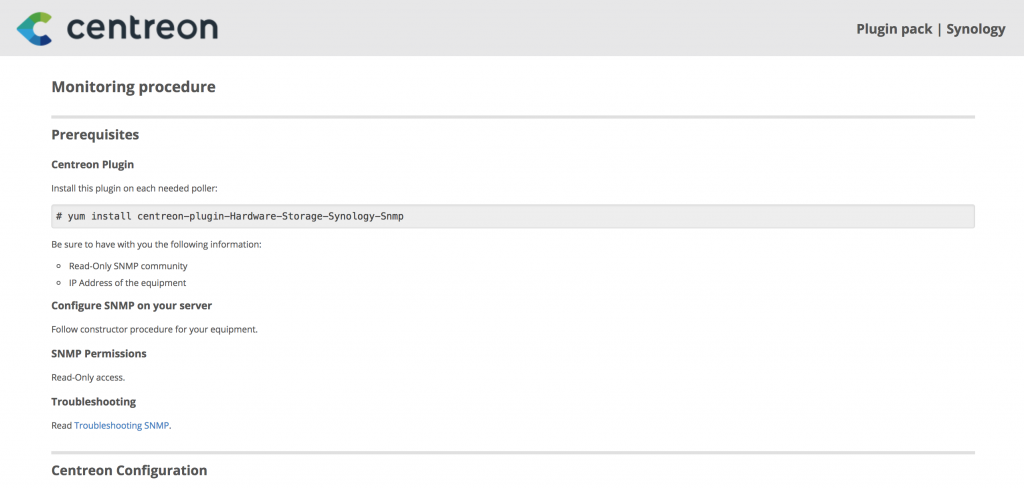 The procedure indicates that it is necessary to install the associated monitoring plugin on the Centreon collector that will monitor the equipment, and that an SNMP agent setting will be required on it.
Once these actions have been completed you can deploy the pack. You need to set the name of the equipment, its IP address, thus select the Synology monitoring template. You may define additional information such as SNMP community and version depending of protocol used by the pack:

After saving the form, Centreon automatically associated a number of indicators with this equipment: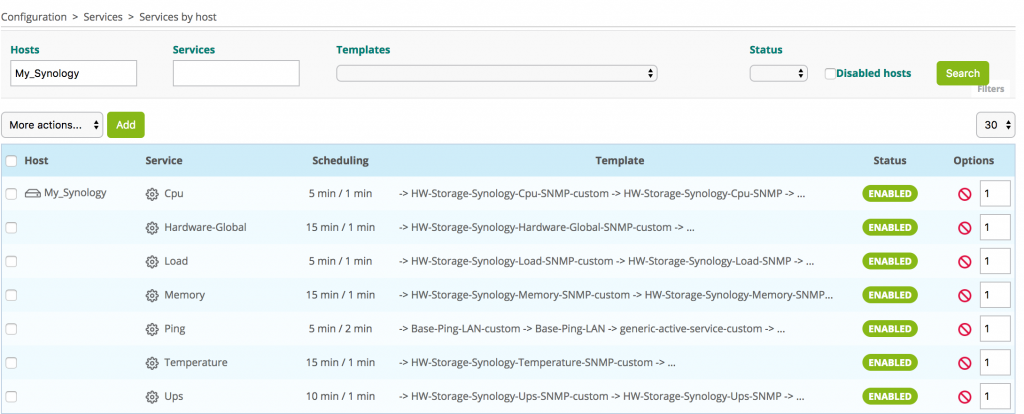 Some indicators, such as bandwidth controls for network interfaces or system partitions, depend on the model and configuration that is performed on equipment.
Extend configuration
The plugin Pack purposes ready to use templates. We will deploy monitoring of "/volume1" file system consumption.
To do this, add a new indicator. Enter its name and select the equipment as well as ready-made model. Only the name of the partition will have to be set manually if you agree with the default proposed values: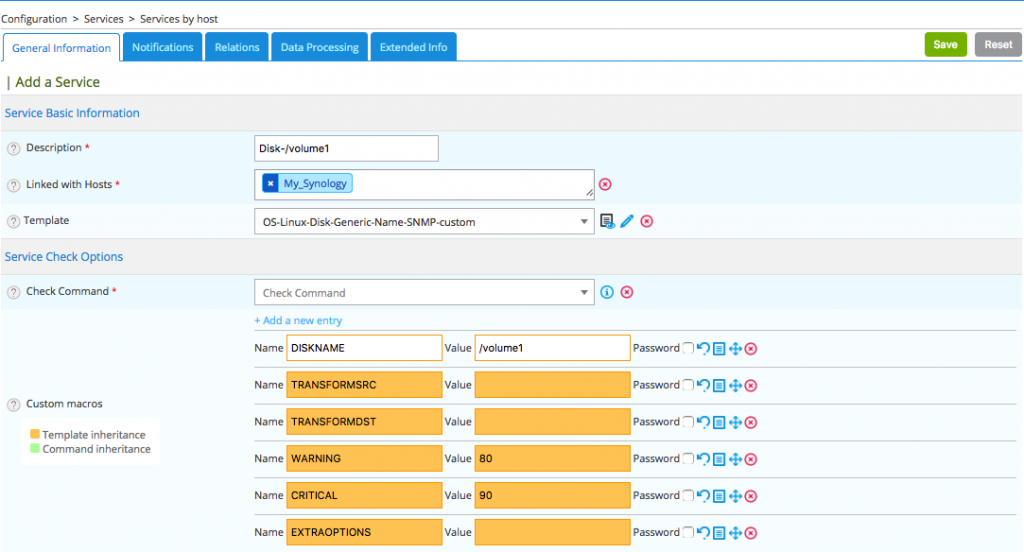 This is my configuration after deploying the indicators for all my network interfaces and system files: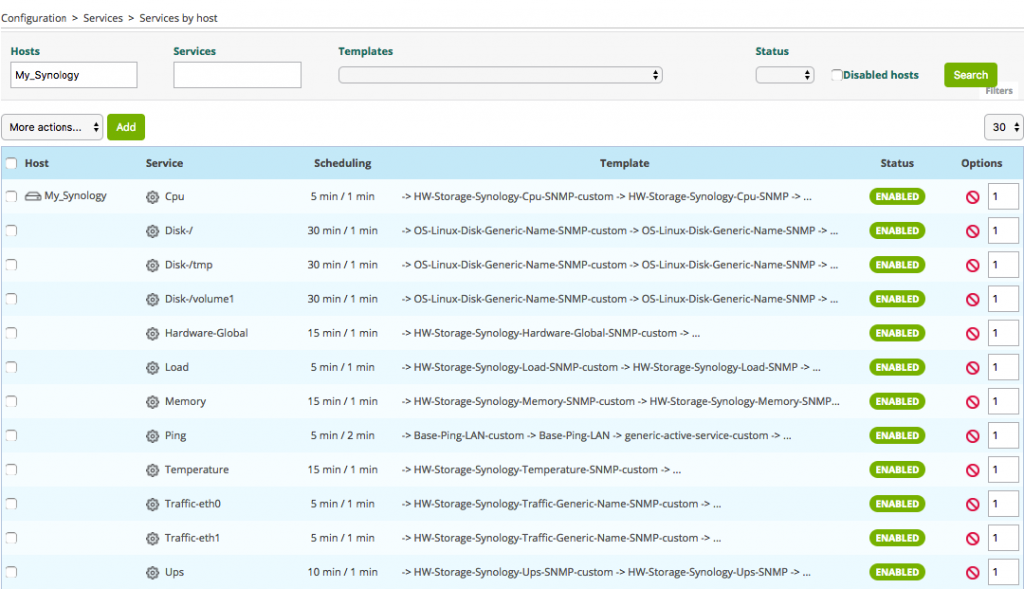 The result
Generate and export this new Centreon configuration. You will see in the Centreon web interface the result once the indicators will be check: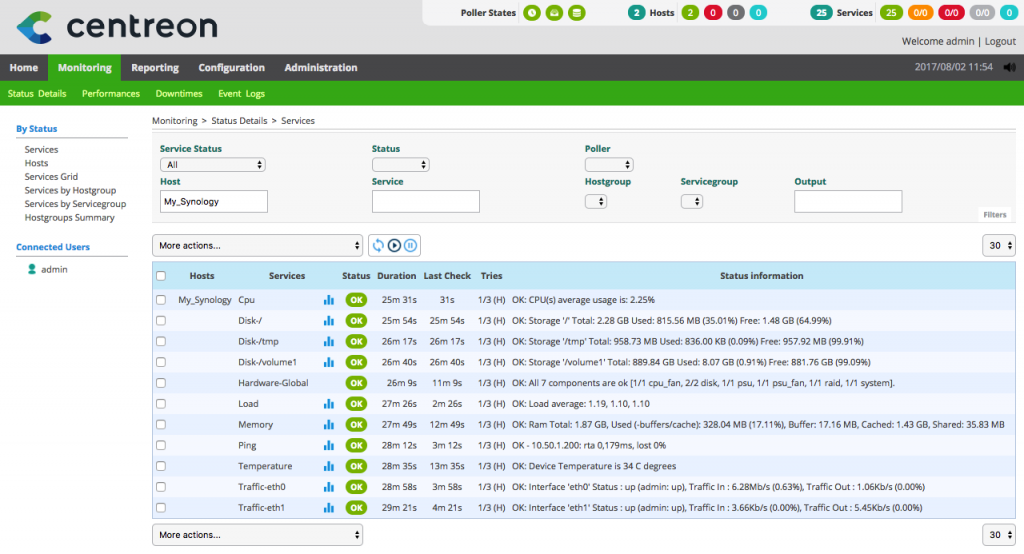 And in a few minutes, the monitoring of the Synology NAS has been deployed and is operational. All that remains is to deploy the other Plugin Packs to monitor the other equipment and applications of your information system.
How can you get the Plugin Packs ?
To test our Plugin Packs you can download Centreon 3.4 with its 6 native Plugin Packs or choose the Free Trial of Centreon IMP including 5 additional Plugin Packs.
SMB with a small ITOM team and budget: buy Centreon IMP with online subscription.
Multi-sites I&O with bigger ITOM team: contact us to buy our product Centreon EPP, also included in Centreon EMS.