What's in store for ITOps in 2023? Despite budget restrictions and much higher expectations, the news may be good for ITOps this year. Why? Because the smart way out for CIOs is to build ITOps capacity, providing the tools that make ITOps SLA-driven rather than issue-focused. This means investing in best-of-breed solutions, including for IT monitoring, to nurture employee and customer digital experience, the crux of business competitiveness. In this article, we take a quick look at key ITOps trends for 2023 and demonstrate that Centreon is part of your organization's best-of-breed strategy to build ITOps capacities.
A mix of good & bad news: ITOps' business value will be recognized but budgets will need to go down.
In a difficult economic context, CIOs will be closely involved in making the business zip through turbulence. CIOs will seek to fine-tune and accelerate digital transformation, both to improve cost and resource efficiency and to better meet employee and customer expectations, to safeguard business competitiveness. So, ITOps, rejoice, your job has never been more important—and maybe you should start off the year with asking for a raise! But one thing to curb your enthusiasm: Budgets are on a short leash and you'll need to demonstrate value. You'll get some equal pressure from your CIO to optimize, if not reduce IT budgets, including IT monitoring's.
So how can you strike the right balance in this context? The answer is a silver lining to what may be a challenging year: A chance to build ITOps capacity, which in effect means getting rid of underperforming tools and practices that are holding you back, and wasting resources and ultimately, creating a more satisfying ITOps work experience overall.
Investing to build ITOps capacities
Although budgets may be tight in 2023, skimping on innovation will not pay anyone back. The way to cost-efficient, optimized IT operations is to adopt the tools that enable teams to do just that: deliver their best performance and that of the IT environment. Therefore, organizations should invest in ITOps capacity building. This includes shifting ITOps from fix and recovery work, low value deployments or system configuration towards more data informed, SLA-driven, and innovation-centered work.
More than ever in 2023, ITOps will need modern tools that incorporate automation and scale fast, provide them with the right data to work from and an always accurate picture of the IT environment they are managing—no matter how diversified and ever-changing.
Breaking with a long issue-driven tradition, in 2023, ITOps will concentrate on creating value to users and customers, by constantly adapting and improving digital experiences, contributing to making the business deliver performance, competitiveness, and value. And it all starts with making the right choices.
Best of breed strategies for 2023
ITOps will meet 2023's challenges by adopting a best of breed strategy across all their modernization projects. Whether it's about migrating more services to the cloud, redesigning or rehauling IT or networking infrastructure, merging or pooling IT resources, options for software, applications, or other services to realize such initiatives will be carefully weighed. Now, it should be remembered that IT monitoring is also an integral part of modernization initiatives—and as such deserves as much attention for the initiative's immediate and future success.
Why is Centreon part of your best-of-breed strategy?
You can think of Centreon as your standard monitoring component, to fit within any new IT initiative, so you benefit from a single IT monitoring platform which covers you across multiple domains, for both cloud and non-cloud assets. With over 700 zero-config connectors and integrations, Centreon is the market's most open monitoring platform, which explains why it's also an MSP favorite.
6 areas for IT monitoring improvement in 2023
Replace obsolete tools: Splurge on innovation now to eliminate waste and save later.
Consolidate many tools into one: A single platform optimizes processes and reduces costs on top of facilitating team collaboration.
Favor SaaS monitoring for cloud and non-cloud alike: Skip upfront investments and liberate teams from maintenance and config work.
Instrument metrics: Enhance ITOps contribution to business observability.
Connect infrastructure monitoring with DEM: Within a single platform, understand what's going on—from the infrastructure layer up to the digital user experience.
Plan for incremental improvements: Use IT monitoring to better understand how to make ITOps more resource-efficient and sustainable, over the longer run. Keep an eye on resource consumption and avoid planning for more capacity than needed— details do add up.
Unaffordable obsolescence
In 2023, chasing underperforming tools will provide an easy path towards generating savings. Obsolete tools are those used by default, even if they are unsuited to manage hybrid, multicloud environments. Typically, such tools are forcing you to adopt others on the side to fill the gap, contributing to tool sprawl. Replacing old IT monitoring tools therefore often goes hand in hand with tool consolidation. Centreon is often adopted for the purpose of centralizing IT monitoring across cloud and non-cloud assets. Additionally, an obsolete tool is also one that few of your team members know how to use, or care about using, and for which support is almost impossible to find.
Starting 2023 with a fresh approach and new tools
Trying to understand how refreshing IT monitoring tools mattered to build ITOps capacity, the State of IT Monitoring surveyed 600 IT management and Tech/Ops respondents globally, measuring ITOps expectations. While 89% had said IT monitoring tools would be prioritized up until 2023, only 27% of them said they were currently satisfied with their tools. Organizations had plans to upgrade IT monitoring tools as a path to support larger goals: simplify, optimize, and automate ITOps, pave the way to manage a larger cloud footprint as well as other future technological choices, and augment observability capabilities.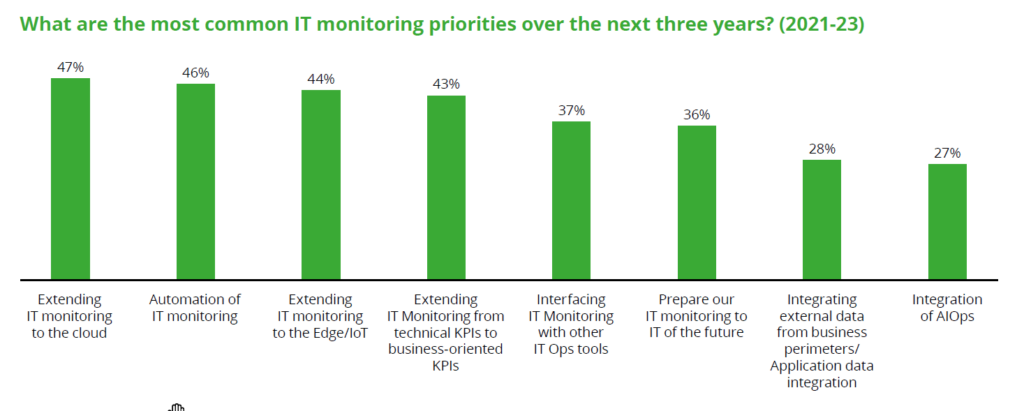 If you're on your own path to modernize IT monitoring, here's some help to select 2023's best IT monitoring tool—one that will fit the needs of your organization at an optimized TCO.
ITOps tools migrate to the cloud
They may be last, but not the least. After overseeing a wide range of business services migrating to the cloud, ITOps can now benefit from the cloud's advantages for their own tools, including for IT monitoring. Centreon Cloud, a SaaS IT monitoring solution is the most affordable and effective way to monitor cloud and non-cloud IT assets. It gives ITOps more time to focus on business-building initiatives and reroute the money and resources to host and maintain an up-to-date IT monitoring platform elsewhere, where more budget is needed.
The shift from quantifying to qualifying
2023 will mark a culture shift for ITOps. Traditionally, ITOps and more specifically, the ITSM paradigm, have been about quantifying things—and that's what metrics are for, right? So obviously, quantifying is important: how much time between IT failures, how long before restoring service, at which level was IT service delivered? But today even metrics are changing. No longer just about quantifying, metrics now are defined to qualify IT's contribution to creating business value. Want to learn more on aligning IT metrics with business KPIs? Ask for a demo.
End goal: contributing to business observability
Demonstrating IT value for business concretely means providing the required insights to inform and enable operational performance. This includes measuring availability rates of applications and infrastructure, but also key insights on how users are experiencing IT service. One end goal for IT monitoring is to contribute fully to business observability. Centreon provides rich metrics which can be fed and leveraged within the major business observability platforms, through software integrations.
IT Monitoring meets digital experience management
Enhancing ITOps capacity is a lot about breaking down silos. Making IT service management and IT monitoring speak with digital experience monitoring enables IT professionals to prevent service degradation and reduce its impact on the business, this across critical SaaS, web, and cloud-hosted applications. This is done through synthetic network performance monitoring and real user transaction data.
ITOps use Centreon to extend IT monitoring capabilities to digital experience management (DEM) by incorporating real-time performance and user experience monitoring insights from Kadiska. This integrated visibility covers user experience, network connectivity, cloud and non-cloud, applications and business processes to optimize performance and the bottom line.
What to remember: SLA-Driven ITOps
In 2023, ITOps are more SLA-driven than ever, bridging the gap between IT performance and business performance. A diversity of stakeholders will have access to real-time performance dashboards to support decision-making, both at the technical and business levels.
See what IT monitoring will look like in 2023—take a product tour.