We're constantly evolving our IT monitoring platform and approach to make it as easy as 1, 2, 3 to leverage IT infrastructure monitoring as a frontline performance enabling tool. As we're launching our most recent software update, this post introduces the 3-steps of business-aware monitoring (more on this soon) and highlights how Centreon EMS 19.10 further improves your monitoring experience.
Why the Need for a New, Integrated Approach to ITIM?
Traditional ITIM, which focuses on the various components of the IT system, just doesn't cut it in an era where failing at the user experience means failing at the business level. Our integrated, 3-step approach to ITIM lets you focus on the performance of the IT system – as it supports in turn the business's.
Here's an express tour of these 3 steps and insights into what 19.10 brings in terms of enhancements.
1- Discover
Ensuring the completeness and accuracy of infrastructure monitoring, from the cloud to the edge, even in the most diverse and dynamic environments
With new IT services being added and removed in the blink of an eye, you've got a lot of ground to cover if you're going to monitor everything – as you should. Thankfully, you've got Host and service auto-discovery. Centreon EMS 19.10 is giving you more of these goodies. Not only does it introduce network discovery – a convenient feature when adding new and unknown remote locations to the IT monitoring scope – it helps you find a full diversity of environments, from server farms deployed by Ansible to branch office SD-WAN networks powered by Velocloud, from WiFi access points controlled by Aruba or Alcatel to Azure, AWS or Google cloud technologies. Enjoy!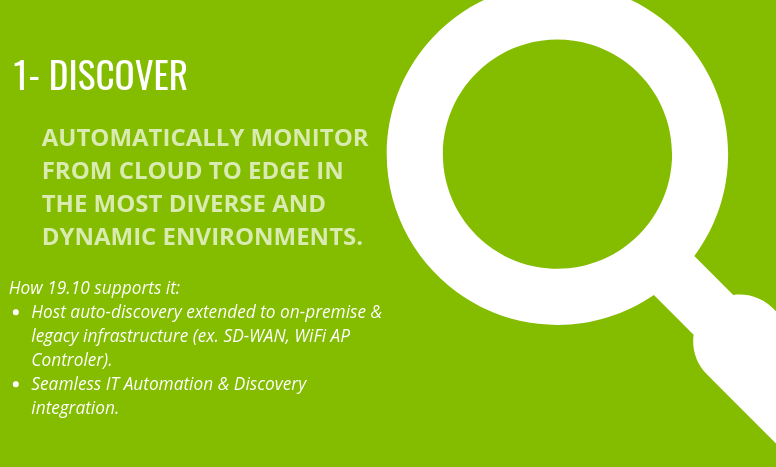 Find it in Centreon 19.10: 
Network Discovery function

Host auto-discovery has been extended to On-premise and Legacy infrastructure Examples: Ansible, Rudder, Velocloud, Aruba, Alcatel
2 – Model
Mapping the business-critical workflows that impact the enterprise bottom line
Mapping is a central part of Centreon EMS. The  service modeling functionality correlates the performance and availability of an IT service with the performance and availability of all IT components that support it, those that typically relate to your SLAs. 
Centreon EMS 19.10 refreshes the user experience, making it easier than ever to model and maintain the most complex IT workflows. A few mouse clicks are all it takes to translate the workflows you've been mapping on your whiteboard into business relevant KPIs that accurately monitor agreed-upon SLAs.
Find it in 19.10:
Brand new web user interface to create and maintain Service Mapping dependency trees (Centreon Business Activities) and their logical grouping (Centreon Business Views)

Business Activities may now be geolocalized and automatically mapped to Geoviews

Business Activities may be associated to standard graphical views that show the health of the infrastructure supporting the activity
3- Share 
Allowing others to see how IT performance impacts business performance
The Centreon EMS web interface natively integrates the four tools you need to create and customize the full diversity of views needed in complex ITOps:
Fully featured event management and notification console

Customizable widget-based operational dashboards that combine real-time data and analytics

Choice of real-time graphical draw-it-yourself or automatic geographical views with drill-down capabilities and integrated tooltips.

Over 40 templates of automatically created and distributed Analytical Reports
Highly Distributed Ops: See Where You Perform Best
Supply chain, global manufacturing, public transportation, retail, public sector … all tend to have highly distributed operations. After the launch of Geoviews in April 2019, new features and capabilities were added to Centreon EMS 19.10, making it even easier to show how business performs geographically, at each remote site. Here too we allow for context: it is now possible to add multiple layers of non-IT information to add context to the IT Operations.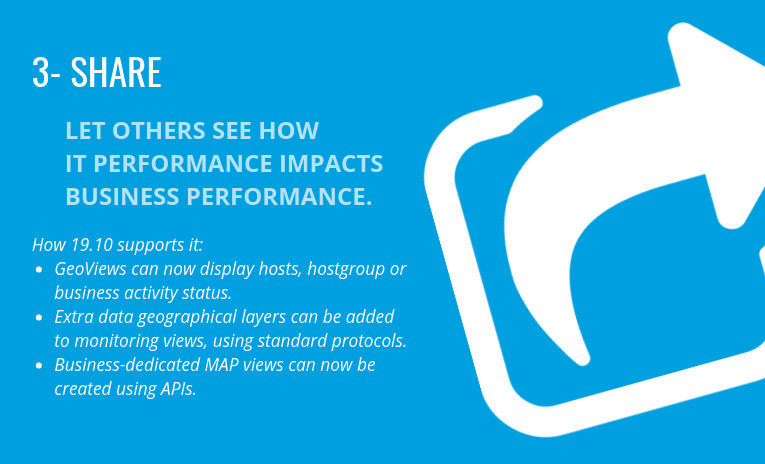 Find it in Centreon 19.10:
GeoViews may now indifferently display hosts, hostgroup or business activity status

Extra data geographical layers may be added to the IT monitoring views, using standard Tile Management protocols

Standard MAP views may now be created using APIs
Catch one of our webinars this fall presenting those 3-steps and the enhancements of 19.10. Register!
We can also walk you through our 3-step approach. Book your own 3-step demo. 
Want all the nitty-gritty details on 19.10? Check out our dedicated blogpost.