Adopting new technology is exciting. Brave new possibilities are opening for the business, and I&O teams rejoice in the promise of streamlined processes. Oh, but wait, the new project does come with some challenges. One specific area that's easy to overlook when adopting new technology is IT monitoring. Obsolete IT monitoring tools can put a damper on innovation efforts and limit the ability to streamline processes, augment performance and enhance user experience. Your business is growing digital, and your IT monitoring, both in terms of tooling and practices, should be following suit. This blog post spells out four common IT monitoring challenges that need addressing for the organization to fully benefit from its digitization efforts.
A is for accuracy, and A is also for automation
No one expects the digital journey to end one day—innovation is what keeps us going. In a business that's always trying to adapt and improve, workflows are ephemeral affairs transiting through an unprecedented array of diverse tech, some are at the edge, some in the cloud. That's why you need grade "A"—a.k.a. constantly accurate monitoring: the ability to auto-discover and adapt to new elements or changes in your dynamic IT environment—from AWS to Azure, and from disk volumes to Wi-Fi access points. This ability is also extending the power of your IT automation tools. Use the magic of APIs to enable the automatic deployment and monitoring of new IT assets.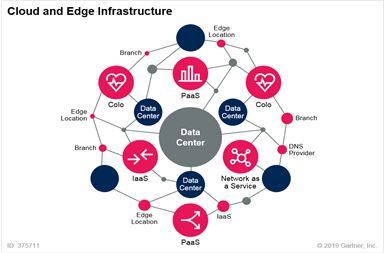 Modern IT monitoring provides cloud to edge visibility.
B is for removing blind spots, and B is also for bridging gaps
IT has evolved from being a bunch of boxes wired together to an intricate, organic-like set of connections. The sum of these connections is the business. For digitally driven enterprises, black box-like IT is out of style. Old monitoring tools that only provide partial or siloed visibility are also out of the game. And so is monitoring that stops at capturing device-centric data to see if the system works. Supporting your company's innovation initiatives requires the ability to refocus monitoring on key performance indicators and SLAs tracking. To that end, cloud-to-edge visibility needs to be delivered and extended to business stakeholders. IT KPIs are harnessed to provide business insights, offering additional control as you plan, implement, manage, and measure the next round of innovation projects.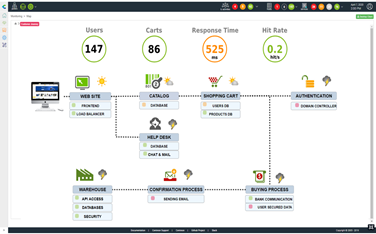 Smart IT monitoring is all about getting the business perspective.
C is for cutting costs, and C is also for cutting on complexity
Most technological innovations are born with the intention to optimize costs. But what if they create more expenses in the back end? What if they add yet another layer of disconnected IT tools and complexity? Make sure C is not counterproductive! Cost optimizing IT monitoring tools and processes is a not-to-be-missed step in the business's digitalization plan. A cost-effective IT monitoring solution has two distinct attributes: 1) it is in itself cost-effective: e.g., it is scalable so that you pay only for the monitoring capabilities you need, without any overlaps; and 2) the IT monitoring solution becomes in itself a tool that helps continuously optimizing costs, through tracking the right KPIs and sustaining performance enhancements. 
D is for digitally-driven, and D is also for data-focused
At the end of the day, the real challenge of IT monitoring in time of innovation is ensuring that relevant data is captured to measure the value of the new tech, from its own optimal working performance up to its contribution to the performance of the entire IT value chain.
Asking the right data collection questions from the outset will help measure ROI:
Who's going to be responsible for monitoring?

Which tool will be used?

Which data should be captured and contextualized?

Who needs visibility on that data?
If you're using a modern IT monitoring solution, you won't need much time to answer these questions. In just a few click, the new tech, be it container, cloud, IoT, or on-premise equipment is found, integrated into the centralized monitoring platform, mapped in connection to business activities, and constantly monitored to turn up relevant data that will inform both IT and business stakeholders on the ROI of the technological project. If that's your case, your monitoring is definitely digitally driven. If not, no problem, just ask us to help with your cost and performance optimization efforts.