You're attending a cocktail party, and someone comes by asking, "How modern is your IT monitoring?" OK, little chance of that happening. But if you're fielding complaints from users noticing service issues before IT does, if your team is blamed for loss of revenue due to poor IT performance, or if you've been wondering how IT monitoring could be so expensive, modernizing IT monitoring is definitely a hot topic to bring up. This is exactly where you're headed reading this blog post. The old "If it ain't broke, don't fix it" may very well be the last frontier separating your organization from the promises of modern IT monitoring: cost and resources optimization, faster root cause analysis and MTTR, and peace on earth through team collaboration.
Why should you care about IT monitoring modernization?
Managing IT today requires advanced data analysis. But how do you collect and process data in modern IT environments that are complex and ephemeral with increased reliance on cloud and containers? If you're using various domain or equipment specific monitoring tools, you get a deep understanding of how specific parts in your stack work, but the knowledge is not so helpful when you're trying to diagnose issues. You're probably managing more alerts than you can handle. Chances are, other teams in your organizations have encountered exactly the same issues. If the various layers in your stack are not interconnected, it's hard to know what exactly is going on, where, or to predict where trouble will be coming from next. There's no way to build and continuously improve IT performance through learning and automation, fixing things once and moving on. Legacy IT monitoring is like Groundhog Day, every day. 
What is modern IT monitoring? 
Modern IT monitoring is a platform for IT excellence and collaboration in increasingly digital businesses. Modern IT monitoring focuses on mapping, analyzing and sharing data from a diversity of sources (devices, applications, cloud, containers, etc.) to ensure IT infrastructure—and the critical business activities that depend on it, are running at peak performance with the end goal of delivering frictionless user experiences. 
More specifically, modern IT monitoring is a platform that collects and correlates data from a diversity of sources and formats. The contextualized data is then fully leveraged across IT functions as everyday IT activities are conducted, such as managing capacity, determining availability, managing SLAs, developing applications, and contributing to the security of the modern digital business. 
Modern IT monitoring is innovation ready: it is among the first steps to take in preparing for the possibilities of AI and ML, leveraging rich monitoring data to predict issues, automate resolution and inform continuous improvements to IT performance.
So, how modern is your IT monitoring?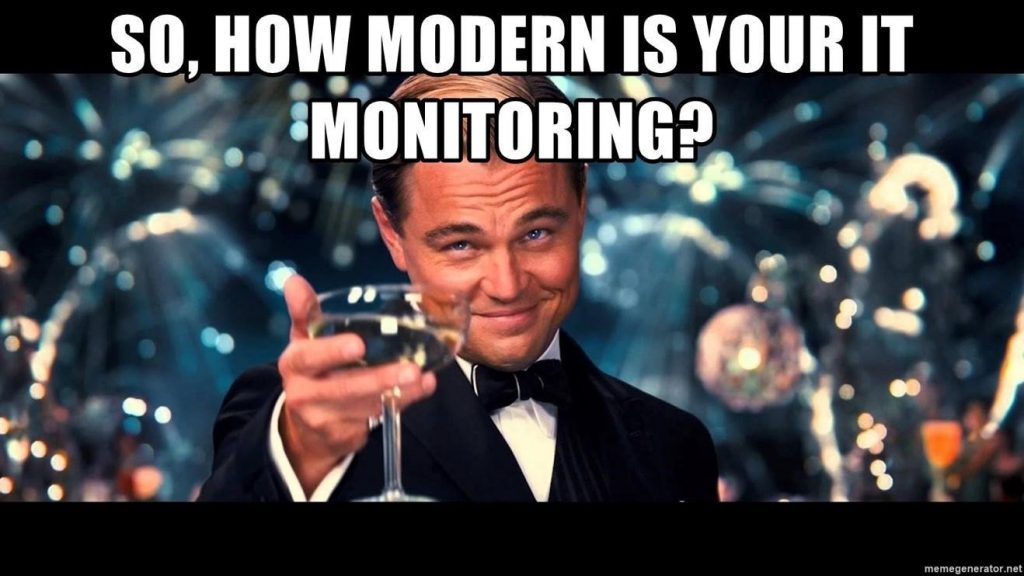 IT monitoring maturity scale
The journey from legacy to modern IT monitoring takes you from being reactive to issues to predicting issues. There are all kinds of reasons for you to be where you are now, and a load more for you to decide to pursue your journey towards frictionless, optimal IT performance. 
IT monitoring modernization journey
| | | |
| --- | --- | --- |
| | AGE OF MONITORING | Description |
| PREDICTIVE | 4. AIOps-ready | This stage is open-ended, preparing for future technological innovations, such as AIOps.  IT monitoring data is set to be used by machine learning (ML) and artificial intelligence (AI) to further automate the diagnosis and resolution of IT system incidents. The raw material for these technologies is performance or log data that are collected across the stack. The new focus of IT monitoring is on supporting constant innovation and automatically matching IT performance to business needs. |
| ⬆ | 3. Business-aware | IT monitoring is conceived as a global, organization-wide strategy superseding individual IT projects. All IT and key business staff have visibility across the stack. The umbrella-like monitoring layer leverages and correlates device or service-level data from cloud to edge to understand and maintain IT performance from the standpoint of business users, with some degree of automation. |
| ⬆ | 2. Interconnected platform | IT monitoring data is centralized. Many different data types and formats are collected across the IT stack (metrics, logs, traces). The data provides global awareness on the health of the IT system as a whole. The information remains internally facing, informing on service availability and quality. Deeper insights and more efficient root-cause analysis are enabled.  |
| REACTIVE | 1. Availability-focused  | Monitoring is contained within various IT layers and specialized teams, who all use different data types and formats. It is focused on checking availability. There's little interconnection between the various layers. |
Roadmap to IT modernization
Here's a quick roadmap to assess IT monitoring modernity in your organization. Warning: this exercise will require some intense discussions across the IT organization and possibly involve key business line staff too. Be prepared to dig out real, ancient monitoring treasures. You will most likely discover that modern IT monitoring is not that much of a hard thing to accomplish, once you know what data you need and how to fully instrument your full IT environments.  
Step 1: Tool Inventory
Ask all IT teams to report on the tools they're using for monitoring. Examine the scope of the tools currently used to collect data from the IT system. Determine if there is any overlap across IT functions, i.e., ITIM, APM, DEM, DEVOps, etc. There may be a more efficient, cost-effective solution that can be shared across teams. 
Step 2: Create a monitoring data matrix
Chart the organization's full monitoring needs and check how that scales up in terms of data sources to monitor, from cloud to edge, and across IT domains.
Step 3: Find the most logical monitoring "ground zero"
Find the most logical layer to build your monitoring platform from. Build on what you already have, closest to the ground so moving up, you can easily catch all the layers in your stack and ensure the full range of IT environments are instrumented. ITIM provides a very good ground zero of holistic IT monitoring, and an open source, connector-based IT monitoring platform such as Centreon's allows you to effortlessly connect other IT domains. You thus achieve full observability from basic IT availability data to advanced business correlations capabilities. 
Step 4: Calculate the cost of the solution
From implementation to future needs, source options that present the least adoption barriers as possible, and that come with a high level of automation capabilities, to further optimize IT monitoring activities and have team work on higher value projects. Modern IT monitoring should be fast, secure, and cost-effective. And modern IT monitoring should also be … modern! AIOPs are developing fast. Even if you think you're not there yet, you should plan for a solution that will offer a diversity and quality data for AIOps.
A free trial that never expires is a good place to start your search for a modern IT monitoring solution. Or contact us to discuss your organization's specific needs. 
Learn from the experiences of other organizations that adopted modern IT monitoring
The experience of a major regional hospital

The experience of a leading technological institute