We are proud to announce today the general availability of version 19.10 of our Business-Aware, Hybrid IT Infrastructure Monitoring solution: Centreon EMS.
Every six months in April and October Centreon releases a new version of its flagship Centreon EMS solution, as well as the underlying Centreon open-source framework.
What's new for this October 2019 release?
A stronger open-source framework
Extended Host Discovery capabilities
Easier to configure Business Activities and Business Views
New MAP functionalities
A stronger open-source framework
Centreon is our do-it-yourself Hybrid IT Monitoring solution, its fully packaged ISO can be downloaded for free here, while its source code available to all on our GitHub. This is also the underlying framework of Centreon EMS, which benefits from all improvements described here.
A short summary of what's new in Centreon open-source 19.10:
User Authentication: new Keycloak SSO interface and Okta LDAP template
Real-Time API [BETA]: new full REST API (documentation here)
User Notifications: new options for Contacts & Contact groups method calculation

Vertical Inheritance Only: get contacts and contactgroups of resources and linked templates, using additive inheritance enabled option (Legacy method, kept during upgrades)
Closest Value: get most closed contacts and contactgroups of resources including templates
Cumulative inheritance: Cumulate all contacts and contactgroups of resources and linked templates (new default method)

Performance Graphs: higher resolution and export capabilities
Open-Ticket: new JIRA provider
Over 100 improvements, bug fixes and security fixes
Please find the detailed release notes here.
Extended Host Discovery capabilities
Host Discovery was introduced in Centreon EMS six months ago with a scope limited to some dynamic cloud technologies, such as Amazon Web Services.
With Centreon EMS 19.10, Host Discovery Rules are included in the relevant Centreon Plugin Packs, alongside Service Discovery Rules and Host and Service configuration Templates.

The Centreon Plugin Packs Library is updated on a weekly basis with new Discovery Rules or new Plugin Packs altogether. At the time of Centreon's 19.10 software release, there are currently over 120 Plugin Packs including Service Discovery Rules, while Host Discovery covers the following technologies:
Amazon Web Services
Microsoft Azure
VmWare
Velocloud (SD-Wan)
Aruba (WiFi Access Points)
Ansible
Rudder
And also:
the Generic SNMP Plugin Pack now includes a Network Discovery Rule to automatically scan a LAN subnet and discover connected equipment.
New User Experience: Business Activities and Business Views
Service-Mapping is a critical Centreon EMS capability, allowing users to create dependency trees mapping the causality between infrastructure and business services. These are called Business Activities (BA) and are grouped in Business Views.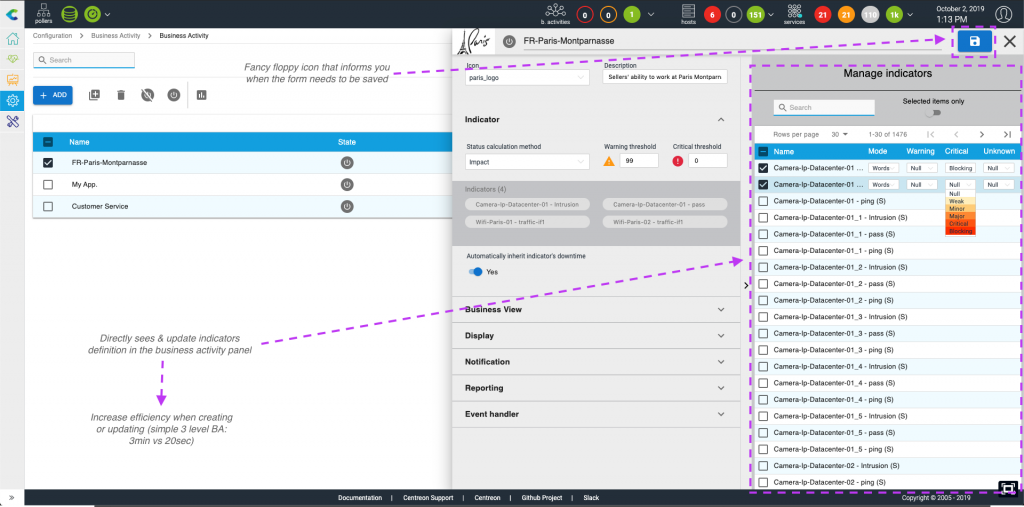 Centreon EMS 19.10 revisits the overall User Experience when creating or editing Business Activities and Business Views:
A totally new User Interface design mixing forms and panels
More control and visibility about indicators within a Business Activity
More efficient indicators management panel
Overall, a much faster user experience for both creation and editing processes
Service Mapping is also very useful to map critical site activities (remote offices, retail stores, agencies, factories, …):
BAs may be assigned geographical coordinates
BAs may be assigned graphical infrastructure views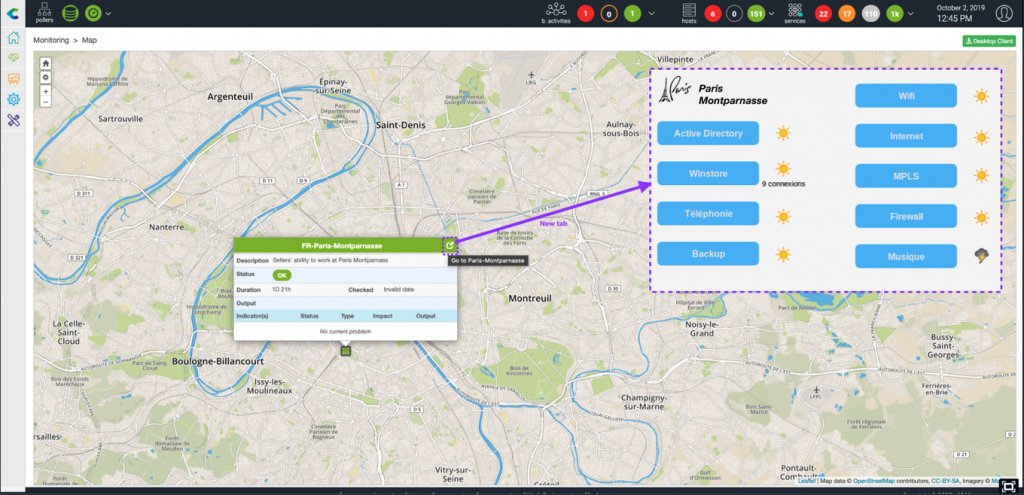 Release note with screenshots may be found here.
New MAP functionalities
Centreon EMS includes multiple real-time graphical tools to view & share the performance and availability of all business-critical IT Services and their underlying infrastructure.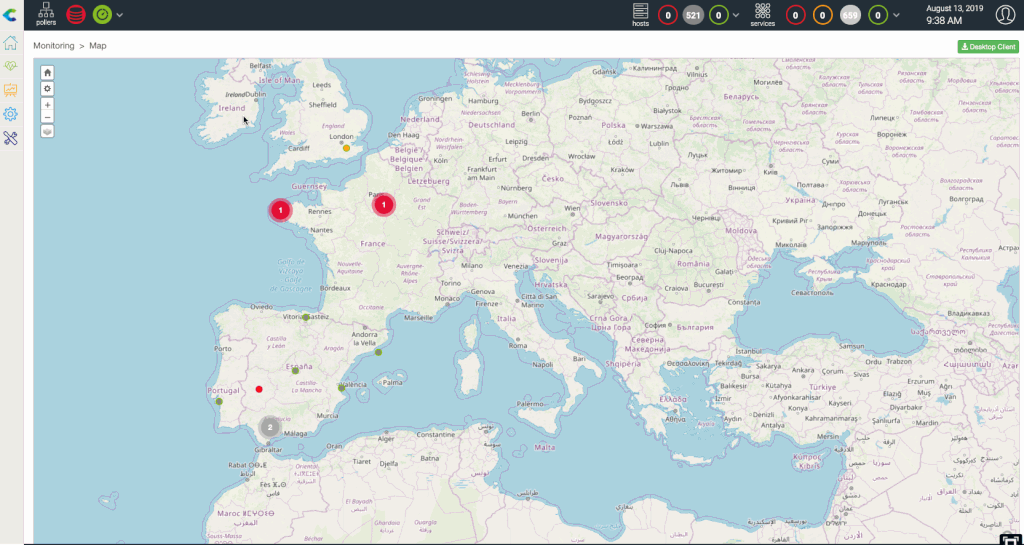 Centreon EMS 19.10 now includes a fully-featured GeoViews capability:
GeoViews geographical background can be retrieved from any Tile Service API (eg Mapbox, OpenStreetMap, your own GIS service)
Multiple contextual layers may be added on top of a GeoView, using standard Tile Service APIs.
GeoViews displays a choice of Hosts, Hostgroups or Business Activities with automatic zoom-out clustering
You may drill-down from a Business Activity tooltip to its associated Infrastructure standard view
GeoViews may be programmatically created using APIs
Other improvements include:
Standard Views may be programmatically created using APIs
TLS protocol between the MAP and Central servers.
Release notes with screenshots may be found here.
Want to introduce the new Centreon 19.10 release to your boss? This blogpost is perfect for you! It introduces the 3-steps of business-aware monitoring and highlights how Centreon EMS 19.10 further improves your monitoring experience.