In digital organizations, collaboration between IT and lines of business is intensifying. Lines of business need to understand IT, while IT teams need to gain strong awareness on how the business creates value, so they can harness and constantly optimize the digital means for business value creation. At the leadership level, CIOs find new ground to interact with their C-suite colleagues, but they also need to demonstrate how IT is contributing to business results, based on key insights and KPIs which the IT teams can collect through a variety of tools, namely the IT monitoring solution. This blog post looks at how CIOs can demonstrate the contribution of IT and highlights how the organization's IT monitoring solution can provide support. 
If you're looking for a deeper exploration of how CIOs can demonstrate IT value to business, download your complimentary version of Gartner's report, A Pragmatic Engagement Approach to Quantify Strategic Business Value of IT Contribution – available for a limited time only.
Five areas for businesses value creation that CIOs need to understand
Grounded on the business's strategic plan, the CIO can help determine how to translate strategic objectives into growth opportunities. The focus here is not directly on IT, but on an open-ended question: How can we get better?
There are 5 key areas to consider:
Generating revenues

Increasing operational efficiency

Making assets run better (ex. plants, equipment, etc.)

Improve customer experience

Gain competitive advantage
Collaborating with business-line owners on answering these questions allows to uncover and map the business capabilities that contribute the most to creating value. This is where business and IT objectives can be discovered, and in so doing, where common ground for business and IT collaboration can be found. 
"To evolve and succeed in their role, CIOs must demonstrate quantifiable value contribution in their enterprises. To do this, they should engage with business leadership and key stakeholders in a three layered (business value, business capability and IT) conversation." – Gartner, A Pragmatic Engagement Approach to Quantify Strategic Business Value of IT Contribution, February 2021.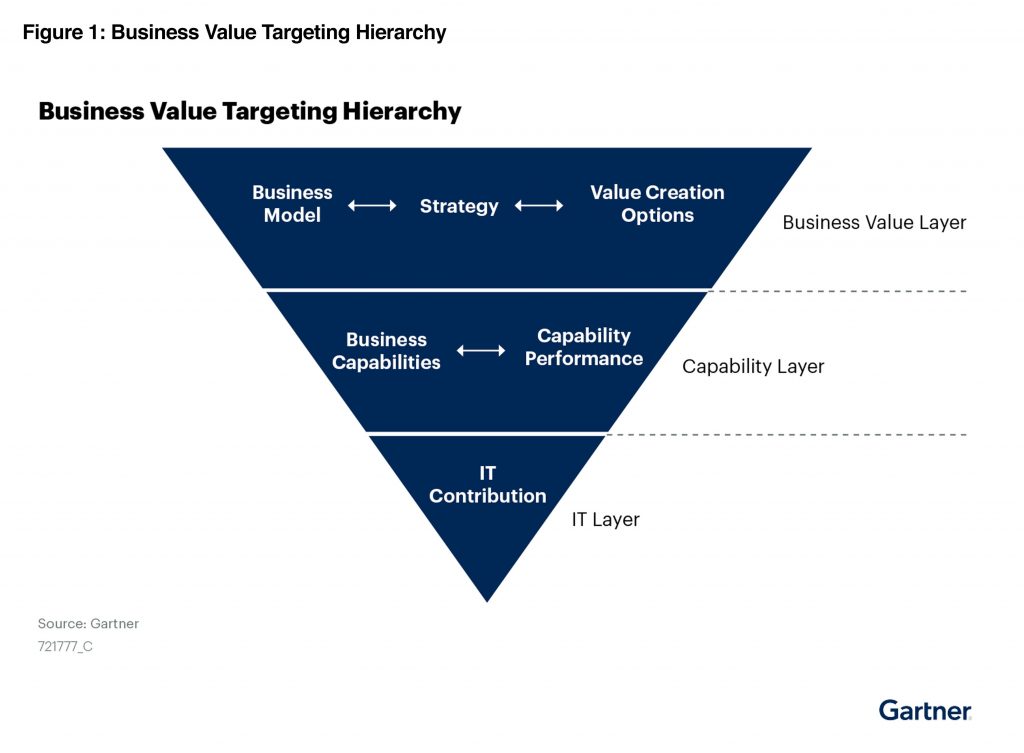 Source : Gartner, A Pragmatic Engagement Approach to Quantify Strategic Business Value of IT Contribution
A discussion path for IT to add value
As CIOs and IT teams try to engage with their non-IT colleagues, Gartner recommends a 3-layered conversation. These layers help structure the conversation between business and IT, providing the basis for a common action plan. It provides an opportunity for IT to develop a holistic vision that connects the need for technical performance with the key performance requirements for optimal business capacity.  
1. Business value
Key question: How can IT impact the fundamentals of the enterprise's value creation? Ex.
Make it easier or faster to acquire new clients.

Support the creation of new products or services.
2. Business capabilities
Key question: How can IT impact the performance of the business's value-creating capabilities? Ex.
Increase productiveness through enhancing collaboration or streamlining processes.

Improve reliability or accessibility.
3. IT capabilities 
Key question: How can IT deliver value by improving the performance of these business capabilities? Ex.
Harness technological innovation such as ML or AI.

Add agility and speed, use IT resources effectively.
Prepare business driven conversations 
Learn more on preparing for these discussions in your organization by getting your complimentary copy of Gartner's report: Gartner, A Pragmatic Engagement Approach to Quantify Strategic Business Value of IT Contribution, available for a limited time only.
So, how can IT monitoring help?
Common KPIs to measure progress
Any good plan ends with measurements. Key performance indicators are created to inform on progression and help answer the next round of "How can we get better" questions. Tracking results and learning from the systems that contribute to create value is another ground for business-line and IT collaboration. And that's where it's interesting to have a conversation about the IT monitoring platform. 
IT is built for business – and so IT should be business aware
The IT monitoring solution provides the perfect foundation to connect the IT view with the business view, helping measure IT contribution to business creation and enriching with relevant data the conversations with lines of business. 
So now, if you come back to the question, "How can we do better," or how can IT get better at business awareness, two key IT monitoring capabilities combine to provide an answer. 
The key IT monitoring capabilities for business awareness
Service maps and user experience are monitoring capabilities which work best when combined to provide an end-to-end performance view of IT services anchored on business activities. It leads to more accurate SLA measurements and to more relevant and informed conversations and decision-making. Let's take a closer look.
Create business service maps
Service maps provide the higher-level view to organize your IT teams and activities according to business priorities.
How it works
Create a map that connects key services to the applications, middleware, and IT equipment they rely on, mapping logical relationships and dependencies. Such models of critical IT services are powerful to monitor essential capacities: they help measure performance, report on SLAs, they facilitate root cause analysis and expedite MTTR. 
Connect users and user experience monitoring tools
Integrate DEM, APM and NPM to the monitoring platform to collect user experience performance insights on critical applications and complex IT workflows. 
How it works
Directly from your monitoring solution, though prepackaged, ready-to-use connectors, track key quality of experience indicators such as the user response time or the application performance index.
Users and IT connected for the benefit of business performance
Combining user experience monitoring with service maps gives the complete picture about service performance, and higher up the line, about the ability of the business to generate revenues. The advantage at the monitoring level is that both user-centric and IT-centric indicators can be seen and tracked within one event console and dashboard. Through sharing high-level cockpit views or reports, the collaboration between IT and business lines is improved and there's a shared understanding of what needs to work for the business to create value. 
If you'd like your monitoring to be aligned on business conversations, contact us today for a demo. 
Takeaways
To learn more
Transforming one's monitoring practices to meet the demands of customer experience and to achieve business goals is (very) much in style these days. But don't get it wrong. This fundamental trend is prompting I&O to significantly transform the way they work. Here are the latest best practices in IT monitoring for the 2020s, making smart monitoring an essential part of the customer experience.

Download your ebook:

"Customer experience, the new challenge of Smart Monitoring"

. A 32 page ebook including nearly 15 testimonials from companies operating innovative

IT monitoring

, to understand the challenges, best practices, and perspectives of

IT monitoring

in support of the customer experience.

The criticality of IT monitoring in organizations should not be underestimated, and it is not. Its role is crucial in ensuring availability, reliability and compliance of IT equipment and data. It goes far beyond merely supporting IT teams, as the COVID-19 pandemic has shown yet again (if it still needed to be shown) how essential IT monitoring is to ensure business continuity. This is all the more true in times when we are compelled, through social distancing, to fully embrace the era of telework and the contactless economy.

Let's take a look at the major 2021 monitoring trends

that will help you develop a sustainable, high value-added monitoring strategy.