With digital business transformation and a mandate to improve operational excellence, I&O leaders are betting on integration to support 2021's most important initiatives. Building from their core mission, the delivery of quality and always-on IT services, they will be undertaking a range of projects, from optimization to modernization and automation—the pillars of next-generation IT operations. 
In doing so, Infrastructure and Operation leaders are adding a second "I" to their name, for "Integration." In 2021 and beyond, IT infrastructure and operations will be transformed by unprecedented integration initiatives. This blog post reviews 4 areas of integration that will contribute to digital business operational excellence—with decisive support from a modern IT monitoring platform. 
"Sixty-nine percent of boards have responded to COVID-19 with digital business acceleration, while 60% have chosen improving operational excellence through digital business." – Gartner Board of Directors Survey, 2020
Level 1: The core: constant service delivery
Whatever the hype or the challenges, I&O are not losing sight of their core mission: constant IT service delivery. In this age of carefully planned resilience, failures still happen. Household names for technology and innovation experienced this brutal reality in 2020—think AWS, ZOOM, and Microsoft. This is probably the most obvious reason for highly integrated IT monitoring, from cloud-to edge. This is the level 1 integration initiative I&O will be undertaking. 
IT teams need to support a fully connected experience for end users, and this requires the orchestration of a complex array of interconnected technologies. The first level of integration is to have full visibility over the functioning and availability of devices, services, and applications that support business workflows. It cannot be done without this first level of integration: A single platform unifying I&O teams and even business stakeholders, tracking business KPIs, providing top to bottom information across domains, removing blind spots, and ensuring top-notch service delivery from cloud to edge—and an optimal MTTR.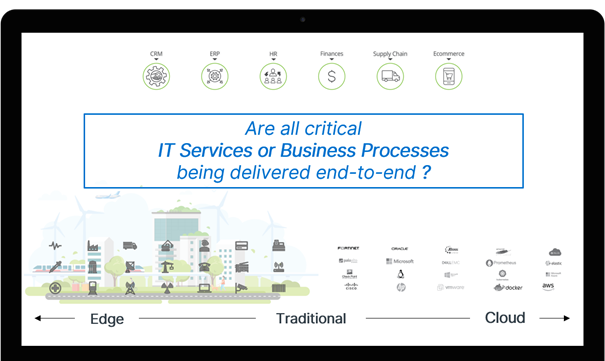 Level 2: Optimal infrastructure 
Optimal infrastructure is a key focus area in 2021, as highlighted by Gartner last December. Above cost or efficiency optimizations, optimal infrastructure implies a more 'organic' management of infrastructure—providing right-sized capabilities where and when end-users need it most. Optimal infrastructure is blurring the line between ITOps and DevOps, working together to combine a perfectly tailored infrastructure mix from a range of technologies, from cloud to edge, with the flexibility to support an equally diversified range of workloads and geographical locations. IT services are delivered as any other consumable commodity nowadays: narrowly matching customer demand at any given time. This brings a constant flow of changes in the IT environment: Capacity is shifted, added or removed, and workflows redirected on a daily basis, matching peak times and other user-driven expectations. Optimal infrastructure helps capture the best ROI on tech investments and with the right data at their fingertip, I&O leaders back up such decisions with robust business cases. 
Optimal infrastructure requires constant, holistic visibility
A smart monitoring platform can effortlessly interconnect with the full I&O arsenal providing both the visibility and the data required for optimal infrastructure: This is what we defined as connected IT Monitoring. It brings the flexibility needed to constantly adapt the monitoring configuration to minor and big changes, so the picture is always accurate. When new assets or technologies are added, it's cost-effective to simply deploy a prepackaged connector, or have one built, to provide both ITOps and DEVOps with timely visibility over the new asset. Correlating business processes at the level of the infrastructure ensures optimal and continuous delivery and returns valuable insights on determining where and when capacities (from power to bandwidth to storage, containers, and computing) are the most needed to achieve business objectives. Finally, seamless integration with ITSM increases awareness on optimal infrastructure across teams and ensures just-in-time collaboration to remediate issues.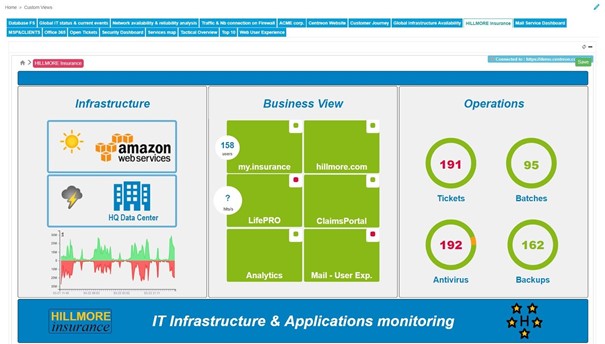 Level 3: Modernized infrastructure
If legacy was ever a choice, the COVID-19 pandemic rendered that choice truly obsolete. I&O leaders cannot innovate fast enough to refresh core infrastructure. As we've seen above, this initiative is at the heart of making the business resilient and competitive. This is an area for more partnership with lines of business as modernization must first transform business processes—bringing both opportunities and challenges from an I&O perspective. If some of the strain from maintaining legacy systems is finally removed, the strains of unconnected technological platforms and tool sprawl loom large. 
Infrastructure modernization provides I&O with the opportunity to evolve from a vertical organization to a horizontal model that leverages cross-team collaboration and creates more intimacy with users and customers. In 2021, less is more when it comes to managing complex environments. I&O leaders cannot help the densification of the IT ecosystem, but they can certainly streamline the tools they need to manage it. As they are looking to reduce the number of solutions needed to manage modern digital operations, they are selecting unified platforms that can tick as many boxes on their spec list as possible. They want teams to be able to interconnect and share tools, building on them as they go. And they want tools that support automation and require minimal maintenance.  
Modernizing efforts require a modern monitoring platform
Accurate and constantly accessible data is the crux of collaboration—and it explains why modernizing infrastructure goes hand in hand with modernizing the IT infrastructure monitoring platform. A modern monitoring platform is de facto API-based, to allow for the seamless integration of new technological assets, but also to interconnect ITSM and automation tools. 
"We took a pragmatic approach: Cloud monitoring tools work perfectly within the cloud environment. But we needed to look beyond the cloud to adopt a commercial monitoring platform that could consolidate all alerts, KPIs, and business maps, managing all metrics across domains: cloud, SaaS and on premises, which Centreon allows." – Olivier Hamel,  FM Logistic – Read the full story.
Level 4: Automated Operations
With complexity comes the need for automation—human capacity to manage the delivery of data across a diversity of environments has reached its limit. Automation is a multifaceted endeavor that includes limiting (or better, eliminating) time-intensive or overly manual tasks, accelerating or creating new business processes across digital platforms, and improving the orchestration of IT services through low-code API that work like building blocks easily assembled to deliver the right data at the right time. Monitoring and analytics are a prime area for automation. Without automation in some form or other, the promise of a single pane of glass to understand and manage the IT estate is moot. I&O need both the ability to respond ASAP to issues and the insights to optimize processes and resources so that operations become more resilient and efficient over time. This calls on AI and ML capabilities, and the building of an evolving AIOps platform that can be fed data from the full IT ecosystem. 
IT Monitoring converges towards AIOps
Centreon's approach to infrastructure monitoring fully embraces IT Automation with powerful features such as the Auto-Discovery engine that apply to the technologies that are part of automation initiatives (ex. SaaS, Cloud, Containers, DF-WAN, WIFI) and through being API-centric, connecting to IT automation tools such as Ansible. (Understanding the full scope of the Centreon Auto-Discovery Engine with this video.)
Opportunity lies ahead: Building next-generation IT Operations
After decades of managing a monolithic utility service while always preparing for an uncertain future, I&O finally can enjoy flexibility and control—and not least of all, ownership over the technological agenda. This is the real promise of integrated IT operations. I&O leaders are cocreating the digital business. They've become natural partners to create customer value—evolving well beyond managing infrastructure towards Infrastructure-Led Innovation.    
How can integrated I&O be supported from the ground up?
Out-of-the-box integrations and APIs for seamless interconnections across the stack and the coopting of all IT roles towards operational excellence.

Data and insights that support continuous optimization and treat the end user as a customer.

Accuracy and timely control over I&O to concentrate on innovation and optimization rather than managing the impact of issues on the business.

Automation capabilities and AIOps readiness to support constant optimization and innovation.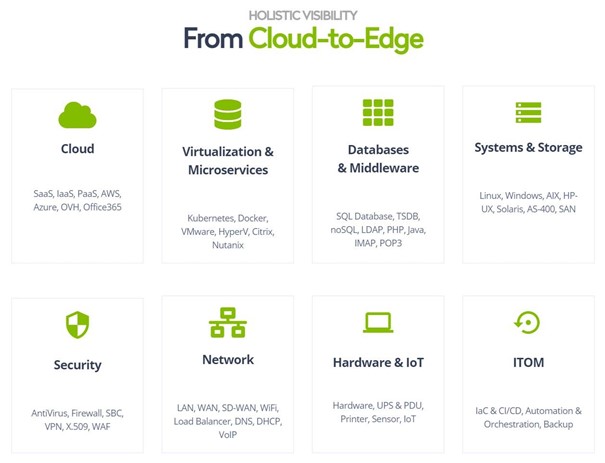 Learn more on all the IT monitoring features that will back I&O's top initiatives in 2021.
Contact Centreon for a demo today.
Takeaway: If you want to find out more about the main challenges of IT monitoring, Landscape, trends, Download our State of IT Monitoring 2021-2023 now and read all the key figures on monitoring trends. Based on an international survey commissioned by Centreon, this study conducted by Vanson Bourne was carried out among 600 IT professionals in organizations over 500 employees, in the following countries: the United States, Canada, France, Great Britain, Germany, Italy, Spain. This survey is also summarized in a great infographic.