Spring has arrived, and with spring comes the spring software version of the Centreon Platform, a.k.a. Centreon 22.04.
What's in it? When can I try it? How will I find out more? We answer these questions here.
Don't feel like reading a detailed blog post? This is 22.04 in a nutshell:
Debian 11 and AlmaLinux 8 for self-hosted deployment, or Centreon Cloud for SaaS service

Automatic Plugin installation and updates

Auto-Discovery enhancements

Windows agentless monitoring with WSMAN

Dark theme and other UX improvements

New analytics capabilities with Grafana data source

New NPMD capabilities with ntopng integration

OpenID Connect user authorization, user auto-import and other security improvements
Before we deep dive: make sure you stay tuned!
Centreon 22.04 is applicable to our Centreon Open Source, Centreon IT Edition, Centreon Business Edition and Centreon MSP Edition offerings. It applies both to our standard self-hosted platform, Centreon On-Premises, and to our newer SaaS offering, Centreon Cloud.
Centreon 22.04 is publicly available today, Wednesday, May 18, 2022.
But not all content and features will be available at the exact same date or for all users. To be precisely informed about the availability of each major and minor release, or beta versions, there's only one place to look, it's called The Watch.
The Watch is our online community platform. If you are using the Centreon platform, consider registering to The Watch and then subscribe to the Latest News and Product Updates pages. This is explained in this The top 3 reasons to register to The Watch post.
Please note that only Watchers can access the Product Updates page. This is where you'll get the exact information about feature availability, as well as security patches. Watchers can also contribute to future releases by sharing their product improvement ideas.

Centreon 22.04: more universal than ever with Debian 11 support. And AlmaLinux 8. Or SaaS.
SaaS or Self-Hosted, free open-source or commercial edition: Centreon fits all IT environments.
In the past, we had chosen to package all Centreon editions, open-source or commercial, for Red Hat Enterprise Linux distributions or its then-compatible, free-of-charge, production-grade CentOS Linux distribution variant. Changes in Red Hat policy regarding CentOS had us rethink our Linux distribution strategy.
Centreon 22.04 will support Debian 11
With software version 22.04, we've completed the full packaging of Centreon for the Debian 11 Linux distribution.
Our Quality Assurance team is in the process of testing this new distribution to its full extent. As soon as testing is successfully completed, Debian packages will be made available to open-source users or commercial editions customers.
Visit The Watch regularly to be informed of the exact release date.
Centreon 22.04 supports AlmaLinux 8
With software version 22.04, we now package Centreon for an alternative to Red Hat Linux 8 called AlmaLinux.
AlmaLinux is an Open Source, community owned and governed, free enterprise Linux distribution, focused on long-term stability, providing a robust production-grade platform. But most importantly, AlmaLinux OS is 1:1 binary compatible with RHEL® and pre-Stream CentOS.
Centreon users who love CentOS and don't have access to Red Hat Enterprise Linux licenses will be happy to continue using the same route, now with AlmaLinux.
Centreon 22.04 is available as a SaaS service
We announced it earlier this year: we now propose SaaS IT Monitoring, with Centreon Cloud.
If self-hosting is not your cup of tea, or if your organization now promotes a cloud-first strategy, we have a solution for you and it is called Centreon Cloud.
Centreon Cloud is a full SaaS service. We host your Centreon 22.04 platform in our cloud. We secure it, maintain it, backup it, upgrade it, integrate it with your IT operations environment. And you may access it from anywhere.
Centreon Cloud has been available as a Beta program since September 2021. Since March 1, 2022, Centreon Cloud is commercially available in selected regions. Please contact us for more information.
Cloud or Not Cloud? Centreon 22.04 makes it even easier to monitor 100% of your infrastructure.
The very first reason customers choose a Centreon commercial edition is that it makes it ultra-easy to monitor all the diversity of IT infrastructure, both in the Cloud and On-Premises. 
This is made possible by the combination of an incredibly large library of Plugins that run on Centreon Pollers to actively monitor equipment. And most importantly by their associated Plugin Packs installed on the Centreon Central Server: they allow for host and service auto-discovery and one-click configuration.
New in 22.04: automatic Plugin installation and updates
Another reason for choosing Centreon is its distributed architecture, allowing you to monitor assets installed at the other side of the planet via remote Centreon Pollers.
This new Centreon 22.04 feature will make it easier than ever to maintain a large distributed architecture : whenever a Plugin Pack is installed on the Central Server, its associated Plugin can be automatically deployed to relevant Pollers. And when a Plugin Pack is updated to a newer version, the associated Plugin may be automatically updated on all relevant Pollers, to avoid breaking compatibility.
This feature is especially important for Managed Service Providers who monitor dozens of their customers' infrastructure, with one Poller per customer.
Want to try it? You'll find a toggle button in the Plugin Pack Manager user interface :

Other 22.04 monitoring configuration enhancements
Each Centreon software release brings multiple enhancements to facilitate monitoring the most diverse and dynamic environments.
In particular, the Auto-Discovery Engine has been further developed. Hosts monitoring configuration can now be automatically updated by the Auto-Discovery Engine, even when the host was initially created manually. This means that hosts can automatically gain templates, groups, categories, etc.
Another long-expected improvement to Auto-Discovery is the automatic deployment of the pollers configuration, applying the changes as soon as they're discovered. Better late than never!
You'll find the complete list of enhancements in the Release Notes chapter of our Online Documentation.
Not exactly 22.04, but very important nevertheless: WSMAN support for agentless Windows monitoring
In case you missed it in our monthly Plugin Pack release, Centreon now supports WSMAN, a DMTF open standard defining a SOAP-based protocol for managing servers, devices, applications and various web services.
This is especially important to easily monitor Windows servers with a standard agentless protocol. Read the WSMAN configuration guide in our online documentation. 
Some like it dark. Or light. User experience is all about productivity.
Hear ye, hear ye! We listened to you: Centreon 22.04 user interface introduces a new dark theme option.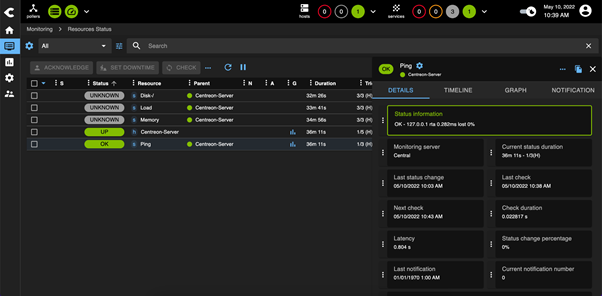 Dark theme
We know working long hours in a Network Operations Center (NOC) or Security Operations Center (SOC) exploring dashboards and long lists of hosts, events and alerts can be hard on the eyes, and this is when the Dark Theme comes handy.
With 22.04, Centreon users can now toggle between this new Dark Theme and the Light Theme, a more polished version of what used to be the only option. You'll find the toggle switch in the user's settings.
UX improvements
This Dark Theme is only the tip of the iceberg. Our combined UX Design and UI Developers team constantly enhances the user interface to increase user productivity, based on your inputs.
In particular, Centreon 22.04 brings multiple enhancements to the Resource Status interface, with a clear view of which contact or contact group will be notified for each resource. As well as some more filtering capabilities and better graphs.
22.04 also rationalizes administration of user authentication, OpenID Connect and Single-Sign On in a new, single page user interface.
And also… the Single Metric Widget!
Centreon Custom Views are where users create their own dashboards, assembling customizable widgets to create the exact view they need on that part of the infrastructure they're in charge of.
Well, it's all in the title: a new widget joins the collection, to display a single metric!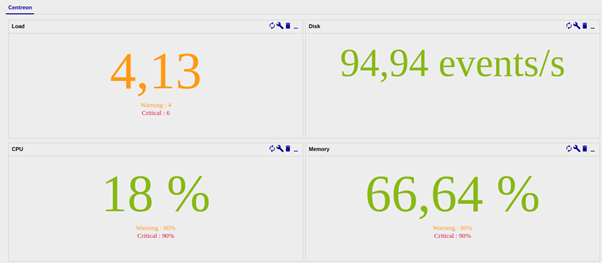 Integrations: building your own observability stack with Centreon 22.04
Yet another reason why people choose our platform: Centreon is the perfect piece of a bigger puzzle that encompasses not only IT Infrastructure Monitoring, but also APM, NPM, SIEM, ITSM, ChatOps and more generally speaking… Observability!
Creating your own observability stack only requires integrating Centreon with the best-of-breed platforms in each key area of IT Operations. Centreon already provides a long list of powerful integrations, and software version 22.04 adds a few more.
Integrating Grafana with Centreon for powerful Analytics
We observe that many Centreon customers also use Grafana, from Grafana Labs, to get multi-platform analytics and dashboards.
Grafana connects to backend storage – Time-Series DataBase – via dedicated connectors called Grafana Data Sources. We thus developed a Data Source for Centreon. This Grafana Data Source connects to a new dedicated API on the Centreon platform to collect metrics.
While the Data Source itself (a piece of software that runs on your Grafana) is open-source and can be found on our github repository, the API it connects to is only available to Centreon Business Edition or MSP Edition customers. This API is quite powerful when it comes to fetch correlated data and it has been developed specifically so that Grafana users can get the best experience analyzing Centreon metrics.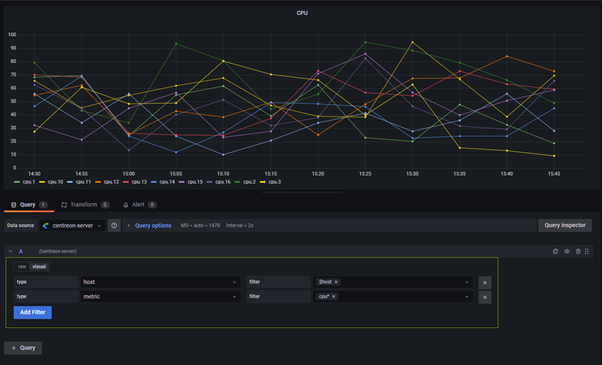 Integrating

ntopng

for better Network Performance Monitoring and Diagnostic (NPMD)
ntopng – yes, the name is all lowercase – provides high-speed web-based traffic analysis and flow collection. This open-source project is the next generation version of the original ntop, a network traffic probe that monitors network usage. It provides an intuitive, encrypted web user interface for the exploration of real time and historical traffic information.
Centreon will soon provide a seamless integration with ntopng to bring within Centreon dashboards those network performance metrics that can only be provided by a dedicated NPMD tool.
This is not a 22.04 feature per se: this will be delivered in the coming weeks as a Plugin Pack and a new dedicated widget. This widget will require 22.04, though.
Follow this link to find the full list of ntopng features.
Authenticating and authorizing users: securing access to your Centreon 22.04 platform
Security by design is top-of-mind throughout the Centreon development process which ensures that products and services are designed from inception to meet data security needs, including access controls, monitoring, and encryption.
Centreon 22.04 brings new access control functionalities.
OpenID Connect for both authentication and authorization
OpenID Connect, or OIDC, is an identity layer on top of the OAuth 2.0 protocol. It provides both authentication and authorization. Many popular identity providers implement OIDC, for example Microsoft Azure AD, Okta, Keycloak, LemonLDAP::NG… Identity Providers are used by IT organizations to implement single sign-on (SSO) policies, possibly with multi-factor authentication.
Past software versions already implemented OIDC for authentication, Centreon 22.04 adds authorization, which is the capability to automatically assign a user profile with dedicated user rights (i.e. ACLs) when login to the platform.
OpenID Connect: auto-import users
In previous software versions, users had to be created within Centreon before they could be authenticated via OpenID Connect.
With 22.04, this is not the case anymore. Users which are authenticated and authorized via OpenID Connect are automatically created within Centreon at first connection.
(Please note: this feature will be available in a few weeks with a 20.04.0x minor release). 
Local authentication: password policies
Not all organizations connect their Centreon platform to an Identity Provider: users are then authenticated and authorized locally within Centreon.
New password policies can be defined for these users to enforce password complexity and minimal length, password expiration delays and brute force attack prevention policy (maximum number of login attempts).
What's next?
As discussed earlier: not all content and features will be available at the exact same date or for all users. Connect frequently to

The Watch

to stay up to date!

Read the Release Notes in our

Online Documentation

to get all the details about the new functionalities, including various improvements not described here.

Stay tuned for various 22.04 events, webinars, tutorials and videos coming over the next two months.
New to Centreon? Ask for a demo to see if the Centreon platform is for you.