As the year closes, let's take a leap forward, looking at the top 2022 IT trends and what they mean for teams that rely on IT monitoring to ensure the digital business works optimally. This blog post provides a roundup of trends that will make IT monitoring count more than ever in 2022—and concludes that beyond metrics, IT monitoring is about providing more value to the business.
These are the main 2022 IT trends that impact IT monitoring and ITOps teams
Distributed enterprise

Innovation at the edge

Observability culture in support of Total Experience
1) Distributed enterprise
Distributed enterprise is one of Gartner's 2022 Top Strategic Technology Trends—and one that is pretty much on everyone else's radar, because the trend is a continuation of what we've seen in the past two years of the pandemic. In 2022, there is no turning back from the workplace's hybrid of physical and virtual spaces. It's the rise of digital headquarters, an alternative to the physical corporate campus. Digital platforms are places in their own right, where people collaborate and create value. Work does no longer happen within a box—a given channel or application, the business is driven by a fusion of channels and applications into highly connected and collaborative platforms, which are the fabric of digital headquarters.
"47% of knowledge workers will work remotely in 2022, up from 27% pre-pandemic." – Source: Gartner
Time and place have lost relevance to users, and so do infrastructure types. Today, applications can live just anywhere, supported by a diverse and agile mix of infrastructure—from cloud to traditional data centers. The nature of digital business requires that users remain seamlessly connected to their data, enabling communications and collaboration from anywhere and at any time, from any type of tool or infrastructure. This is a huge challenge for ITOps and other IT stakeholders within the organization that keep an eye on reliability, security, productivity, and performance.
Why and how IT monitoring counts
IT monitoring is a tool that helps a range of IT and business stakeholders keep aware of essential infrastructure and workflows, no matter how ubiquitous they are. The tools that help manage IT service and user experience need to be just as tightly interwoven. Teams that implement and use IT monitoring systems need agility in deploying and configuring the network perimeter. Holistic and accurate IT monitoring counts in creating the type of secure and reliable digital environment businesses need to sustain their operations. 
"By 2023, 75% of organizations that exploit distributed enterprise benefits will realize revenue growth 25% faster than competitors." – Source: Gartner
2) Innovation at the edge
2022 will be an important year for edge computing. As we saw above, data is moving closer to users, and data is being captured, stored, and processed by users and devices alike. With 5G finally gaining momentum, IoT is set to multiply and fructify into a variety of applications. From telehealth to self-driving cars, smart urban transit to manufacturing automation and smart cities, digital power is being reformatted to empower individual users rather than organizations as a whole. In other words, the digital business is finally fulfilling its commitment to user centricity. This way network latency is reduced, service speed is improved, costs are optimized, and redundancy improved.
Why and how IT monitoring counts
IT monitoring will help make sense of the chaos IoT devices multiplication can rein in and leverage their benefit. IT monitoring helps track a range of metrics that contribute value and insights. An open-source and API-based monitoring solution will facilitate the discovery and configuration of these devices. 

Source: Preparing for the Future of IT Monitoring
3) An observability culture in support of "total experiences"
From labor shortages to supply chain disruptions and an enduring pandemic, businesses are more than ever relying on IT not only to deliver their products and services optimally, but also to deliver customer and user experiences that promote retention and competitiveness. 
In its key IT trends for 2022, Gartner states that by 2026, "60% of large enterprises will use total experience to transform their business models to achieve world-class customer and employee advocacy levels." 
Total experience (or TX) is a business strategy that aims at improving customer and employee confidence, satisfaction, loyalty, and advocacy by breaking down the silos of customer experience (CX), employee experience (EX), user experience (UX) and multiexperience (MX). Such customer and user-centric business models require a significant cultural shift within the business and across the diverse IT functions. The transition from a culture focused on technology silos to a culture of cross-functional and cross-platform visibility is accelerating. IT monitoring is part of an observability culture—the two disciplines are now working in synergy with each other enabling teams to gain a better understanding of the global technological environment and of how it contributes and can be improved to deliver those outstanding customer and user experiences. This culture is essential considering that the digital experience today is the product being delivered or is a core aspect of it. 
Why and how IT monitoring counts
IT Monitoring is one of many platforms you need when it comes to operating a large, complex IT infrastructure that supports all your critical business workflows. The secret is to harness IT monitoring data to contribute to making the overall digital landscape more observable. In the Centreon universe, for example, Stream Connectors send qualified metrics and events to Splunk, Elastic or any data repository of choice to enable an extended observability stack while seamlessly integrating with leading ITSM and ChatOps tools to empower IT operations teams who need maximum efficiency and productivity.
The ability to collect data from adjacent monitoring tools (APM, DEM or NPMD platforms), business insights from databases, middleware and business applications, and correlated information from data repositories at the heart of the observability stack enables this business observability culture, providing the kind of rich contextual information and top-down views—and supporting stakeholders in their decision-making.
IT monitoring's new focus for 2022: Adding business value 
As we support and prepare clients to face the challenges brought by these 2022 IT trends, monitoring strategies are becoming more sophisticated. Why? For a variety of reasons, including:
Therefore, most organizations are currently deploying exciting projects to make their IT monitoring more connected to the rest of their stack, and a more powerful tool to uncover business insights.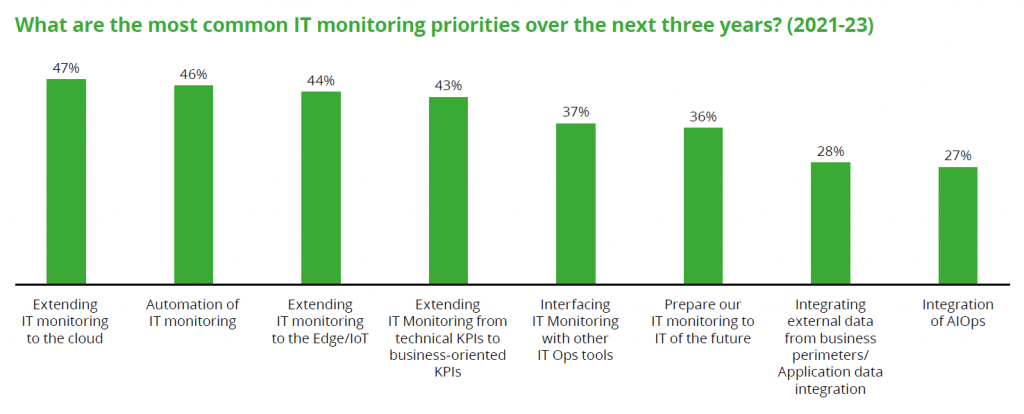 Source: Preparing for the Future of IT Monitoring
In 2022, IT monitoring's key focus will be on business value, through providing infrastructure and operations (I&O) leaders contextualized information that can help determine a course of action to build better digital business applications, streamline innovation initiatives, and strengthen user and customer experiences.  
Centreon can help you gain more value out of IT monitoring in 2022. Let us show you how.