Which cloud infrastructure and related innovations will help I&O leaders adapt to an inflationary economy while improving sustainability and staying competitive? This blog post provides an overview of key trends informing the planning for sustainable and cost-optimized infrastructure—and nothing less when the time comes to monitor them. For a more in-depth look at the infrastructure most favorable to sustainable and cost-effective IT innovation, download this complimentary Gartner® report: "Hype CycleTM for Infrastructure Strategy," available for a limited time only.
It's an inescapable fact: on top of delivering performance, I&O leaders need to deliver sustainability and cost effectiveness. This calls for new IT infrastructure strategies, integrating the skills, practices, and technologies which contribute to optimizing both costs and resources. In the end, this not only makes the organization more sustainable, but also more competitive.
Unsurprisingly, the accelerated transition to cloud explains a lot of the sustainability and cost reduction efforts expected from I&O leaders. Consider these key stats from Gartner:
By 2027, 50% of legacy and on premises customized application workloads will be transformed for cloud.
By 2027, more than 40% of data center to edge workloads will transition to cloud services with management integration due to the edge expansion, which is a significant increase from 10% in 2022.
Innovation for sustainability and cost optimization
Chances are infrastructure and cost optimization will feature prominently on your own priority list over the next couple of years. To help you plan your next round of innovation, we suggest you consider emerging possibilities in terms of off-grid power, cloud sustainability, distributed integrated infrastructure, distributed integrated platforms, container-VM convergence—which according to Garner's® Hype CycleTM for Infrastructure Strategy are among the top trending innovations.
Balancing cloud expansion with sustainability and cost consolidation
I&O leaders are facing a conundrum: how to reconcile expanding needs for IT infrastructure, namely cloud infrastructure, with the need to keep costs in check and post positive sustainability results. Looking at alternative delivery options, including edge computing, will be part of the answer. Thus, expect distributed cloud, BMaaS, intelligent platforms, cloud-tethered compute and programmable infrastructure to gain popularity in the years to come.
For those same reasons, I&O leaders are maintaining and even extending investments toward programmable infrastructure, serverless, composable, edge computing and multi cloud.
Shifting from capex to opex
Infrastructure and service delivery models are also in the visor of I&O leaders for cost and resource optimization. Thus, software and infrastructure which allow to balance capital expenditure (capex) with operating expenses (opex) are gaining ground. Think of OS containers and multi cloud, which highlight the importance of "packaging cloud applications with services and security in hybrid delivery models," says Gartner.
As a quick refresher, capex refers to fixed assets expenditures, i.e., paying upfront for equipment or for acquiring software, while opex refers to the day-to-day expenses, namely subscription fees.
As organizations are transitioning to cloud-first hardware and software options, embracing the "as-a-service" model, costs are transitioning from capital expenditure towards operational expenses—on top of providing a consumption mode that's finely tailored to the organization's exact needs at a given moment.
The most-hyped infrastructure innovations
See which are the 27 most-hyped infrastructure innovations and determine whether your organization should be investing in them to meet the challenges ahead in a tumultuous technological and economic future.
Understand the potential value of each innovation to your organization.
Gain insights on which innovations are gaining the most adoption.
Anticipate the growth rate of each innovation.
"I&O leaders must drive innovation in their platform strategies to encompass infrastructure anywhere. New consumption models, related skills, intelligent automation and sustainability must be factored in. Novel cloud and edge delivery options will help optimize costs in an inflationary economy,"

Gartner
For a limited time Download the Gartner report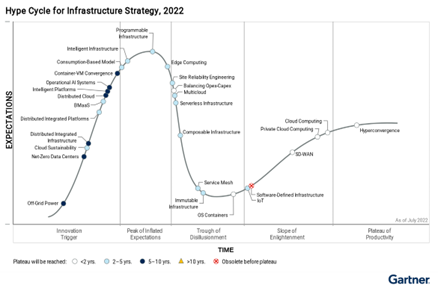 Sustainability and cost effectiveness for infrastructure monitoring
Ensuring sustainability and cost effectiveness for infrastructure also means having the same commitment when monitoring them. Centreon believes IT monitoring should be part of your toolbox to improve your environmental footprint and balance sheet. How do we do it?
As you are planning for sustainable and cost-effective IT infrastructure, enjoy this Gartner read. Don't forget to ask us how we can help you attain sustainable and cost-effective infrastructure monitoring as well!