Committed to digital sustainability, Centreon delivers IT monitoring solutions that include reports and recommendations on energy consumption. It is estimated that organizations could potentially reduce IT energy use by 10% through adopting Centreon's digital performance-focused software.
Paris, November 8, 2022 – Centreon, a leading provider of IT monitoring solutions, supports organizations in their energy-saving efforts through built-in IT energy measurement features and recommendations for easy-to-implement energy consumption optimization measures.
Centreon's IT monitoring solutions provide CIOs with complete visibility into the overall performance of their IT, including the accurate monitoring of infrastructure energy consumption through ITIL-compliant reporting, enabling organizations to track and optimize IT resources use.
To further help reduce IT monitoring and energy costs, Centreon recommends consolidating the number of tools used for IT monitoring as well as considering the adoption of the most recent cloud-based infrastructure and SaaS options, including for IT monitoring.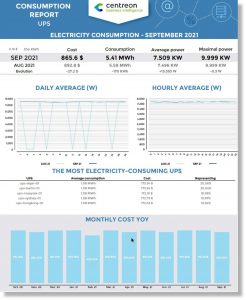 An example of an energy consumption report in Centreon solutions
Geopolitics and energy economics: a context undermining business competitiveness
Soaring electricity costs, linked to the Russian-Ukrainian conflict, are putting pressure on thousands of businesses[1] operating in a diversity of sectors, strongly impacting the business environment. In some cases, energy costs are expected to be multiplied by five at the start of 2023. Some manufacturers are noting that electricity costs have been multiplied by 22 since 2021.[2]
To help businesses manage this crisis, governments, notably the French government, are launching widespread energy savings campaigns touching all economic sectors, including the digital sector, which is considered to be energy intensive. For example, digital services in France account for around 10% of all French electricity consumption, which is equivalent to the annual consumption of more than 8 million households.[3]
Energy consumption in the IT sector must be optimized
Energy waste in IT is mainly related to the poor energy-saving performance of obsolete or superfluous equipment, by excessive resource allocation, and IT redundancy. For example, Centreon points out that "organizations use an average of 14 monitoring tools.[4]
Julien Mathis, CEO of Centreon, said: "The geopolitical situation is having a direct impact on organizations and further straining cash flow, along with inflation and rising material costs. Our IT monitoring solutions are focused on digital performance to ensure organizations can measure and monitor IT energy consumption as closely as possible. Providing useful solutions to strengthen business competitiveness is part of Centreon's mission. The launch of Centreon Cloud, our SaaS IT monitoring solution, will help even more organizations to improve IT performance cost effectively. We recommend that organizations take appropriate measures to optimize energy consumption, particularly through leveraging advanced IT monitoring capabilities."
Centreon's monitoring platform makes it possible to identify underutilized servers and resources, optimize their use, and better size equipment.
Centreon is committed to digital sustainability, alongside other digital players within Planet Tech' Care, an industry association which promotes this transition.
Centreon's advice to CIOs to reduce energy consumption
Reduce the number of monitoring solutions deployed

Decommission IT equipment that is no longer in use (use the appropriate monitoring




solution to find out which is underutilized)

Consolidate systems to maximize the use of each machine or server

Do not over-design systems such as servers, routers, databases, etc.

Frequently review system requirements to match capacity to exact needs

Turn off systems or machines that do not need to be on all the time, monitoring their use with the appropriate tools

Abandon obsolete systems and solutions that do not promote energy savings

Migrate IT solutions to the cloud when appropriate
More information : energy savings, tips for ITOps
[1] Les Echos – Energy crisis: French factories caught in the throat (In French)
[2] Electricity bills: businesses fear a "crushing blow" (In French)
[3] Ademe – Digital responsibility: what if we adopted the right reflexes? (In French)
[4] State of IT Monitoring Report
***
About Centreon
Centreon is a global provider of business-aware IT monitoring for always-on operations and performance excellence. The company's AIOps-ready, business-aware IT monitoring platform is renowned for its unique ability to monitor today's complex and converging infrastructure, from cloud-to-edge. Privately held, Centreon was founded in 2005 with roots in open source software. Today, Centreon is trusted by organizations of all sizes across a wide range of public and private sectors and works closely with channel partners to deliver these solutions globally. Its head offices are located in Paris and Toronto, with sites in Geneva, Luxembourg, Milan and Toulouse and sales presence in London. For more information, visit centreon.com.