Every month, Centreon extends its monitoring connector catalog and implements new ones, allowing you to connect your IT monitoring with more ITOps tools. The result: increased visibility and business observability capabilities. We also offer enhancements and fixes on existing connectors.
Here is the latest news on your best allies: our monitoring connectors!
To learn more, you can also read the related documentation, contact our sales team or post a message on The Watch.
 Reminder: since the 23.04 new release, there is a new name for our Plugin Packs. We will now refer to them as Monitoring Connectors.
There you go! Two new monitoring connectors added to the catalog this month
There are 2 new monitoring connectors to discover this month.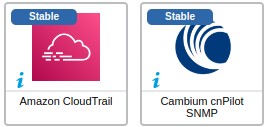 Amazon CloudTrail monitoring connector
Amazon CloudTrail is a log analyzer that monitors and logs account activity across the entire AWS infrastructure, giving you control over storage, analysis and corrective action.
It tracks user activity and API usage to audit security, identify security incidents, and resolve operational issues.
Connecting Centreon with Amazon Cloud Trail enables you to: 
Check that log collection is active
Search and count message patterns and raise alerts according to defined thresholds.
Cambium cnPilot monitoring connector
Cambium cnPilot is a Wifi controller from Cambium, a provider of enterprise Wifi PTP and PMP solutions managed by cloud-based software.
Using this monitoring connector, you'll be able to: 
Monitor the controller's system indicators (CPU, memory, etc.) and network (interfaces, etc.).
Discover access points and monitor them as services attached to the controller.
Enhancements
A single enhancement is in store this month.

Palo Alto Firewall SSH
A new service template monitors the validity of licenses for firewall features.
Enhancements impacting current configurations
Be careful when updating the following connector if you decide to use it.

Windows NSClient 0.5
The default connection parameters have been changed:
check_centreon_nrpe becomes check_centreon_nrpe3
the default "extra-options" have been adapted accordingly
If you haven't overloaded these parameters yourself, you'll need to ensure that this new client is added on your monitoring servers.
Bug fixes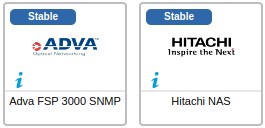 Adva FSP 3000 SNMP: Interface mode options were fixed.
Hitachi NAS: options for monitoring quotas on virtual volumes were corrected.
More details on this month's monitoring connectors can be found in the release note. And more information about the 23.04 new release here 😊