The Centreon IT Monitoring platform exists in many shapes and sizes: you may choose the open-source project or one of several commercial editions, and you may decide to run it as a self-hosted platform or to subscribe to our SaaS offering.
What's new in the Centreon 23.04 new release
In all cases, you will be interested in understanding what's new in the latest 23.04 software version. This is what this blog post summarizes for you.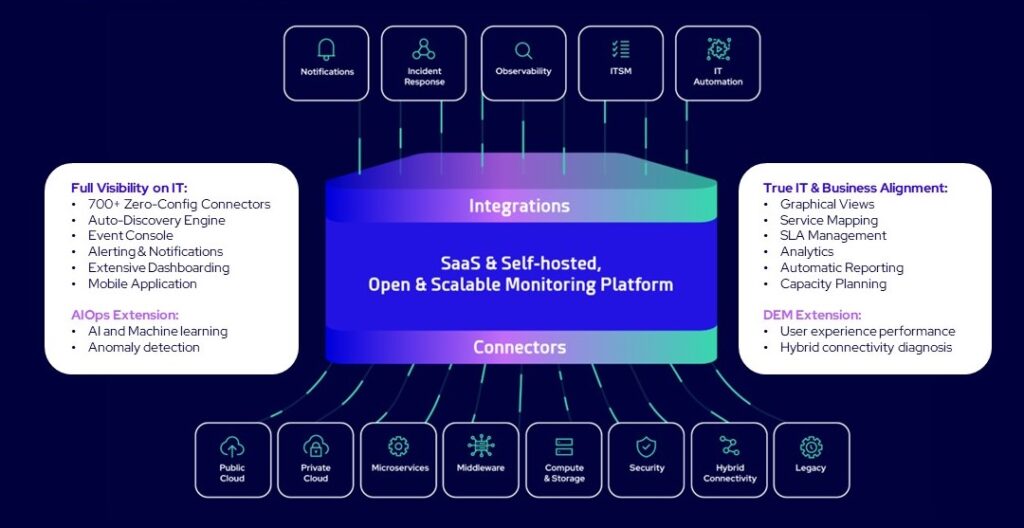 Artificial Intelligence Unlocks Your Productivity
AI is all over the news, showing wonders in all kinds of fields. Well, that applies to IT Monitoring, too. Starting with software version 23.04, a new Centreon AIOps Extension becomes available for all commercial Centreon editions.
AIOps stands for Artificial Intelligence for IT Operations. It extends the capabilities of Centreon with additional artificial intelligence/machine learning technologies. It currently includes two features, with more to be added in the future.
Anomaly Detection – General Availability
Previously available for Beta users, Anomaly Detection reaches general availability (GA) status with 23.04.

With Anomaly Detection, Centreon Machine Learning (ML) technologies constantly learn the typical behavior of a metric, to predict its expected value and alert when the monitored value is above or below the expected value.

Centreon automatically suggests which metrics would benefit from Anomaly Detection (e.g., metrics with a periodic pattern).

Users can fine-tune the acceptable deviation envelope size: alerting will only happen outside of this acceptable deviation. Users can also choose to exclude irrelevant data, for a more accurate model.

No more fixed warning or critical thresholds!

Anomaly Detection is fully integrated with all Centreon functionalities, such as Business Activity Monitoring, for example.

Anomaly Detection is a SaaS feature, available to both Centreon On-Premises and Centreon Cloud platform. A dedicated, packaged stream connector sends encrypted data from your Centreon platform to the AIOps Extension service in our Cloud.
Predictive Capacity – Early Preview
This second feature is available for an early preview:

please contact

us to be the first to experiment this new AI-based capability.

With Predictive Capacity, Centreon ML technologies can learn from the behavior of a metric to build a precise forecasting model.

This allows for much more precise and accurate capacity forecasting than the simple linear regression usually found in capacity planning tools.

Users can set a threshold and choose when to be alerted, i.e. how long before this threshold is reached.

Example: alert me 2 weeks before 90% filling is reached.
Integrated Identity Management with SAML 2.0
With 23.04, we're adding native SAML 2.0 support to the long list of Identity Management capabilities of the Centreon platform.
Securing user access to any IT Operations platform is paramount. Centreon supports a variety of methods and protocols to authenticate users and grant them ACL rights, i.e. to let them access the exact part of the IT Monitoring environment they should be allowed to.
In addition to the previously supported LDAP protocol, WebSSO, OpenID Connect protocol, Centreon now natively supports the SAML 2.0 protocol.
SAML 2.0 enables web-based, cross-domain single sign-on (SSO), which helps reduce the administrative overhead of distributing multiple authentication tokens to the user. SAML is supported by all major Identity Providers, such as Auth0, CyberArk, ForgeRock, Microsoft Azure AD, Okta, Ping Identity and many others.
SAML 2.0 protocol integration
Connect Centreon to your preferred Identity Provider using SAML 2.0 protocol

User synchronization

Support for both Authentication and Authorization:

Authentication: provides Single Sign-On capabilities

Authorization: Group and Role support, mapping them to Centreon Groups and Centreon ACLs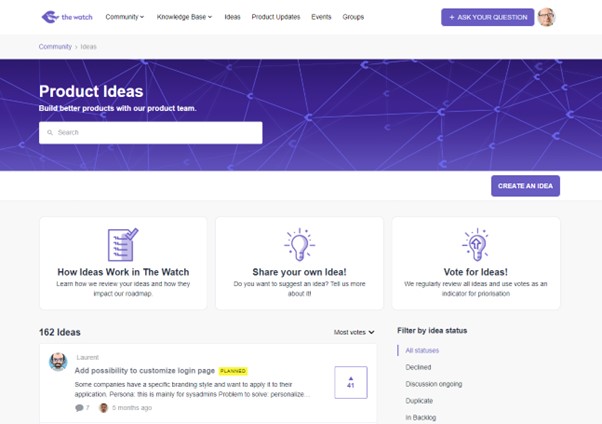 Continuous Improvement: Implementing User IDEAS
One reason for the huge success of the Centreon platform over the years is that the user community has always been involved in proposing ideas on how to continuously improve the user experience, add functionalities, and overall make Centreon the best fit to the most demanding IT Operations environment.
The Watch is the online Centreon user community, and IDEAS is the place where you can submit your ideas for product improvements, or vote for your favorite ideas. This directly influences the product roadmap.
This section lists some of those ideas that you have submitted and that have been implemented in software version 23.04, in no particular order.
Stream Connectors Packages
Stream Connectors let you integrate your Centreon platform with Splunk, Elastic, Graylog, PagerDuty and many other IT Operations platforms. They provide extensive flexibility in how you choose which data to stream and in which format.
Stream connectors were previously delivered as a set of files to download and configure. Centreon 23.04 will be soon released with packaged, ready-to-use Stream Connectors. These packages are maintained for Enterprise Linux version 8 and 9 (Red Hat, AlmaLinux and Oracle Linux), as well as Debian 11.
Meta-Service Graphs in Customs Views
A meta-service is a virtual service providing the aggregation of metrics from different services via a mathematical operation. Meta-services are managed in the same way as a service i.e. they have thresholds, a notification process, generate a performance graph, etc.
The graph widget in Custom Views previously only displayed "regular" service performance. Centreon 23.04 will let you display meta-service performance graphs in your custom views dashboards.
Custom Login Page
In large organizations, the Centreon platform is operated by a dedicated monitoring team but can be used on a daily basis by almost any member of a large IT Operations team, amongst many other tools. Multiple Centreon platforms can even be operated.
With Centreon 23.04, you may now customize the login page to your own brand. You may change the icon and background image as well as add your own custom message, for example for legal notices where applicable. You may also show the name of the platform both on the login page and in the top banner when logged in.
Check vs Check Forced: You Need Both
Resource Status is the real-time view to track warning and critical events and act upon them. As a productivity tool, this user interface comes with many shortcuts to help quickly diagnose and troubleshoot incidents. One capability is to immediately check the current value of a monitored metric, typically to ensure the problem has been solved, hence the big Check button at the top of the page (as well as an icon on each resource).
You can now specify the type of check command, either a simple Check (that takes check periods into account) or Check Forced (performs checks ignoring check periods).
Terminology Changes: "Problem" Becomes "Alert"
The ITIL (Information Technology Infrastructure Library) is quite precise when it comes to describing an incident, a problem etc. 
With software version 23.04, the Resource Status default filters have been changed to use "alerts" instead of "problems" when it comes to filtering services in warning or critical states, for example.
Display the Exact Number of Hosts/Services in the Banner
The Top Counters are always displayed in the top banner in the user interface. They provide a short cut to the Resource Status page, and also display the number of Hosts or Services in each state.
The exact numbers are now displayed in the mouse-over tooltip, instead of rounded values.
Auto-Discovery: Duplicate Jobs
The auto-discovery engine executes discovery "jobs" that have been precisely configured. Sometimes you need to create a variant of an existing discovery job. It is now possible to duplicate an existing job before modifying it.
Community Contribution: German Language
There have been contributions by partners and users from the community who translated the user interface into German. In the top right corner of the user interface, in the user preferences section, you may now switch to the German language.
Terminology Change: Monitoring Connectors
Have you ever been confused between Plugins and Plugins Packs, which one is which, or the difference between the two? Well, so did we. Our customer support team as well as our partners who resell and integrate Centreon kindly asked us to change this confusing terminology.
At the end of the day what we need is all kinds of connectors to monitor all types of equipment. Well, let's call them Monitoring Connectors, instead of Plugin Packs.
Centreon comes with an online library of over700 Monitoring Connectors that you can download and install to monitor 100% of your IT infrastructure, both in the cloud or on-premises. Each connector comes with a complete set of configuration templates (Host and Service) and auto-discovery rules, along with some guidance for a smooth execution.
With Centreon 23.04, the user interface page that manages the Monitoring Connectors can still be found in the configuration menu, at the same location, but its name has been changed according to this new terminology, alongside the online documentation.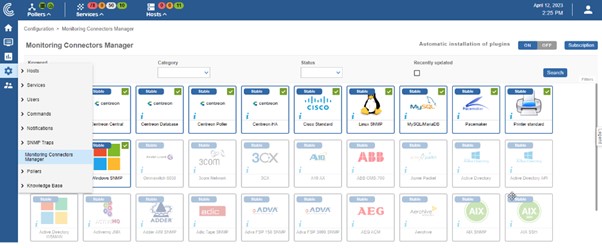 End of CentOS 7 Support: Welcome Enterprise Linux 9
We've been discussing this for years now (more precisely: December 16, 2020), Red Hat has changed its policy regarding CentOS, with two consequences: CentOS 7 will no longer be supported by June 30, 2024, and newer versions of CentOS are no longer suitable for production environments.
No worries, though. Centreon already supports Red Hat Enterprise Linux version 8 or the AlmaLinux OS 8 and Oracle Linux 8 compatible alternatives.
Centreon also now supports the Debian open-source Linux distribution, with Debian 11.
With Centreon 23.04, Centreon adds the support of the Red Hat Enterprise Linux 9 distribution, as well as AlmaLinux OS 9 and Oracle Linux 9.
If you're still running your Centreon platform on top of CentOS 7, it's definitely time to migrate to one of these newer distributions. In fact, you won't be able to update Centreon to 23.04, which no longer supports CentOS 7.
Need help to migrate your platform? Our Partners and our Professional Services team can smooth things out for you. Contact us for more information. We'll also run a webinar on this subject on Thursday, May 25: stay tuned for registrations.
Centreon Cloud: Choose the Convenience of a SaaS Offering
We launched Centreon Cloud, our SaaS offering, last year with 22.04. At that time, Centreon Cloud was only available with the  IT Edition.
We're happy to report that Centreon Cloud is now available for both IT Edition and Business Edition: you can now enjoy the convenience of a SaaS offering with the full scope of Centreon capabilities to get full visibility on your IT and a true IT and Business alignment.
Please note that Centreon Cloud customers automatically benefit from the latest software version, now 23.04. As a matter of fact, while we release a new major software version for Centreon On-Premises users every six months, Centreon Cloud may be updated on a monthly basis, enjoying new features or product improvements all year round.
And Also
We release a major version of the Centreon software every six months. We also release minor updates on a weekly basis, and create a Service Pack version that collects all fixes and improvements about 4 months after a major release.
This article does not reflect all changes and bug fixes, but you may be interested in the following additional information.
Enjoy the New MAP User Experience
A brand new MAP user experience was introduced last year, where maps can be fully created and edited from the web user interface: no more desktop client to install.
Centreon 23.04 includes over 80 product improvements and bug fixes: there really is no more reasons to keep using the older MAP legacy version. Please note that all future improvements to MAP will only apply to 23.04 or further releases and won't be backported to earlier versions.
A better Grafana user experience
The Centreon Data Source for Grafana is a popular method to combine Centreon metrics with all your other IT Operations data and supercharge your Analytics.
If you haven't already, give it a try: integrate your Centreon platform with Grafana using a Grafana plugin and install the dedicated Centreon Data Source in Grafana. With Centreon 23.04, we've added labels to make it easier to navigate through Centreon data.
Monthly Monitoring Connectors Release
New or updated Monitoring Connectors are released every month. They are independent from the Centreon software version and are not reported here. Subscribe to the Product Updates section of thewatch.centreon.com to the monthly monitoring connectors releases bulletin.
New Centreon logo
We're proud of our new brand identity and you will notice that Centreon 23.04 discreetly includes our new logo on the top-left corner of the user interface.
What's next?
Centreon 23.04 is now available!

If you are a Centreon Cloud user, you will automatically benefit from 23.04 in the coming weeks, no action is required.

Centreon On-Premises platforms, both open source or commercial editions, can be updated to 23.04 using the standard procedures. If you're still running Centreon on a CentOS 7 operating system, you'll have to upgrade your OS to a newer version.

Read the online documentation

for update, upgrade and migration procedures, or for more detailed release notes.

Stay tuned for various 23.04 events, webinars, tutorials and videos in the coming weeks.
Subscribe to the Product Updates section of thewatch.centreon.com to be informed in real time about security bulletins, minor updates and monthly monitoring connector releases.
New to Centreon? Take the Product Tour or  Ask for a demo to see if the Centreon platform is for you.