Every month, Centreon extends its monitoring connector catalog and implements new ones, allowing you to connect your IT monitoring with more ITOps tools. The result: increased visibility and business observability capabilities. We also offer enhancements and fixes on existing connectors.
Here is the latest news on your best allies: our monitoring connectors!
To learn more, you can also read the related documentation, contact our sales team or post a message on The Watch.
TAKE NOTE: New name for Plugin Packs -in the 23.04 new release, we will now refer to them as Monitoring Connectors
Ever wondered about the difference between Plugins and Plugin Packs or tended to confuse them? Well, you were not alone. Our customer support team as well as partners who resell and integrate Centreon have been suggesting that we change our terminology and so we did.
The takeaway here is that a diversity of connectors are necessary to monitor all the different equipment types. And so, that's how we'll be referring to Plugin Packs from now on:  monitoring connectors.
Centreon comes with an online library of about 700 monitoring connectors that you can download and install to monitor 100% of your IT infrastructure, both in the cloud or on-premises. Each connector comes with a complete set of configuration templates (host and service) and auto-discovery rules, along with some guidance for a smooth execution.
In Centreon 23.04, the user interface page that manages the monitoring connectors can still be found in the configuration menu, in the same place, but its name has been changed to Monitoring Connectors Manager, and the new terminology is also reflected in the online documentation.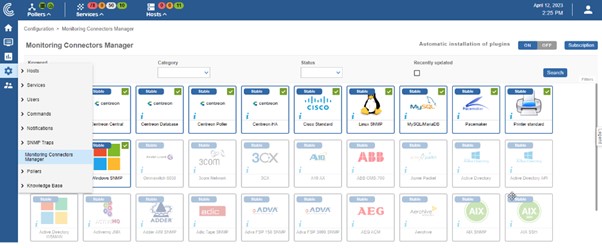 ANOTHER NOTE!
In the Monitoring Connectors Manager page, you will notice that all connectors have been updated. However, you should note that if they are not mentioned in the following update notes, it means no major changes have been made. Only make sure you are using the latest version of your monitoring connectors.
Welcoming 2 new monitoring connectors in the catalog
There are two new monitoring connectors to discover this month.

Aruba CPPM Monitoring Connector.
The ClearPass Policy Manager™ access management system (HPE/Aruba's BYOD network security solution) sets and controls network access covering Zero Trust based access security requirements from a single platform. It provides complete mobile devices and users views as well as full control over what they can access.
In addition to the classic metrics (CPU, disks, interfaces, memory) you can now use this connector to monitor:
Radius statistics
Requests to authentication repositories statistics
TACACS (Terminal Access Controller Access-Control System Plus) statistics

OpenGear monitoring package
The OpenGear network solution (Digi) lets you monitor network equipment. On top of tracking classic indicators (CPU, interfaces, load, memory), this pack can monitor more specifically serial port traffic.
Enhancements
A few great enhancements this month!


VMware VM: Good news: `ip_vmanagement` and `ip_vmotion` are now supported in Host Discovery.
Control-M Rest API: job name filtering was added to service discovery.
Fortinet Fortigate: default alerting on the state of the interface to the Traffic-Global service model is now available for this connector.
Bug fixes 

Calculation for the CPU indicator was corrected for Windows WSMan.
Latest Changes

Following feedback from our users, especially regarding auto-discovery, the Kadiska Rest API monitoring connector now integrates several improvements.
You can find the complete release notes here. Also, discover what's coming in 23.04 release.