Ever feel like you're stuck between irate users reporting IT service issues and IT teams frustrated by their limited ability to see what's really going on beyond infrastructure? This blog post is for you, asking an important question: should you be extending IT infrastructure monitoring with digital experience monitoring or DEM capabilities? At stake is your team's ability to seamlessly keep track of both network health and UX performance no matter where and when users are consuming your organization's IT services.
Extending the power of IT infrastructure monitoring with digital experience monitoring (DEM)
There is no longer a single, easy way to control the IT value chain today. While IT infrastructure monitoring ensures digital health in a variety of enterprise-controlled environments such as cloud, network, traditional equipment, databases, you have now to account for employees and customers that are accessing applications and data anytime, anywhere. Your teams can't always tell if something's wrong along the paths data takes to reach users. Part of this journey happens through private data centers, cloud providers, or other SaaS services, SD-WAN and VPNs. No wonder users complain about poor digital experiences and ITOps about lack of visibility and frustrating efforts to understand and fix issues. If this is happening in your organization, you need to extend infrastructure monitoring with digital experience monitoring.
IT infrastructure monitoring in the era of anytime, anywhere digital performance
Today, the focus of IT infrastructure monitoring remains centered on diagnosis, root-cause analysis, and constant insights into digital performance. But how this is achieved has changed, considering the complex mix of technology behind every digital experience. IT monitoring now is about advanced analytics, calling on automation, integration, and advanced capabilities such as AI and ML to track health and availability metrics and maintain digital health. IT monitoring also provides insights on network bandwidth, physical and virtual networks, storage area networks (ex. SAN and SAN fabric), container environments and tools, as well as multiple servers and OS, a range of metrics on physical equipment and IoT, network equipment, and more. 
IT monitoring is also part of a stack of tools that are used to ensure constant IT service availability and quality, including ITOM and ITSM tools. And so, today, most importantly, it should naturally extend to understanding IT performance from the perspective of users through DEM capabilities. All of this within a single, ultra-integrated monitoring platform.
Read this if you're wondering if combining IT monitoring with DEM applies to your industry.
Infrastructure monitoring with DEM: How they complement each other
Infrastructure monitoring and digital experience monitoring are complementary approaches to ensuring digital performance. While IT monitoring focuses on underlying infrastructure that supports these digital platforms, DEM centers on the end-user experience and interactions with digital platforms. When you combine the two, you enable business observability.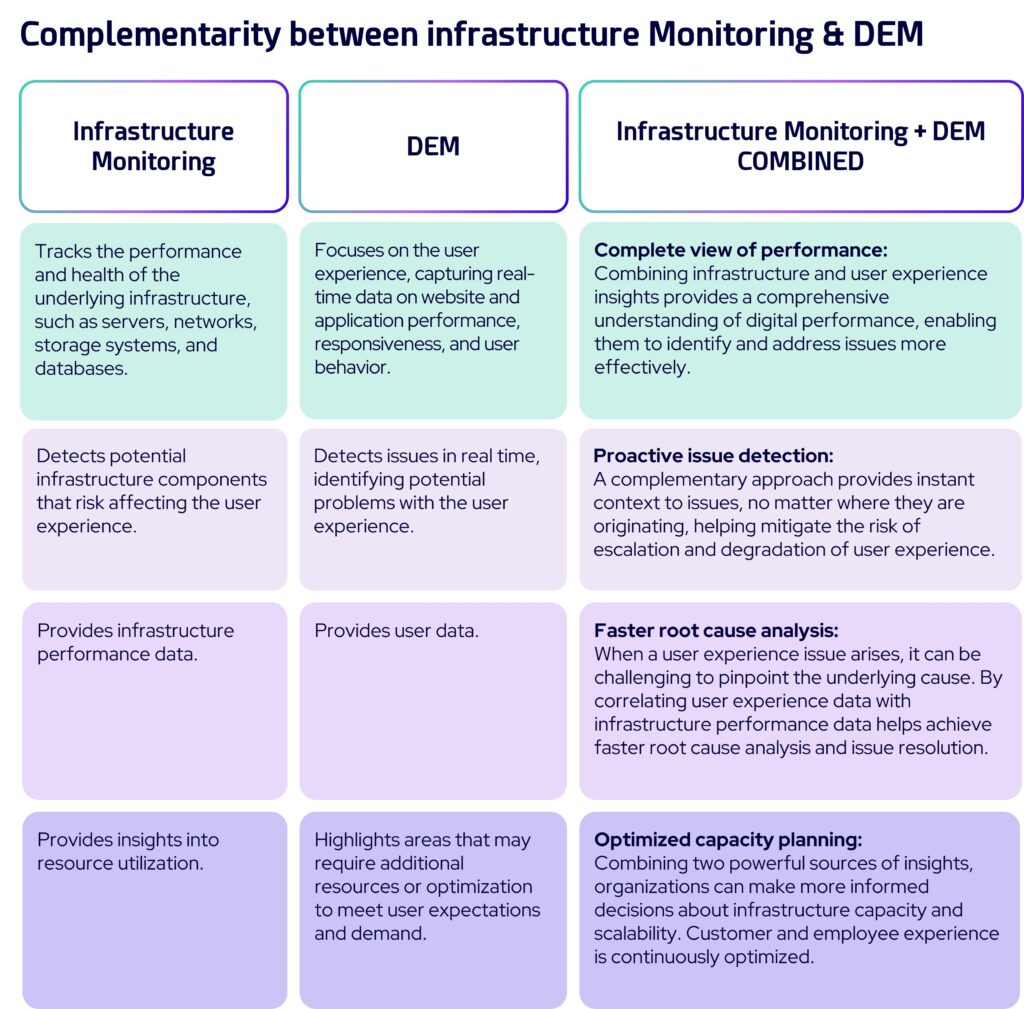 Side benefit: improved team collaboration
When IT monitoring and digital user experience monitoring work hand in hand, so do IT and business teams. This is a key aspect of aligning IT with business objectives for more strategic, informed decisions, sharing insights and data to drive improvements in both the user experience and the underlying infrastructure.
The easy way to extend IT monitoring with DEM
You can start reaping the benefits of extending IT infrastructure monitoring with DEM, easily and seamlessly for a more comprehensive view of your organization's IT environment – from infrastructure to applications, and all touchpoints through which either employees or customers access their data. IT monitoring and DEM are powerful allies to identify, address, and prevent issues that could impact user experience. By integrating these two approaches, organizations can optimize both their digital platforms and the infrastructure that supports them, ultimately delivering a better experience overall for employees and customers, which is good for the business.
Contact us today to benefit from the powerful combination of IT infrastructure monitoring and digital experience monitoring.
To keep informed about Centreon news or events, subscribe to our monthly newsletter.
To learn more: Download our ebook "Extended visibility, unlock superior digital performance". This ebook reveals how to stay on track by extending your IT visibility to 3 essential dimensions: beyond traditional cloud and on-premises infrastructure, to every business process, to the experience of every user, customer and employee.