As we were recently defining business observability, we now come to this important question: What does it take to enable business observability? We've seen that observability has to be understood in a continuum that starts with a solid footing in ITOps monitoring. This blog post presents the essential capabilities that need to be built into your ITOps monitoring system in order to enable business observability.  Spoiler alert: It entails starting from the business perspective and down to the IT that supports digital business.
What are you monitoring exactly? Digital systems or a digital business?
The answer is both. ITOps evolved from managing IT systems to helping manage a digital business.  Monitoring a digital business can only be done with the finality of monitoring business KPIs – and ultimately, harness those KPIs to track and constantly optimize business performance. Essentially, ITOps teams need to keep their eyes on two dimensions simultaneously: IT and business. The good news is that with a solid ITOps monitoring platform, this is as easy as walking and chewing gum at the same time.
Keep your eyes on IT and business from a single place
Every day is game day in a digitally-driven business: ITOps need to track extensive and ever-changing IT networks, from cloud to edge. They need to guarantee service to a diversity of geographically-dispersed users, who require always more performance to accomplish an equally diverse range of business objectives. ITOps need to know if service is being optimally delivered and intuitively know where to look if it isn't. Enabling business observability is therefore keeping an eye on the ball in a multidimensional game: see what's on the field, and what's hidden from it – the underlying architecture that makes the game possible. 
Enabling business observability entails a range of capabilities
Prompt anomaly detection across the IT landscape – public, private or hybrid cloud, physical data centers, edge of the network, applications, etc.

Extensive and contextualized root cause analysis both for on-the-spot diagnosis and for insights on the longer term on optimal running of the IT system.

Superior correlation capabilities: a deep understanding of the "domino" impact of an issue on the IT performance chain.

Exceptional, multilevel visualization tools that provide top-down views – from key business health indicators to vital stats on capacity, down to individual equipment status.

Constant visibility on the quality of IT service being delivered, from the user's perspective – in the digital business, users are important "barometers" to assess IT performance.

Shared platform for internal IT and business stakeholders – capabilities for an intimate understanding of the digital business, and constant cooperation to keep it on track. 
43% of ITOps professionals say that extending IT Monitoring from technical KPIs to business-oriented KPIs is a priority in their organizations. – Source: Preparing for the Future of IT Monitoring.
Enabling observability in your organization – where to start:
Observability feeds on data.

The first step is therefore to ensure you have the means to collect and corelate a large diversity of data types from across the stack, and that the data is unduplicated, current, and accurate.  Rely on an IT monitoring solution that can automatically discover and adjust configuration to new IT assets and even new technologies down the road.



Revisit your approach on ITOps monitoring.

Start at the top, looking at the most essential business processes. Map the critical infrastructure and services that support them. Track entire workflow from start to finish, monitoring for service availability but also service quality – and overall performance.

Build a centralized platform.

Monitor complete workflows and provide access to that platform to the full length of IT and business profiles within your organization. Let them all play with the data – from monitoring for optimal uptime, to testing, to launching new services or apps, planning future IT investments and building capacities for the business to run better and bigger. 

Share the IT view and data

beyond the field of monitoring. Build custom dashboards and KPIs, feed telemetry data across platforms such as

Splunk

,

Opsgenie

,

Prometheus

, and more. Harness ITOps monitoring data to contribute to making the overall digital landscape more observable and contribute to business insights.
A "Maslow pyramid" for enabling business observability
Take a top-down approach – pinpoint the business objective and cascade down to the underlying IT infrastructure.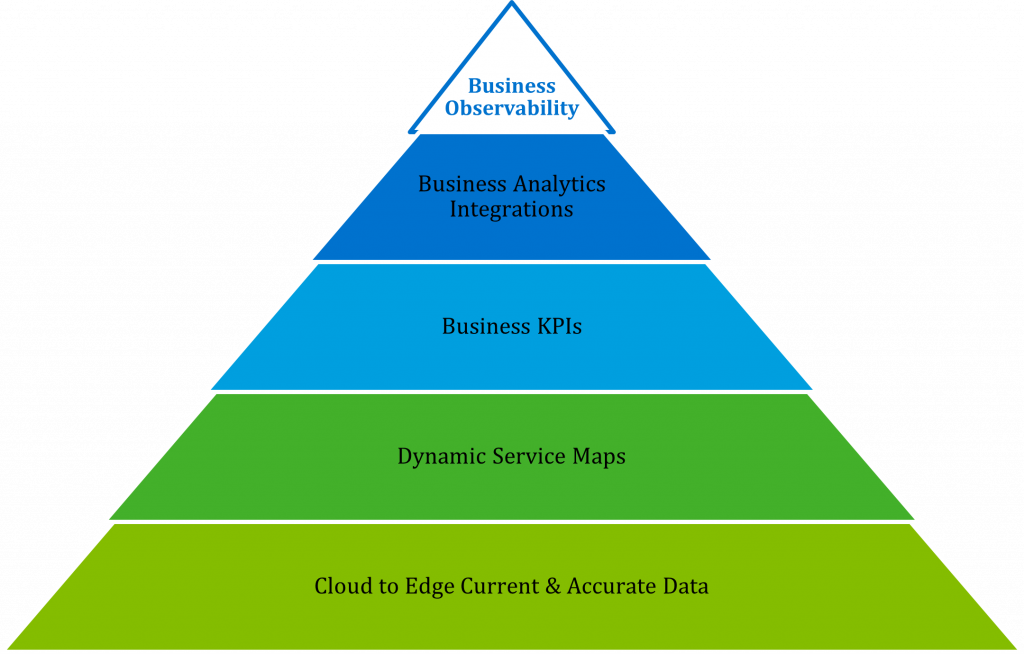 Takeaway
Enable business observability through a strategic refresh of your ITOps monitoring. Take a top down approach, starting from the business objective, mapping key services that underpin it, down to a rich variety of always up-to-date data sources that make the system observable and inform continuous performance improvement.
Ask us how we can help you lay the groundwork of a business observability strategy today.