Your IT tools have been through it all with you. Secret weapon, faithful companion and right arm; they've seen you through the greatest IT challenges. To help you choose an IT infrastructure monitoring solution that fully deserves its place in your tool box, we've made a list of 8 simple rules to determine between a solution fit for lifelong commitment, and solutions that may not be the perfect fit.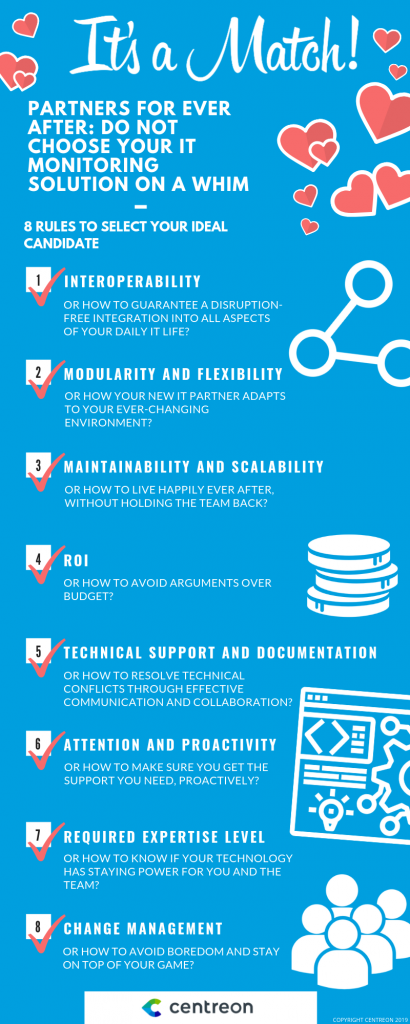 Rule 1: Interoperability: or how to guarantee a disruption-free integration into all aspects of your daily IT life?
Setting up software that can't integrate with your existing IT, forcing you to change your navigation habits and go-to solutions, is a bit like dating someone who can't get along with your friends. You'd be missing on a lot of cool stuff. To be able to link your IT monitoring solution with your IT Service Management solution, or connect it to your company's fav BI tool is more than a nice to have. Just think of the insight and efficiency you will gain when all your tools speak to each other.
Rule 2: Modularity and flexibility: or how your new IT partner adapts to your ever-changing environment?
At this point, many questions are tormenting you: Will I get the best value out of my solution? Will I be allowed to add cartography tools, data visualization or AI functionalities if I ever want to? Will it understand our business? Will it scale to the new things I really like while keeping an eye on our legacy folks? Will it stay reliable in the peak times? If you can't check "yes" to ALL of these, walk away and never look back.
Rule 3: Maintainability and scalability: or how to work happily ever after without holding the team back?
Requirements, people, environments, scope and budgets change over time, it's inevitable. Is your monitoring solution flexible and easy to maintain? Is it reliable, robust and, especially, scalable? Is there a community behind it, making continuous improvements? Monitoring is a daily, dynamic endeavor. It evolves at the same [crazy] speed as your IT system, your team and business requirements. Make sure your solution can keep up with you and everyone else.
Rule 4: ROI: or how to avoid arguments over budget?
Everyone knows software isn't just about functionality. How it's purchased, packaged and installed are also key elements weighting in the decision. Will it require an upfront capital investment or will recurring payments need to be made? Does the solution include all functionalities or will new purchases be required to get the most out of this solution? Is support included? Is implementation support included? Make sure you're aware of the true acquisition cost as well as the Total Cost of Ownership (TCO).
Rule 5: Technical support and documentation: or how to resolve technical conflicts through effective communication and collaboration?
When the going gets tough, will you be able to rely on your solution? Regardless of distance and time zones, is 24/7 technical assistance available? The ability of the solution provider to propose a PoC during the pre-sales phase can give a preliminary insight into their technical competence. Unless you own a magic wand, make sure you will be adequately supported in setting up your solution and evolving with it thanks to quality training and proper documentation.
Rule 6: Attentiveness and Proactivity: or how to make sure you get the support you need, proactively?
Sometimes you just need that extra helping hand. In a field as critical as IT monitoring, the only thing standing in between you and a major incident is your hardware, software and the support teams who keep you going. Sometimes, foul-smelling things happen. Not only do you need full visibility and room for quick action and team collaboration, you need a software publisher that can come save the day if nothing else will.
Rule 7: Expertise at all the right levels: or how to know if your technology has staying power for you and the team?
Now's a good time to consider the often overlooked aspects of internal expertise and skill transfer. If you don't have the skills internally, can the user community bridge it? Choosing an open source-based solution means benefiting from a community's expertise and feedback, a nice way to complement FAQs and interactions with the software publisher's technical support team. In other words, ensure the skills necessary to support this solution, wide and large, are readily available in your market.
Rule 8: Change Management: or how to avoid boredom and stay on top of your game?
Is your tool a one-trick pony? Will your team adhere to it or will they fiercely resist the change? The more your monitoring solution is seen as an ally in structuring the teams and processes responsible for driving the next steps of your digital transformation, the better your chances of winning the heart of the entire IT department.
A fancy package and all the right buzz words are no deal breakers. Reputation and user experience are important, but there's more to look for in a long-term IT monitoring solution. Think of what will really suit you and your organization. Nothing else counts.
It may also be helpful to remember that you're not just choosing software, you're choosing a software publisher too. It's a little like getting to choose your in-laws: get the ones that will offer precious support in times of need, that will help you set up house and never leave you to fend for yourself.
Before saying the final YES I DO, here's a last checkpoint question: Under the functionality layers, does this software have the qualities YOU need to succeed? Good luck and lots of #monitoringlove to all of you! ❤️
What if Centreon EMS was just "IT" for you? Discover our monitoring solutions.
"Although we were making a fresh start, there were many constraints we needed to work in," recalls M. Gerard. "We were looking for a unifying IT monitoring solution, one that would provide global and centralized visibility, manage the widely distributed sites and be able to support a broad range of hardware and technologies… All the while staying within the limits of our budget!" – Frédéric Gerard, responsible for global IT monitoring operations at the Direction Générale du Numérique et des Systèmes d'Information (DGNSI — the organization's IT and Digital department). "Creating a central entity (the DGNSI). Read the full case study.
"With Centreon EMS's reporting and BAM tools, we align IT monitoring to business activities. Information is open-plan, transparency and communication are improved and the value proposal of the IT Department is clearly perceived." – Sebastian Noulot, DataCenter manager at Pierre & Vacances – Center Parcs Group. Read the full case study.