While telecommuting will continue to shape your reality this year, it doesn't mean you're not going places in 2021. This blog post looks at some ITOps trends that are calling for a new roadmap to navigate some new and not so new challenges. Ready to get to work? 
Download your complimentary copy of Gartner's 2021 Strategic Roadmap for IT Operations Monitoring—which we believe will help in building a solid work plan for 2021.
A new role for ITOps: Contribute competitive advantages
Why should there be a new roadmap for 2021? One takeaway from the annual IT Infrastructure, Operations & Cloud Strategies Conference last December sums it all up: IT infrastructure now needs to be managed in a way that will contribute to making the business more competitive. Chances are, you've already progressed towards what we call Smart Monitoring. And all you've accomplished last year to adapt to the COVID-19 pandemic may just be your springboard to fulfilling this new vision for ITOps. You'll be able to estimate the gap between today's and the future state of ITOps monitoring reading this complimentary Gartner research note—available for download for a limited time. 
Why is a new ITOps Monitoring Roadmap needed for 2021?
1. Anywhere, anytime operations
Dematerialization of IT infrastructure to support business continuity is reshaping ITOps culture. Forrester predicts 25% of developers will use serverless and nearly 30% will use containers regularly by the end of 2021, creating a spike in global demand for both multicloud container development platforms and public-cloud container/serverless services. 
Roadmap: ITOps will need to be ready to manage a constant flux of changes to the IT estate, and bridge gaps across IT domains. The final destination is "connected monitoring"—where endpoint monitoring is always accurate and up to date, as well as integrated to other monitoring tools such as APM, which monitor CX through instantly deployed connectors that corral and share relevant data from a multitude of sites, when and where it is needed.
2. Automation—from A to Z
According to a recent IT Ops Time report, research shows that by 2025, 60% of organizations will use automation tools to deploy new compute resources, reduce deployment time and deliver greater agility. 
Roadmap: ITOps will need to consider building automation capabilities at every stage of their operations, from the launching of new IT assets, to automatically updating the monitoring configuration, to being able to manage and contextualize a constant flux of telemetry data, which will in turn automate continuous improvement to the user experience. 
3. Full-stack observability reaching mainstream
With infrastructure becoming increasingly complex, I&O teams are building capabilities for full-stack observability. Full-stack observability enables monitoring the full environment and a range of operations from development to testing to production. It collects and contextualizes a wide scope of data types that include technical data, end-user and business KPIs, up to social sentiment. As capabilities progress, AIOps will help draw patterns from the deep relationships and dependencies between these elements.
Roadmap: Although full-stack observability may currently seem out of reach to some, at the very least lies an immediate opportunity to pave the way for it and start benefiting from augmented capabilities.  Full-stack observability implies silos across monitoring tools have been removed, and that monitoring data can be seamlessly connected to the enterprise automation platform and other data analytics tools.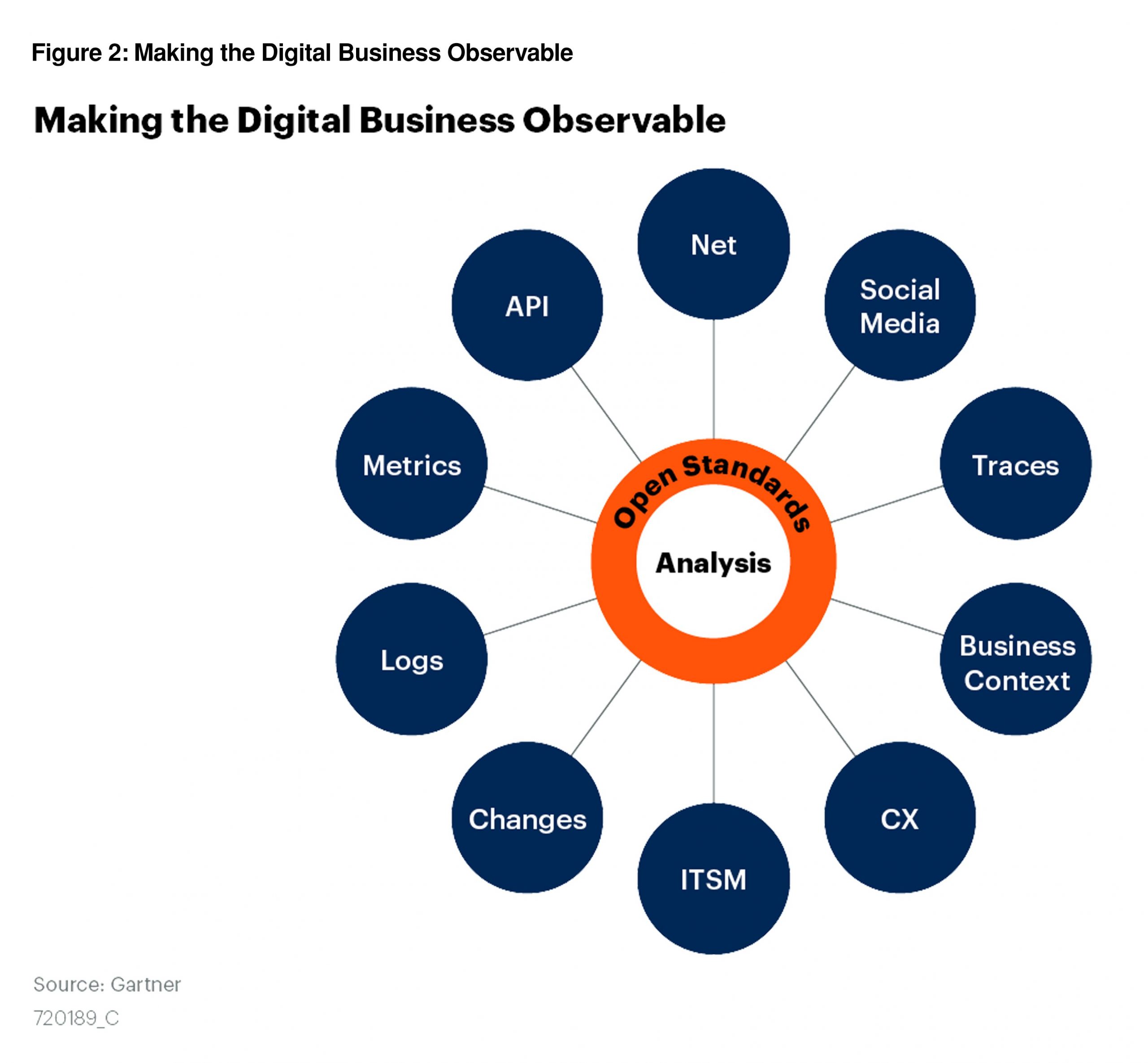 "Definitions of observability that stop at the infrastructure analysis are inadequate in ensuring digital business success. To deliver the digital experience necessary to remain competitive, enterprises must monitor top-down, go-beyond infrastructure and make their digital business observable."  Source: Gartner's 2021 Strategic Roadmap for IT Operations Monitoring
4. Business stakeholders obsessed with CX metrics
Data scientists have won the game! From marketing and PR to sales and strategic planning and even HR, CX metrics help understand how users and customers are interacting at company digital touchpoints, as they are seeking to build their own roadmaps towards improved company reputation, employee and customer retention, or better business outcomes. 
Roadmap: ITOps become a customer-focused activity that sees the digital estate as one more lever the business can use to gain a competitive advantage. This will require a top-down approach to monitoring, refocusing priorities on common CX metrics, beyond assessing the performance and availability of the system.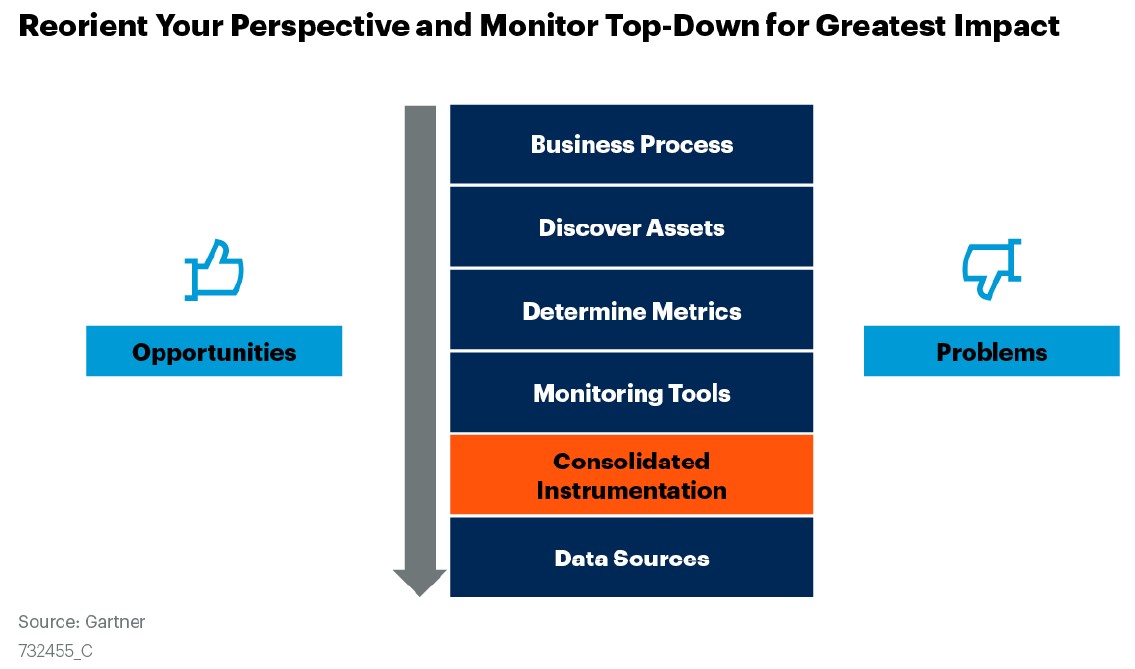 "Traditionally, the audience for ITOps metrics and reports have been ITOps monitoring professionals. However, the benefits of many of these monitoring toolsets extend beyond the ITOps domain. Embedded among the many dashboards and metrics that these tools capture are sources of information that can be of incredible value to those involved in CX management." Source : Gartner's 2021 Strategic Roadmap for IT Operations Monitoring
5. Priority to user-engaging capacities
Although one in two organizations say their budget was augmented in the wake of COVID-19 mitigation efforts, it is expected other areas of IT budgets will be under scrutiny – solutions and practices that do not contribute to that competitive edge will quickly meet the ax – and so will IT units if they can't prove their alignment and contribution to business objectives. 
Roadmap: ITOps will be expected to rationalize tools and resources based on their contribution to improve CX. Open-source will be high on the list of criteria, but not without a twist: total cost of ownership (TCO). Sustainability both in terms of implementation and development costs, long-term viability and capacity to replace other subscription-based tools are boxes that will need to be checked on purchase order slips. 
Looking to build a plan that takes ITOps to the next level? Gartner's 2021 Strategic Roadmap for IT Operations Monitoring might provide some helpful insights.
4 ways the Centreon monitoring platform answers your need for a new ITOps roadmap for 2021, based on connected IT monitoring
 Key ingredients for Connected IT Monitoring
   

Ready-to-use connectors:

An always-growing set (500 and counting) of ready-to-use connectors that future proofs your team on any new technological adoption and that ensures the full IT estate is instrumented, from Cloud-to-Edge.

   

Automation capabilities:

automatically discover and integrate monitoring changes: newly deployed containers, servers at the edge, etc.—and gain immediate visibility on how these items are correlated to the business workflows. 

   

Interoperability with IT automation tools

through a set of APIs – so feeding IT monitoring data to your automation platform – think Puppet, Ansible, etc., is a breeze

   

Full-stack business observability

. Contributes to business observability through an unmatched monitoring scope, advanced service mapping capabilities, and through interconnection with advanced observability platforms such as

Splunk

.
Start today, build your strategic roadmap towards the future state of ITOps monitoring. 
Want to chat about this blog? Contact us.