SaaS IT monitoring is becoming the new norm, although traditionally, IT monitoring platforms were deployed on premises, in self-hosted fashion. Now, where does your organization stand in the SaaS IT monitoring vs. self-hosted debate? Even if IT systems are increasingly hybrid, deciding between SaaS and self-hosted IT monitoring is not just a question of adopting the most popular option. It's about selecting the most suitable deployment model based on your unique IT, human, and financial challenges. A good start is to look at the TCO, or total cost of ownership for each option.
This blog post will help you consider all the aspects that can impact TCO in making the SaaS vs. self-hosted IT monitoring decision. Simply comparing license costs is not enough, as it leaves out of the equation many dimensions that can tilt the balance one way or the other. Assessing the total cost of ownership (TCO) of both options will help ensure you look at all indirect and hidden IT monitoring costs, as well as other important associated considerations, such as compliance and specific monitoring needs.
SaaS or self-hosted: which way to go in a cloud-driven word?
SaaS (Software as a Service) refers to a software solution hosted in the cloud and marketed as a service, in the form of a subscription including the solution's hosting, infrastructure, updates, and maintenance fees.
In contrast, a self-hosted solution implies software that's installed on premises and hosted by the organization. The license is paid for as an annual subscription or perpetual license and the company hosts its data on its own infrastructure.
With the increasing share of cloud, edge and IoT, especially in Europe, the face of IT infrastructure has changed over the last three years. Cloud rules the IT world, as many studies indicate. According to the State of IT Monitoring, 47% of IT managers surveyed expect edge computing and IoT to impact IT monitoring and see migrating IT monitoring to the cloud as a priority.
According to Gartner, SaaS spending increased 241% between 2017 and 2022 (source). Spending on SaaS solutions is growing faster than for on premises solutions. SaaS is becoming a standard purchase, which is shifting IT spending from CAPEX (capital expenditure) to OPEX (operational expenditure).
IT monitoring solutions are not escaping the cloud migration trend. Just like for other software, there are SaaS IT monitoring solutions on the market.
Beware: SaaS may not always be the best option
It's tempting to take a shortcut and see the move to SaaS as inevitable, considering its multiple inherent advantages, affordability, accessibility, and safety, for example. However, in some heavily regulated environments, the choice between SaaS and self-hosted may not be so obvious.
Storing data in the cloud may generally be compatible with an organization's compliance requirements. However there are specific obligations when, for example, personal data is involved, which is protected by RGPD and other such legislation, and there may be business or geographic-specific regulations to be considered as well.
Here is, as an example, a worldwide overview of regulatory requirements showing the degree of regulation.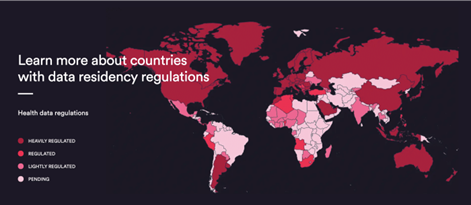 Hosting health data, or other sensitive data such as military or financial on the public cloud is restricted, for obvious strategic reasons.
SaaS offers a means to cap mounting monitoring costs, including those relating to IT profiles recruitment and retention
IT monitoring is now a priority for ITOps, as half of State of IT Monitoring respondents reported, and increased IT monitoring budgets are also being reported. However, capping the cost of IT monitoring remains a concern for 27% of respondents. These costs are brought up by the large number of tools employed and their obsolescence.
The need to optimize IT monitoring costs naturally raises the question of switching to a SaaS option.
Another factor favoring SaaS is the fact that in many countries, ITOps professionals are in short supply. Recruiting such profiles is difficult and the shortage is sending salaries up.
And so, these are some of the hidden costs associated with the maintenance and deployment of software solutions, which make the SaaS option an interesting proposition as a cost-effective option.
Assess the TCO of both the SaaS and self-hosted option based on your requirements
Given the many aspects to consider, it may not be easy for an organization to answer the SaaS IT monitoring vs. self-hosted question when preparing for the procurement of a new IT monitoring platform.
At Centreon, we believe that assessing the TCO (or total cost of ownership) of a monitoring solution will help you make a clear-headed decision because it's a structured approach that will ensure you cover all the decision's facets.
Indeed, the total cost of ownership or TCO (Total Cost of Ownership) makes it possible to evaluate additional criteria which define "the total cost of acquisition, relating to the use, management, and withdrawal of an asset over its entire life cycle," to quote Gartner's definition. TCO involves an evaluation of the expenses associated with the purchase and deployment of the IT monitoring solution as well as the costs associated with its use, etc.
An IT monitoring solution's TCO considers the direct costs (license, server, storage, peripheral equipment, maintenance, as well as costs relating to specific software developments, operations, IT support, management, and administration), all which are dependent on the type of deployment model chosen, SaaS or self-hosted. And there are yet other costs to factor in, such as labor or downtime costs.
There may be many ways you can broach the SaaS IT monitoring vs. self-hosted question, but the total cost of ownership approach, undoubtedly provides a relevant and insightful criterion to select the deployment option that will most suit your organization's unique needs.
Let us guide you through the TCO approach. Look at our latest expert content "Monitoring and TCO—SaaS or Self-Hosted: Selecting the best option for your IT monitoring solution," which examines the deployment model impact (SaaS or self-hosted) on a monitoring solution's TCO, so you can choose the one that will meet both your technological expectations and your budget.
You'd rather chat directly with our experts? Contact us.