IT is more critical than ever for the success of relief operations. Systel, a major actor in Systems and Telecommunications for the Civil Security, firefighters and the SAMU (the French national emergency organization), becomes a Centreon partner. The organization has chosen Centreon to integrate powerful IT monitoring features into its emergency call processing solutions for civil security.
Paris – April 20, 2022 – Centreon, a trusted partner for operational excellence in information systems, and Systel, the French market leader in systems and telecommunications for civil security, have announced their partnership. By relying on Centreon, Systel aims at providing better service to fire and rescue services by ensuring their information systems are always available and by anticipating major failures. Systel, which is active in France, the United Kingdom, Monaco and in various European emergency services, has specialized since 1995 in the design, development and integration of emergency call processing solutions. This expertise includes handling the phone call, dealing with the operational follow-up on the field and allocating resources in the best possible way. Its clients in Europe and in France are mainly fire and rescue services (SDIS (departmental fire and rescue services), navy fire departments, fire brigades, etc.) as well as emergency medical services (SAMU) since Systel has expertise in medical regulation and equips 4 collective platforms that manage calls from the 18, 15 and 112 emergency numbers on a dedicated solution.
Its solutions mobilize a wide range of equipment and technologies (telephony, radio, on-board terminals, emergency center consoles, etc.). They also integrate transversal features such as database management and IT monitoring. With this partnership, the systems integrator is expanding its offer in IT monitoring, an essential feature for citizen security. It is also guaranteeing its users availability and responsiveness, both essential for IT performance.
IT monitoring, an essential component of emergency call processing solutions
For more than 10 years, Systel has relied on the power of Centreon to provide the monitoring component in its solutions for civil security. The systems integrator has recently stepped up its efforts in this area by opting for Centreon Business Edition in order to meet new client requirements. As Hélène Gouyet, Systel's marketing manager, explains: "We decided to consolidate our collaboration with Centreon in order to increase proximity and improve how we meet client requirements. They require business-oriented monitoring solutions and the generation of indicators for each business process. Since 2020, we have been valuing the use of Centreon Business Edition to develop new capabilities in business-oriented monitoring and reporting."
Collective platform for emergency call processing for the 15/18 and 112 emergency numbers in Haute-Savoie
Measuring the differences in application behavior to prevent failures
The added value brought by Centreon Business Edition lies in the possibility of quickly creating dashboards with IT indicators as well as business-oriented KPIs. Recent failures in the routing of emergency calls have demonstrated the importance of being able to collect, measure and analyze – beyond the availability of applications and equipment – business data by business process. "The benefit of a business-oriented monitoring solution like Centreon lies in its ability to produce indicators that focus on application behavior," emphasizes Hélène Gouyet. "While it is important to have alerts to know if a call center is working, it is equally important to quickly identify abnormal behaviors, such as a sudden drop in calls, even though all equipment is working perfectly."
Monitoring for the common good
Centreon and Systel have therefore chosen to join forces to guarantee IT availability as well as the safety of rescued people through advanced, business-oriented monitoring. "One out of two businesses considers that extending the generation of IT monitoring indicators to business-oriented KPIs will be a priority over the next two years*. Systel has already taken this step and placed monitoring as an integral part of its solution," says Marc-Antoine Hostier, Chief Operating Officer of Centreon. "We are proud that a company like Systel, whose solutions help save lives, has trusted us to support it."
With Centreon, Systel expands its current offerings. Very soon, new features will be deployed for its clients. The aim is to improve the operational efficiency of rescue solutions and to identify anomalies more quickly in order to limit the impact on the people being rescued.
(*) State of IT Monitoring, 2021-2023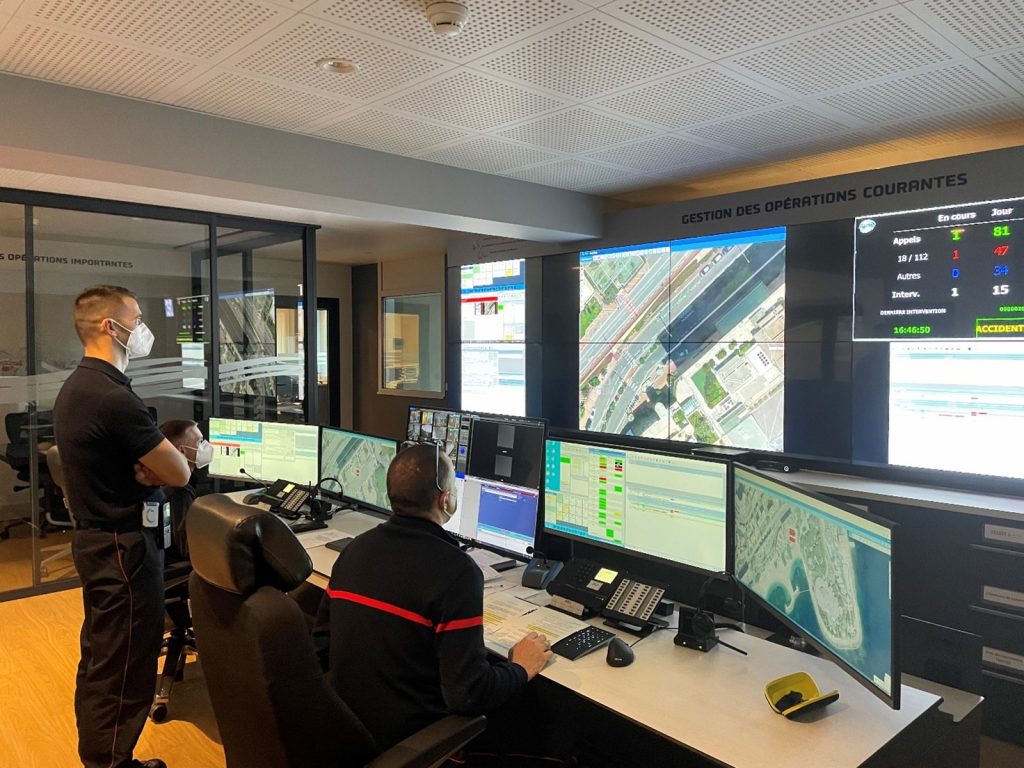 Operational management center of the Principality of Monaco
 ——————————————————————————–
About Centreon
Centreon is a leading provider of open monitoring solutions for always-on operations and performance excellence. The company's AIOps-ready, business-aware IT monitoring platform is renowned for its unique ability to monitor today's complex and converging infrastructure, from cloud-to-edge. Privately held, Centreon was founded in 2005 with roots in open source software. Today, Centreon is trusted by organizations of all sizes across a wide range of public and private sectors. Its head offices are located in Paris and Toronto, with sales offices in Geneva, Luxembourg and Toulouse. For more information visit centreon.com.
About SYSTEL
Founded in 1985, Systel SA is currently the leader in the market of Systems and Telecommunications for the Departmental Fire and Rescue Services. Systel SA provides civil security with its technological expertise, its know-how and its capacity for constant innovation. Directly linked to the field, our products meet the technical operational requirements of Civil Security forces and prioritize simplicity of use. Today, Systel equips nearly half of all SDIS (Departmental Fire and Rescue Services) in metropolitan France and in the French overseas departments and territories. The company has more than 140 employees and achieved a turnover of 14.5 million euros in 2021. For more information, visit the website at https://www.systel-sa.fr/