New name, new dedicated web platform, and an enriched experience: The Watch is Centreon user community's all-in-one, collaborative place to network, share, and contribute.
Paris & Toronto—November 18, 2021—Centreon, a trusted partner for IT operational excellence introduces The Watch, a new name and platform dedicated to their user community. The Watch combines in a single location the essentials of a rewarding and unified collaborative experience. Centreon users can join thewatch.centreon.com as of today to share information, enjoy mutual support, build on a common knowledge base, acquire and contribute expertise, and more.
Centreon's user community dates back to the early days of the original Centreon open-source IT monitoring platform. It has since grown to include 250,000 user contributors from over 60 countries around the world. But today marks a new milestone: The Watch is open to all IT monitoring stakeholders. From Centreon open source users and contributors, to the clients and users of commercial Centreon editions, to partners and supporters, everyone stands to benefit from a common collaborative space.
"Monitoring is the watch tower of the IT world, a necessity to guarantee full visibility over the IT ecosystem, keeping malfunctions at bay. As such, The Watch was an obvious name for our community. But beyond the analogy, we wanted The Watch to be a place dedicated to keeping on top of things—whether it's getting an answer on a product-related question or contributing a technical or functional enhancement to the Centreon open source platform," explains Eryk Markiewicz, Chief Marketing Officer, Centreon.
A new community platform
No matter their Centreon solution: open source, IT, Business, or MSP editions, Centreon users will be able to network, interact with Centreon teams and among themselves, as well as learn and share knowledge relating to the Centreon universe.
Available immediately, the new community platform is open to all members of our user community. The new community place can be accessed here: thewatch.centreon.com.
As of today, The Watch members can:
Find relevant and comprehensive information about the Centreon monitoring platform.
Be among the first to learn about the latest news, announcements, features, and Centreon evolutions.
Ask questions and get help, through an integrated forum.
Get trained on the Centreon platform.
Access thematic forums, technical documentation, and tutorials.
Share insights and learn from other contributors' best practices.
Take part in the beta and testing phases of new features and products.
Report potential bugs or security flaws, and contribute to fixes.
Obtain the latest information on product maintenance and updates.
Join community events online.
Contribute to extending the Centreon platform, as well as to connectors and integrations.
Suggest new features and extensions possibilities.
Earn points, badges, and move up within The Watch.
"We are proud to be developing our solution, one of the best IT monitoring solutions there is for and with our community. There's no better reward for us than our community's loyalty. Every day, through working together, we build new Centreon platforms in organizations around the world to ensure the availability of critical IT services in sectors as diverse as transportation, food service, retail, manufacturing, hosted services, and utilities. We created The Watch to strengthen the bond with our user community, and to make it easier than ever for them to share, collaborate, and help one another, regardless of where in the world they're working from," concludes Julien Mathis, CEO and co-founder, Centreon.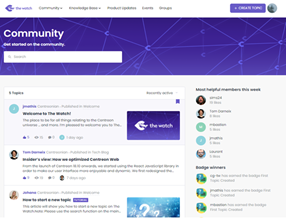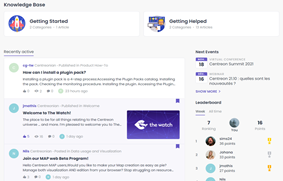 About Centreon
Centreon is a global provider of business-aware IT monitoring for always-on operations and performance excellence. The company's AIOps-ready, business-aware IT monitoring platform is renowned for its unique ability to monitor today's complex and converging, multi-cloud infrastructure. Privately held, Centreon was founded in 2005 with roots in open source software. Today, Centreon is trusted by organizations of all sizes across a wide range of public and private sectors. Its head offices are located in Paris and Toronto, with sales offices in Geneva, Luxembourg and Toulouse. For more information, visit centreon.com.