Following excellent results for the first half of the year, Centreon now closes 2021 with a 114% progression in software subscriptions, 56% revenue growth year-over-year, and the addition of 169 new customers
Paris & Toronto, February 09, 2022 — Centreon, a trusted partner for information systems operational excellence unveiled today results for 2021. Despite another year of global pandemic disruption, Centreon maintained a robust growth rate.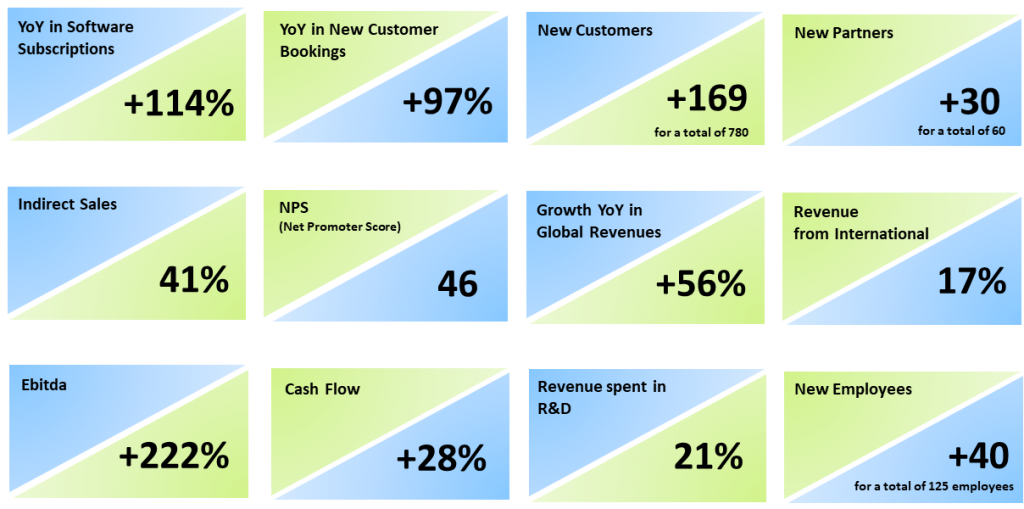 2021 Highlights
Announcement of an upcoming SaaS offering, Centreon Cloud. Introducing a SaaS deployment option for their IT monitoring solution, Centreon becomes the only player in the IT monitoring market to match IT monitoring features for both on-premises and SaaS deployments.
The Watch, a new community portal for Centreon users. It was launched to provide a one-stop place for some 250,000 users and 780 clients to gather and share knowledge on the Centreon IT monitoring software. Members have an opportunity to contribute to the development and evolution of software versions and beta test new features. The community is also a central place for sharing and building knowledge, through tutorials, reporting potential security or other issues, and accessing a range of informative resources relating to IT monitoring and its broader environment.
Addition of 30 new partners in France and abroad: Austria, Belgium, Ivory Coast, Spain, the United States, Great Britain, Hong Kong, Luxembourg, Mexico, and Switzerland.
Named Growth Champion: For the 3rd consecutive year, Centreon is featured among Les Echos-Statista 2021 Growth Champions The inclusion marks Centreon's cumulative growth of 143.1% (2016-2019).
First Centreon Summit: A Centreon-hosted user conference which gathered 600 participants on its first edition. At that occasion, Centreon's broader community, including clients, partners, and other contributors, attended technical information sessions, shared best practices, and exchanged on a large scope of IT monitoring challenges, with a focus on development in a context of increasingly complex IT systems.
30% workforce growth. Centreon now counts on the strengths of 125 employees.
Reinforced Centreon Advisory Board with the arrival of Delphine Grison, a customer centricity expert. Delphine was notably Marketing and Data Intelligence Director of CBRE France between 2015 and 2020.
A new Chief Product Officer, Raphaël Chauvel now leads Centreon's product innovation strategy and product team. He was formerly Regional Vice President of BMC Software, managing a portfolio of SaaS and on-premise ITSM and other service management solutions.
Outlook for 2022
Continued growth: keeping up with results from previous years, Centreon expects to grow by more than 30% in 2022. This growth will be driven by the release of a new SaaS offer addressing unmet market needs, and by the continued expansion of an international network of partners.
Cloud-first strategy: to better meet growing demand and capture additional market share in France, Europe, and beyond, Centreon is adding a SaaS option to its portfolio in 2022. With Centreon Cloud, Centreon becomes the only player on the business aware IT monitoring market to provide the same functionalities across on premises and SaaS deployments. New customers will be able to deploy Centreon on both on premises and in SaaS environments, and both models will be allowed to coexist within the same organization, depending project needs. Centreon Cloud will be available in a test version from March 2022. General availability is planned for the second half of the year.
R&D investments: to support growth and their portfolio development, Centreon is increasing R&D investments by 28% in 2022.
New partner recruitment: pursuing their partner-first strategy, Centreon intends to achieve global partner network growth with a partner recruitment objective pegged at 50 new reseller integrators for 2022.
International growth: Centreon's international growth focus will be on Europe, including Great Britain, Italy, Spain, Germany, Benelux, and Switzerland, as well as the Americas.
"We're very satisfied and proud of the results achieved in 2021. We expect 2022 to be a year of even greater transformation, as we'll be introducing our new SaaS offering, Centreon Cloud, this March. Centreon Cloud is bridging unmet market needs. More than ever, our ambition is to simplify operational performance management for organizations managing increasingly complex multi-cloud IT systems that are nonetheless crucial for business growth and competitiveness. Developing our reseller partners network is another key growth lever," concludes Julien Mathis, CEO and co-founder of Centreon.
——————————————————————————————————————————————–
About Centreon
Centreon is a global provider of business-aware IT monitoring for always-on operations and performance excellence. The company's AIOps-ready, business-aware IT monitoring platform is renowned for its unique ability to monitor today's complex and converging infrastructure, from cloud-to-edge. Privately held, Centreon was founded in 2005 with roots in open source software. Today, Centreon is trusted by organizations of all sizes across a wide range of public and private sectors. Its head offices are located in Paris and Toronto, with sales offices in Geneva, Luxembourg and Toulouse. For more information, visit centreon.com.